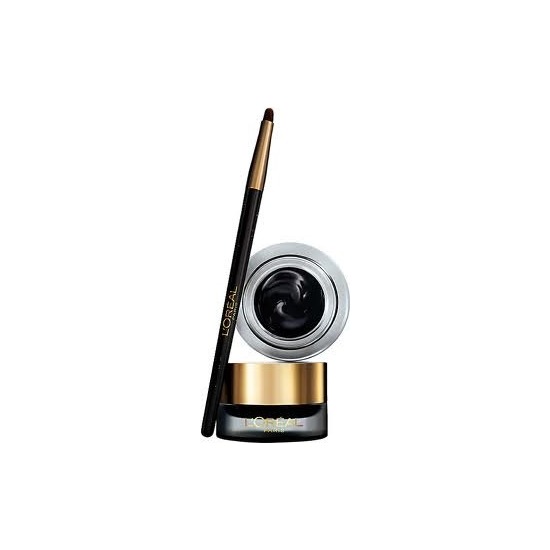 Rollover image to zoom
Reviews

BETTER DRUG STORE LINER, CREAMY, DRIES OUT FAST, NOT INTENSE.
The brush that comes with this liner is more meant for a lip liner more so than a eyeliner. The color blackest black is not intense when on the lid. The product texture itself is interesting. It's creamy but when you start applying it, it gets very dry and stiff. Make sure to close the pot well or it will dry out fast. The liner is not waterproof, so be careful there. If you're looking for an inexpensive, DECENT, drugstore liner, this is pretty good. Xx

I miss their HiP Gel Liner
I first used L'Oreal's HiP gel liners as my very first gel liner ever and I loved it. It was the solution I was looking for with eyeliner. When they came out with the Infalliable one I was sure it wouldn't waver from their original product and after reading such rave reviews about it, I had to be right.
Unfortunately I was wrong. As it is a beautifully creamy product that glides on your lid with ease, it also glides off with the same ease if you don't set it. I prime my eyes with Urban Decay's Primer Potion. I even go out further to account for my winged liner. I found the first time I wore this without setting it with black eyeshadow, I lost all the preciseness and pigment I first applied with. HOWEVER do note I do tend to lose make up mid-day in the corners of my eyes from watering eyes. The only reason I rate this average with having that problem is because their HiP liner never budged. The only reason I stopped buying it was that it dried out before I could finish it and didn't like wasting $12.
Would I buy the Infalliable again? Probably only if I had no other choice. Maybe I'll play around with it and see if I can get it to stay longer. All in all, this product has average staying power but the pigment is is rich and application is smooth.

Love!
I was holding off from buying this eyeliner for awhile, but I finally gave in and I am so glad I did because it's my favorite gel/cream eyeliner right now. I love how creamy it is and it doesn't tug on my eyes when I am applying it. Which is great for people with sensitive skin. It's also very nicely pigmented. The staying power is very impressive it doesn't flake or smudge on my eyes.

Love!
I bought this for my Celebrity Look-Alike day for school, and wore it from 6am to 4pm or so, and the only downside was minor flaking on my inner lid/crease. Other than that? It didn't smear, crease, fade, or otherwise break down. I love this!

Debbie n mike W.
Oct 09, 2012
Amazing
I purchased this product and I was not disappointed at all. I was actually quite happy with it. I put it on in the morning before I went to work,, had a whole 8 hr day, then a soccer evening with my girls after work, and it lasted thru the night!!! Now that is an Amazing product !!! Love it,this is a must have for everyone. I was even happy with the brush it came with.

I have tried many different types of gel eyeliners. Normally they are either too creamy and smear around on my eyes or they are too dry and hard to blend, but this is completely different. Not only is it reasonably priced and easy to find, but it also the best gel liner I have tried. I have the shade blackest black and when they say blackest black, they mean it. It gives you a super pigmented pay off and you don't even have to use much of it. It comes in a glass pot, with plenty of product that will last you for a long time. I personally don't like or use the brush that comes with it but if you do not have another brush it should work perfectly fine. I will be repurchasing this product!

This product cost me £10.00 from my local drugstore. The gel eyeliner comes in a little glass pot, eyeliner brush included. I bought this product thinking I would be able to create the perfect cat eyes, and I did. The brush can be used in two ways. For thick lines and thin. I was really pleased with the product until a half way through the day. The eyeliner had smudged and there was no longer precise neat lined cat eyes. In all honesty the eyeliner had turned into a complete mess.
I'm really disappointed with this product.

Great Gel Liner!
I've used pencils, liquid liners, and tried gel liners one time before...didn't have a good experience with gel. Because of the rave reviews I decided to pick this up and try gel liners again, and I really like this! Way to go L'Oreal! I feel like this will last me a long time, which is great! The brush is easy to use, apply, and smooth. Maybe because I need more practice; I'm not really sure how much product to gather into the brush...lol...but nonetheless it creates great dark lines, which I like! And I don't have to wait for dry time!
---