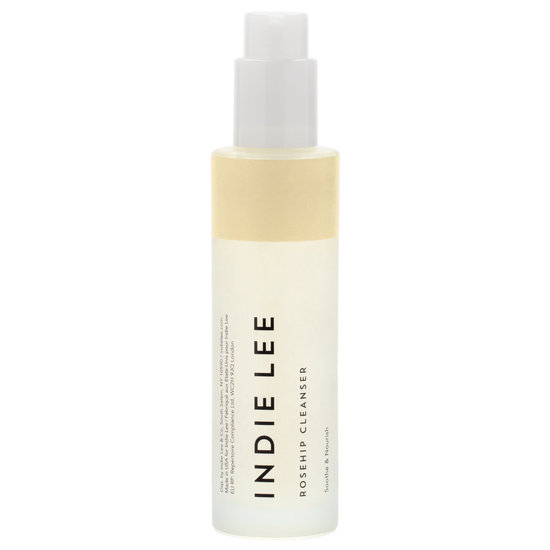 Rollover image to zoom
Reviews

In LOVE with this brand!
I was drawn to this skin care line when I found out not only is it paraben and sulfate free, but also 100% natural! I'm an esthetician so I'm very careful what I put on my skin. This Rosehip cleanser smells so good, and is very light but effective! Absolutely amazing!

gentle daily cleanser
i have sensitive combo skin and alot of cleansers out there are either really drying or dont cleanse my face well enough. i love that this cleanser makes my skin feel really clean yet doesnt dry it out. it also removes my makeup which is super convenient (i usually do the double cleansing method with cleansing oil, then regular cleanser). i use 2-3 pumps and it looks and feels like very little, it actually is more than enough. also, it has a nice light scent.

Elizabeth M.
Mar 03, 2017
Beautiful Cleanser, mild and effective
After reading about Indie Lee Rosehip Cleanser, I had to try it and so happy that I did. This is a gentle but very effective cleanser. I use it in my dual-cleansing process along with the toner and love how it cleans and tones, all the while hydrating my dry, sensitive skin. I recommend it if you want gently cleansing with effective results. Also recommend the toner.

2 in 1
Not only is this cleanser good for when I need a gentle wake up call in the morning but it is also amazing for Cleaning Brushes! It does not dry out the brush or leave any type of residue. All make up product slides off the brush hairs like butter. Great purchase!

So, I initially planned to buy the Brightening Cleanser, but I was able to ask Indie Lee which one would be best for me and she told me to get the Rosehip. This is now my go to morning cleanser (I double cleanse morning and night.) it's safe to say this is a holy grail. It's very gentle. Very effective at cleansing the skin and I love the slight scent. My face feels so moisturized after using it. Would highly recommend.

Did not like at all
Was so excited to try this cleanser but it was a huge fail. The packaging was nice but I found the glass bottle not the best fearing it could break if accidentally dropped. But the main fail was that when I went to apply it to my face it just disappeared and felt like like I had nothing to work with to actually wash my face with and I wound up having to use another cleanser with it. Will be returning for sure!

Just what I needed
so for the longest time i've been using cleansers that literally strip my skin and leave it feeling so dry and tight. i knew i needed a change because that isn't good for my skin. i have oily skin and i know that with a well hydrated balance to my skin it is always less oily. i wanted to try this cleanser out because it retains moisture and also removies impurities. i find that to be true. though i've only used this for about a week, it's my perfect night time and morning time cleanser. it removes eye makeup too which is a huge plus. it's never burned my eyes. i really enjoy this cleanser so far and i highly recommend it.

Not for me
This product did nothing for me, for the price I was expecting better results. I have sensitive skin prone to redness and this product did clean my face and did not cause my skin to react in a negative way, it just didnt improve my skin in anyway. I defenetly will not repurchase.
Team
Great for sensitive skin!
With the change in weather, my eczema always flares up, especially on my cheeks! This was the only cleanser I could use that didn't further irritate my skin without stripping the natural oils from my face.
---