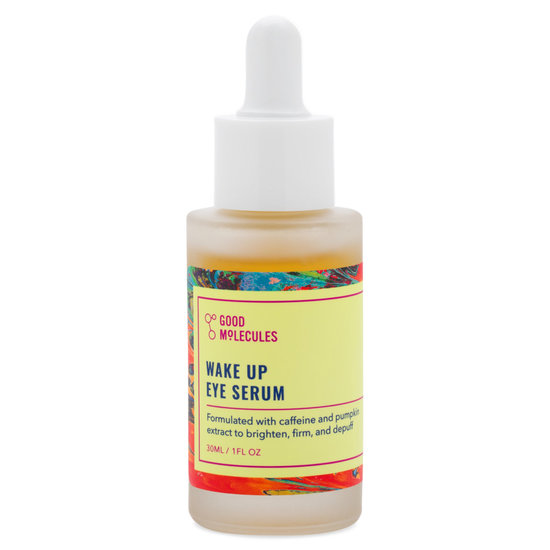 Rollover image to zoom
Reviews

It works!
My dark circles are gone and my eye area looks better! I didn't have the worst darkness but I had some, and some lines too and I feel like I don't need concealerI! love good molecules products:)

Wow!
My dark circles have disappeared in just a few days and the skin around my eyes looks so smooth! Amazing stuff!

dropper broke
I love this product. It definitely depuffed my eye area in the mornings. I could really tell if I forgot to use it. I layered another eye cream over it because it's not moisturizing enough for me. I took the drastic step of taking two stars off because the dropper broke. I could take the squeeze component out of the bottle with out unscrewing the top. So there was air getting in to the bottle. The product continued to work, but it thickened and got sticker and stickier. I only made it halway through the bottle before I had to throw it away.

Christiana M.
Jan 7, 2020
Irritating
I ordered the Super 7 + Cleansing Balm and have had mixed, but mostly positive results. The Wake Up Eye Serum is the only product I can not use. Although I don't have sensitive skin or eyes, this serum irritated my eyes and the area around them, leaving them dry, flaky, and itchy. I tried using it with hydrating/moisturizing products underneath and on top, but even the facial oils could not prevent the stinging and itching. In all, this set was a success, especially at the affordable price point. My favorites are the peptides serum and the facial oils. I have not been using the line long enough to determine positive long-term benefits, but other than this eye serum, I have been somewhat satisfied with this basic, easy to use skin care line.

Not good
After using this product the skin around my eyes is red and sore. Instead of reducing puffiness it did the complete opposite. My under eye area is very puffy and irritated. My skin is now sensitive and looks awful. I've never had a reaction like this before, my skin isn't sensitive normally, I just hope things calm down soon.
Sooo Goood
Literally the best eye serum i've tried. What I love the most is that it's a little thicker than other serums which is nice for me.
I apply the serum massage it on my undereye area and then while it still damp apply an eyecream that way I hydrate and lock in the moisutre under my eye, really recommend.

Not suitable for sensitive skin
Been using this for a couple of months and started noticing my eye area is patchy and itchy. Initially I thought it was my new eyeshadow primer, so I stopped using it, the problem persisted, so I stopped using this, and no more itchiness and dryness is going away. It's a shame because it depuffs and I really wanted to love it :(
---