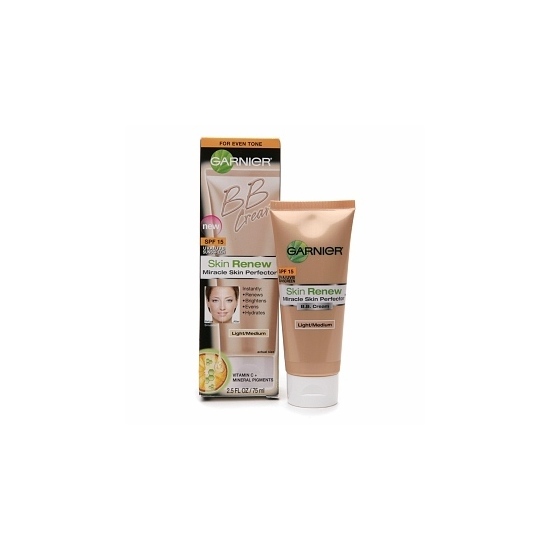 Rollover image to zoom
Reviews

not enough shades!
I did not enjoy this product at all! it only has two shades, and I'm fairly pale so neither matched my skin tone. I get that BB creams usually don't have a huge variety of shades, but I mean come on... only two?? not only that, but it also seemed to have a very thick consistency and was pretty hard to blend out. it also had a weird smell to it, I'm not sure if it was meant to smell "good" or not, but I hate it whenever my bb creams/foundations have fragrance!

Christina J.
Apr 26, 2015
It's good for about an hour
I got this BB cream in the combo/oily skin type & it just doesn't last. I get SUPER oily after about 2 hours. Granted I have combo skin (dry rosacea cheeks, oily T-zone), but I would get less oily without any makeup than I did wearing this! It initially looks great after it dries. It didn't even set well with a little powder. Ugh ....Oh and the consistency is another thing! It's so watery! Mine would even leak into the cap area! It was a mess.

Summer time BB cream
I hated this stuff at first, but then gave it a few more try's and I've grown to love it, it is perfect for summer when set with a powder, and add concealer and you have all the coverage you need. It doesn't offer a lot of coverage , which is the downfall to it but over all you can build it up and I use a beauty blender to apply it, but also using a buffing brush and or sigma brushes work well to get it to a gorgeous flawless finish. I would definitely repurchase it

This is my HG for day I want to wear less makeup. It blends out beautifully. It evens out my skintone and looks gorgeous one the skin! I've used both the normal and oily skin one but prefer to use the oily skin one in summer as it dries to a nice natural matte finish! Definitely will be repurchasing.

Awesome!!
I absolutely love this stuff!! Really evens out my skin tone and redness.Makes my skin soft and flawless. Was really surprised with the coverage it has.all I do is apply this all over my face, use a little bit if concealer under eyes and and powder my t-zone and I'm set! Definitely found one of my HG products!

BEST BB CREAM
I ABSOLUTELY LOVE THIS PRODUCT. I have combination/dry skin, with an oily t-zone and this made my skin feel silky smooth and made it look matte and flawless! I always wear it to school in the morning, and at the end of the day when I come home, my makeup is still in place! I would say this is the best drugstore bb cream out there. I would definitely continue using it.
---