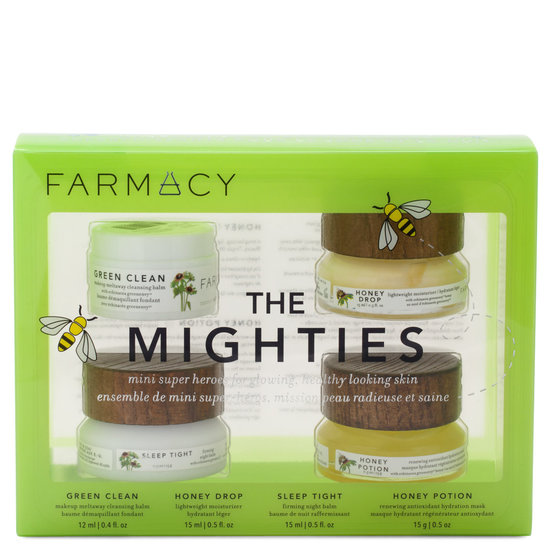 Rollover image to zoom
Reviews

Get. It. Get it now.
I am a sucker for trial sets. This takes me back to the original Burt's Bee's sampler. The cleansing balm was luscious and effective as all get out, not to mention gentle. I also used the mask which got scary hit, but my skin is pore less and fine lines are diminished. The firming night cream is very emollient and a little goes a long way. Super happy with this set. The simple, beautiful packaging alone has me sold! Fingers crossed I don't wake up one huge pulsing mess. Lol.

Stephanie S.
Apr 06, 2020
My skin is real mad
I am that person who's religion is their skin care routine. Now, I've tried the the clean bee and honey moon glow from this brand in the past, and liked them! so imagine my surprise when I start trying to incorporate the other products by them into my routine, and with in two days of using this bundle in my routine, I'm breaking out like a high school boy who's never seen face wash in his life, and have, not one or two, but, FIVE ZITS crop up on my face OVER NIGHT! and not just little pop it and your fine zits either, no they are those ones that are painful from the amount of pressure on your face. I don't think I'd recommend anything in this bundle to my worst enemy. You're better off going to CVS and buying your skin care from Neutrogena and Pixi.

Cured my allergic reaction
I had seen the green clean makeup removing balm in so many places and wanted to try it. I decided to get this set to get a more comprehensive look of the Farmacy line. It is SO good! I'm very picky with my products because I have very sensitive and dry skin, and am prone to hormonal breakouts (and cystic acne).
The balm gently removes all my makeup (even waterproof mascara), and leaves it feeling soft and smooth. The honey drop moisturizer is very lightweight and it plumps up my skin, works perfect under my makeup. The star of the show for me is the honey potion. One night I had used a jade roller with a face oil that gave me an allergic reaction. My whole face was swollen with little red itchy bumps that hurt to touch. I put the honey potion for a few hours (I was desperate) and my skin was already sooo much better. After a few days of using it it was all gone.
Can't recommend these enough!

As a huge Farmacy fan, I'm always telling my friends and family to try products from the brand, but I know their pretty hesitant to spend money on multiple products from a brand they haven't tried before.
This set has been my go-to gift for the holidays season and after! It contains four of my favorite products, the Green Clean, Honey Drop, Honey Potion, and Sleep Tight balm! After trying these four, I've turned a lot of my friends into fans too!
---