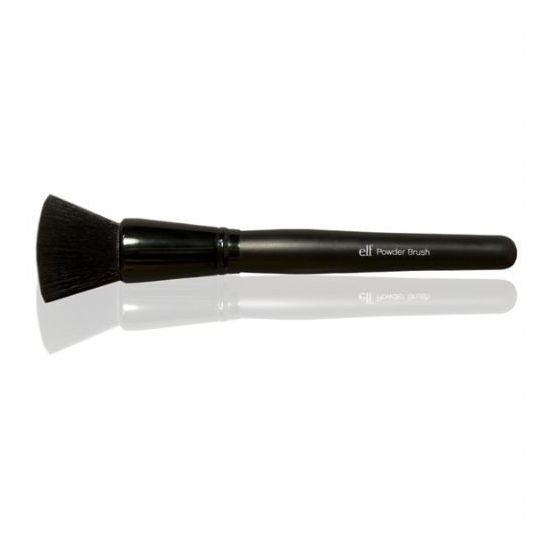 Rollover image to zoom
Reviews

Nichole Dianne M.
Jun 24, 2011
AWESOME!!!
I love this brush! The fact that it's so dense, it can hold powder so well and distribute/buff it evenly on my skin. I mostly use it for my powder foundation but I can also use it for contouring by using the edges and then buffing out the color with the flat end. I think overall this brush is pretty great when it comes to just making my skin look even. It hasn't shed on me and it's pretty easy to clean, at least the surface anyways. When you do deep cleaning you have to make sure that you get really deep into the middle of the hairs because gunk gets stuck there easily. Overall, no complaints whatsoever. GREAT BRUSH!

Great Brush!!
I use this everyday to apply my bb cream and I love it ! The brissles are very soft and I have had it for about 2 months now and it hasn't shredded at all! I love it and it doesn't leave streaks on your face. It's blends everything in very well and is great quality for only 3 dollars. My favorite brush for bb cream/foundation application

Amazing for the price
I use this brush every single day. It's great for mineral makeup, liquid makeup and powders. It really is a go to brush for me.
It's soft and dense and does a great job at buffing in liquid and mineral foundation. It is super affordable too. And it does not shed.
Only negative is that the metal barrel can get a little loose with time. But I don't mind for the price.

Sojourner W.
May 26, 2012
Favorite Brush By Far!
I just purchased this about a month ago and I LOVE it! There is so much hype on YT about this product that I eventually caved and bought it for myself; I'm so glad I did! This brush is really soft and smooth on my face so it's perfect for my foundation. It's also perfect for liquid foundation because it's really dense. I have heard that the brush has fallen a part and I have noticed mine getting loose already, but I mean it was $3 so I'm not too worried. And also, if the handle does break, I can just glue it back on, no big deal! I think that this brush is also good for its primary use (powder) too! Overall, this is definitely a staple brush in my collection now! :)
Pros: - Texture of bristles - Price - Availability (Target and/or online) - Application versatility
Cons: - Handle might break

doublethenhm M.
Sep 22, 2011
BEST ALL THE WAY!
Why is this one the best you ask? Its extremely soft and I mean Sigma Soft (currently in love with sigma brushes). Anyway its affordable soft and durable. Its very unusual to find a products that fits all the criteria but this one FITS. I couldn't picture myself using this brush after I got my sigma brushes but this one i STILL and I assume will ALWAYS use. Best powder brush ever!!! really blends well and the flat top helps apply the product. I cant say anything but good things about it! all this and its only $3...AMAZING!!! (I currently own tow....yep backup because you never know!)
---