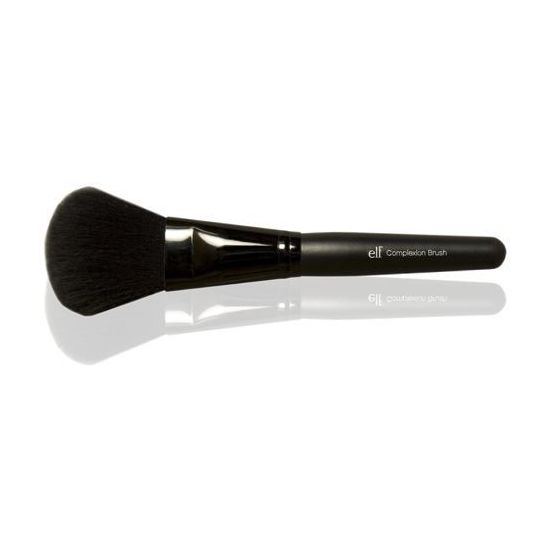 Rollover image to zoom
Reviews

This is something special.
There's something very special that makes this $3 powder brush worth every penny. It's a combination of it being on the smaller side, tapered, and having a pinched ferrule that makes it perfect for a variety of applications, including bronzer, powder, and even for a sheer wash of blush. I use it with my Kat Von D Contour Palette for a soft, daily contour under my cheekbones, along my jawline, and on the perimeter of my forehead, and it works amazing to blend the bronzer into my skin. The bristles are soft and flexible, and they can hold up to many washes without shedding. However, the ferrule has come off of many of my e.l.f. brushes due to use, but it's nothing a little Krazy Glue can't fix. For $3, I can put up with glueing a ferrule occasionally. I'm not sure exactly what it is that makes this brush so useful, but I highly recommend you buy it.

Amazing Quality!
This brush is absolutely insane! It's so soft against my skin, (seriously, it feels like I'm petting a rabbit!) I've never seen a brush that is such good quality for a drop-dead amazing price! I would have to say it may be even better than any of my brushes! Even the expensive ones! This is a very great quality brush, I think.

Mary Anne M.
Jul 08, 2012
2 Years of Almost Daily Use, and Still As Good As New
I always hesitate to purchase cosmetic brushes because I am a painter, and I use paint brushes that are economically priced and still effective for good paintings. With that mindset, I didn't want to go blowing more than $10 for the cosmetic brushes everyone raved about, if I could find far more affordable brushes that could do just as good as a job as any other designer/high-end/cult favorite brush.
And I'd have to say, I bought 7 different e.l.f. Studio brushes and they're all winners, including this complexion brush! For $3 this brush was fabulous; the bristles are very soft, and they picked up a good amount of mineral powder in a single dip, not too much like my Ecotools brush did. During the entire time I used this brush to apply my foundation, I never experienced any flaws with the brush itself—there was no bristle fall out even while washing it, the handle and ferrule always stayed in tact, and the design of the brush is very simple and elegant. Since the hairs are synthetic they're easy to wash and even easier to dry since they don't absorb moisture as much as natural hairs do.
I see a lot of people are commenting on using this brush for blush application, which I think is okay if the blush is very sheer or the blush color is just a slight difference from your skin tone or foundation, but if you like dramatic blush or contouring, I would advise using a smaller brush than the complexion brush, like e.l.f.'s Studio blush brush, so that the application is less overwhelming and easier to control.
I have only bought one of these complexion brushes, and have been using it since I bought it (at this point, I have been using it for more than half a year). If for any reason it does break, which I can't see that it will anytime soon, I would still buy another one in a heart beat.

This is a good brush
This brush is soft, picks up a good amount of product and does not shed after you wash it. I find that the brush is good for putting on blush and also powder since it is smaller than a powder brush it gives you better control. The only problem I have with it is that when you wash this brush and set it out to air dry, it takes about a day or two for it to dry completely. I guess since it is a fuller brush. I think if you do want to use this daily you might want to pick up a couple of them; since this is such an affordable brush. I would definately recommend this brush.

Adore these!
This is so awesome! I can't talk about how much I love the studio line of brushes from ELF. They are amazing - cheap as chips! I got this one in the 11 piece set. Its sooo amazingly soft - I have to hide it from my kittens cause they like to play with it. It feels so nice on my face, fantastic for powder!

Coveted Dusting brush
I've never seen anything like this: Amazing brush at an amazing value! One of my favoritest (yes, I said it) in my kit. I don't even use my ultra expensive powder brushes anymore. This brush just makes me smile with each use. On myself and on my clients.
---