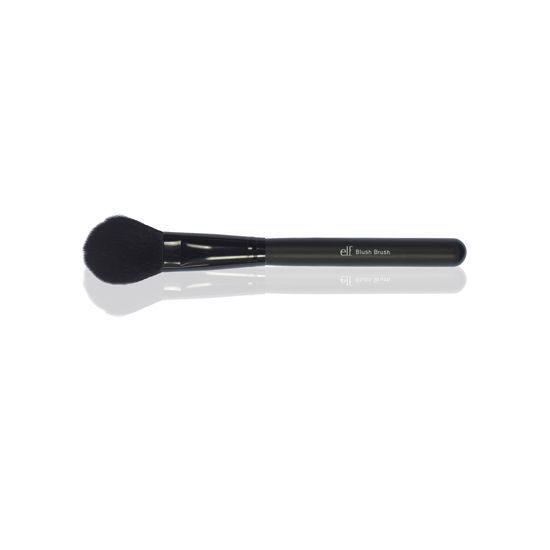 Rollover image to zoom
Reviews
This is my absolute favorite blush brush...it's soft bristles picks up color with ease. You can also use this brush as hightlight and contour brush the pointed tip allows you to control color placement precisely. This is a must buy and for $3.00 you can't lose. FTC: This is my honest review which I was not paid to do.

This is the perfect brush for me to apply my blush. The brush is not to stiff however it is not at all flimsy. It picks up a lot of product with one touch. This is not only a good brush for applying blush but it is also great for applying loose powder for under your eye and contouring your cheeks. The E.L.F. blush brush is my go to brush for my blush. I have several of these brushes and have had them for a couple of years now, they are still holding up well and I have experienced no shedding. Cost $3.00.

Amazing! :)
This brush is amazing at applying blush! it blends so easily i love it and for the price there are no regrets! :) i use this to apply powder underneath my eyes because it's small enough to get into the corners! :)

Cassandra M.
Jan 30, 2011
Another amazing brush
I've had this brush for a really long time and I LOVE it. I use it almost everyday and it's still in great condition for washing it so many times. It's super soft, not too dense but that's fine by me because it still picks up the perfect amount of product and applies it perfectly. I've noticed a lot of people complain it's too small but it's the perfect size for me! I'd recommend this and all of the elf studio brushes to EVERYONE!

More for contour
This brush is a litttle to small for blush, however is the perfect size for bronzer and contouring. Gets in the hallow of the cheeks perfectly and blends it out well since it is tapered. I use it to contour, and to sweep away fall out. Over all for 3 dollars you cant go wrong :]

oooxxxooo o.
Aug 10, 2011
Great Brush!
I really like this brush. I got it in the Studio Line Set with 11 brushes,and I absolutely loved this brush for my blush because its small so it works well to just cover the apple of my cheeks. It's also good at picking up all the fallout from the ELF blushes ( i love candid coral btw) its a great brush !

I use this soft brush to apply blush to the apples of my cheeks. Being someone who usually uses big fluffy brushes to apply blush, this small and slightly tapered brush took some getting used to at first. Once you get used to it, this brush works great for applying blush exactly where you need it. Also, I use this brush to sweep pressed powder under my eyes after applying tinted moisturizer and concealer. It's small and tapered enough to have the precision to do so. My only complaint, is that with some of my blushes, it doesn't pick up enough product. However, that can probably help those who are heavy-handed with blush.
---