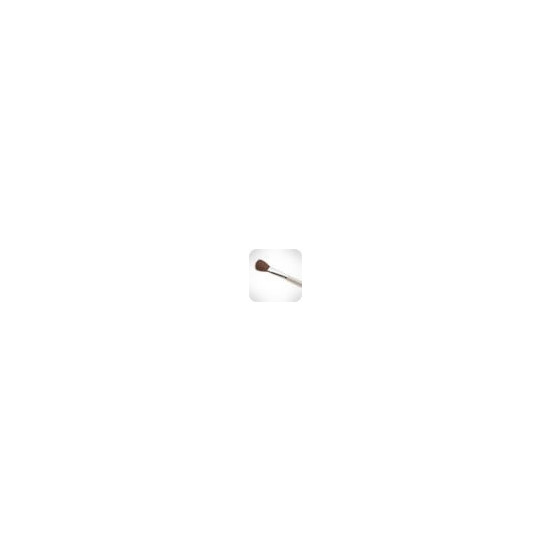 Rollover image to zoom
Reviews

Go to for fabulously chiseled cheeks!
This brush has really helped me get desirable results as far as bronzing/blushing/contouring and highlighting go. I got lucky with the feel of the bristles- mine are soft, almost too soft, and flimsy, because I like a brush that is gentle on the skin but is still firm, without too much give. The hairs do fall out, which is a little annoying, but not a big deal. I love its shape and how its helped define my cheekbones and let me play with different blushes and bronzers. This brush is great economically and perfect for beginners with makeup. I still want to slowly add more cheek/facial brushes to my collection, yet I feel, as cheap as this brush is, its a great foundation in my brush collection. Plus, I dig the reddish (probably fake) color of the bristles. For a buck, this is a great product, although I wish the brush had more substance physically- it does feel a little cheap and breakable.

pretty good
Works well for me...soft (which I've noticed others say It's not), picks up product well..gets the job done. Doesn't shed...guess I got lucky. For 1 dollar I won't have a problem repurchasing. Love Elf!

Sojourner W.
Nov 06, 2011
Perfect for Bronzer!
This was one of the first brushes I bought ever and I absolutely love it for my bronzer! It works perfectly on my t-zone and is also really good for contoruing my cheeks, face, whatever! I don't exactly know what you are suppose to blend with this brush, therefore I don't use it for blending. Lol. But the bristles are extremely soft and the price is extremely cheap, only $1! I absolutely love this brush!
Pros:
- Price - Texture - Quality - Uses (3 in 1, even though I only use 2)
Cons: - Some of my bristles did fall out/shed
xoxo Sojo
http://www.thesojochronicles.blogspot.com

this damn brush.
I use this brush everyday to contour my cheeks! I think I paid like two dollars for it, and its fine by me. It does the job, its cheap, it doesn't smell after I cleaned it (which happens with some brushes), & it hasn't fallen apart! --Well a couple of bristles have came out, but nothing major. Also, its not as rough as I thought it would be. Haha. I recommend if you need a quick brush for traveling or low on cash.
---