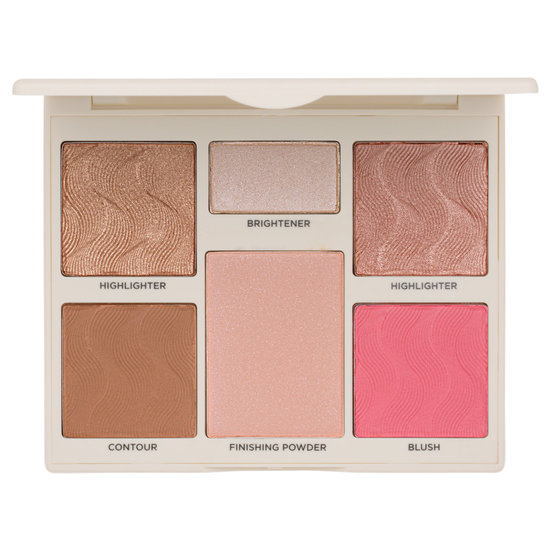 Rollover image to zoom
Reviews

Not as impressed with the colors
This palette is a great all in one. I have both colors, and very very fair skin. I originally recieved the Medium/ Dark palette with a subscription service box, and tried it and I loved it, so I figured I'd order one that was actually made for my skin tone range and I'd love it even more, but that was not the case. I love the contour and the brightening powder, but the cheek color and the finishing powder color don't look that great on me, they kind of muddy up my skin, which I feel like is odd. For reference, I am very fair skin with neutral undertones that will change depending on how much sun I've gotten (less sun=more pink, some sun=more gold/ yellow) I don't feel like any of the shades are too glittery, I really love how soft they are and how easy to blend they are plus the convenience of an all in one palette is hard to beat, especially when you travel as much as I do. I'm hopeful this palette works for me because I waited a year for it to be restocked!

It's always in my purse! I never leave home without it!
I haven't hit pan on anything in a really long time, but this finishing powder is AMAZING! they really need to think about making and selling it on it's own. The rest of the palette is great too, a universally flattering pink blush that's gorgeous. The brightener is really wonderful too. My only reason for giving 4 stars instead of five is that the two shades of highlighter are too close to looking like the same color and not as pigmented as I was hoping. I like mine to blind people on the moon. Lol. I'm also in love with the contour/bronzer shade because it's the perfect color for Fair skin doesn't leave you looking muddy or dirty.

Perfect for travelling
This is such a cute palette and turned out okay for my fair skin. The highlighters are a bit dark, but I manage to make them work when applied with a light hand, and they work even better when mixed with the brightener powder in this palette. i have oily skin, so i can't use the finishing powder all over my face because it has specks of glitter in it (and that would make me look even shinier which i try to avoid). I don't use bronzer, so I use the contour powder as an eyeshadow and it works so well (it's the perfect tone). the blush is also a pretty shade. my biggest issue with this palette is that these powders are so dusty when you dip your brush into them. the highlighters are creamy but a bit stiff to pick up with a brush. you have to apply the blush extremely lightly (i've made the mistake of going heavy, and ended up looking like a clown) it's a nice palette, i just have to use it a bit differently to make it work.

Perfect All-In-One
Just like the other ladies, I received this in my Boxycharm and I couldn't be happier. I already love CoverFX and own tons of product from them, including foundation and concealer. I love how versatile the products are, the formulas and ingredient choices from this company. Upon seeing that this was the centerpiece of March's box, I was super excited. I travel a lot and bringing separate highlighters, setting powder, blushes and bronzer/contour easily can take up a lot of space in a makeup bag (and adding weight to my checked luggage). This palette cuts out needing all those separate products and puts them in one, perfect-sized palette.
The face powder is incredibly lightweight and helps blur any imperfections without looking cakey. It does have a slight shimmer, which I am totally happy with because on the days I just use a bit of concealer under my eyes, powder, blush and a touch of highlighter, the shimmer helps to give my face that extra je ne sais quoi. The blush is a beautiful, flushed pink that is very pigmented so a light hand is all that's needed to get that lovely, natural flushed color. It's a very flattering shade and has worked with every look I have used it with. I personally don't do any heavy contouring, but I do add dimension and the matte contour shade is perfect for those like me who don't contour too much and also for those who love their chiseled cheeks <3 The contour shade is very pigmented as well, so a little goes a long way, along with a light hand.
The two highlighters are super versatile: they can be combined together, made as a soft highlight or go so blinding, you can be seen from the International Space Station XD One shade is a beautiful champagne gold and the other is a gorgeous rose gold. I've used the brightener with the highlighters and have created some pretty dimension to my highlight. Like the face powder, blush and contour, the highlighters are lightweight and a little definitely goes a long way. The formula is so soft and blends out beautifully. The brightener is a pearlescent white that works to brighten the brow bone, inner corners of the eye, cupid's bow and even to add some shimmer to a lipstick. It, too, can be used as a highlight.
This palette really does it all and in one place. I use it everyday and have even brought it on a weekend getaway. It made packing my makeup so much easier and less bulky. Don't get me wrong, I love my other blushes, loose setting powders, highlighters, etc. but this versatile palette does so much and works for both day and night, work, girl's or date night and everything in between. The formulas are fabulous and the pigmentation is insane. This is a true all-in-one, what more could you ask for?

Perfect everyday palette
I recieved this in my boxycharm and I couldn't be more thankful because I LOVE IT! The powders are so silky soft and pick up the perfect amount of product on your brush. The pigment is incredible so always go in light first. The contour is the perfect shade to create that natural shadow and the blush is the perfect flush to the cheeks. The highlighters are blinding but you can make them look soft if you like, the brightener is a beautiful shade to mix in with the highlighters if they are a little too dark for your light skin. Also perfect for inner corners! You could even use the contour and blush in the crease of your eye for a quick look, making this all you need!! So it's safe to say I'm obsessed!!
Good quality but not a stand out
I own way to much makeup and have tried a lot of face producst. CoverFX is good and has never disappointed me but also is not my favorite. I got this palette in my BoxyCharm and really do like it. I don't know if I would have paid $45 for it but it is good quality and offers a variety of face powders. The finishing powder looks glittery in the pan but not on the face. the contour and blush worked well on my fair-light skin. I liked the pinky highlighter and the brightener was also good. I have not tried the darker highlighter yet.
---