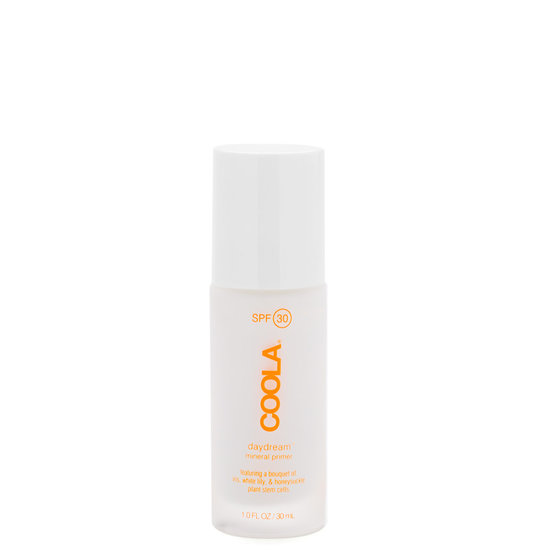 Rollover image to zoom
Reviews

Nice and reliable
The Coola Daydream Mineral SPF 30 Makeup Primer Sunscreen applies like a dream over hydrated skin and does a great job leaving a nice matte canvas for foundation and makeup. This primer does have a slight white cast but once foundation is applied over it this is camouflaged quite well. I love a good two in one product, and this makes using sunscreen just as easy as applying your normal makeup primer and leaves no good excuse for not using sunscreen. This definitely extends the wear time of foundation by at least two or three hours. My other thoughts using this is that it reminds me a lot of the Hourglass Veil Mineral Primer. The texture and application of it is quite similar. The Coola Daydream Primer isn't cheap, but it is more affordable than the full size Hourglass Veil Primer. Plus, the Coola Daydream Primer is an SPF of 30 while the Hourglass Veil Primer is an SPF of 15. This is a reliable sunscreen that works great as a primer. My video review and swatches can be seen here: https://youtu.be/XaPYG-IiOpw

Absolutely Love!
This primer is one of my favorite Beautylish purchases. I am extremely pale, so skipping sunscreen is not an option for me. This primer just made my morning routine so much easier! It's really nice to know that the product I am using to prime for my makeup application is also helping to protect me from the sun.
I love wearing this alone, or of course with makeup on top. When applied on its own, this product gives a really nice blurring effect to the skin, which makes me feel a bit more confident when going out bare faced. Overall, 10/10 will buy again!

Sunscreen + priming AIO
Texture is very similar to the Hourglass veil primer. I would say on the slightly oilier side, and both have similar longevity on wear time. I prefer the texture of the HG veil but this mineral primer is much more hydrating. The texture is real soft and light and it does not leave a sticky film on the skin, The mineral primer has a similar blur effect that the hourglass veil provides and also it makes a super smooth canvas on my face. Because of the mineral nature of the products, the white cast is really serious.
I really like lightweight cream like primers, but the veil and mineral primer are matte primers w/o drying my skin or bluring primers that is silicone rich and rubs right off my skin.
---