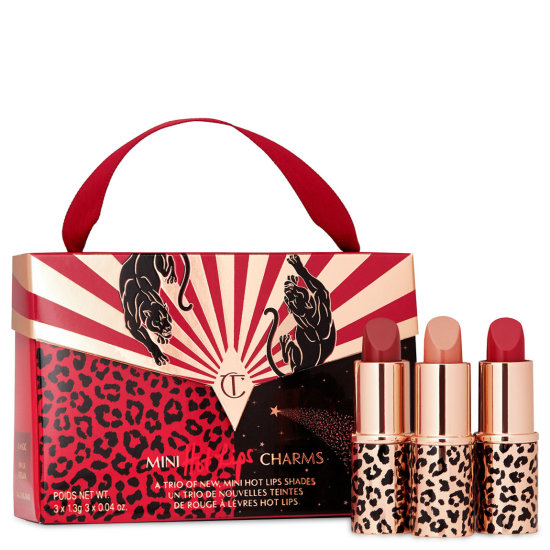 Rollover image to zoom
Reviews

Perfect Little Gift Set!!
The size of these lipsticks might appear very tiny, BUT if you compare to other mini lipstick sets on the market they are not far off in size and value. I did review these shades on my youtube channel — momomakeupofficial. Love these lipsticks! Great quality, highly pigmented, and moisturizing as well. Great gift idea!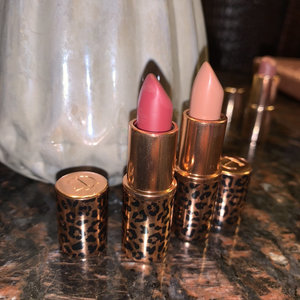 This is a great mini trio (think deluxe sample size) with three shades from the Hot Lips 2 collection in "JK's Magic" (Nude Peach; cream) "Amazing Amal"( Soft Rose; soft matte) and "La Viva Vergara" (Berry Wine; matte). Each one is lovely, hydrating to the lips (even the "mattes") applied easily and lasted with normal wear time for a lipstick. I love the mini gold metal cases with the cheetah print; CT on top of the lid and a satisfying "snap" sound when closing. For $25 you get in my opinion, a great deal, to TRY the lipsticks formula, different colors and tones, so that if your curious about the Hot Lips Collection, or Charlotte Tilbury's lipsticks you can see what you like before committing to a full size single shade first. The FULL SIZE lipsticks in this collection are $37 each and you get 3.5 grams of product in a beautiful, stunning, weighted, lipstick component (she has several different styles and patterns available.) The FS lipsticks have a unique bullet shape to help facilitate the application of lipstick without the need of a lip liner or brush! It's embossed with lips all over the bullet which are mesmerizing to look at! Although one of the BEST features of these lipsticks is that they're REFILLABLE! Once you've gone thru your lipstick, simply refill your stunning component with your shade & fall in love with it all over again! Or maybe you've had your eye on a different shade (but don't want to spend another $37 to get it!) just take out your original shade; place the refill cap on it for later use, then put in the new one!!! It's PERFECT for when you wanna change things up for a little while, then go back to your "favorite". The refills only cost $25 and you still get 3.5 grams of product. I love the ability to be able to do this! The minis in this CT trio set are GREAT to throw in your bag, have one in your desk, or even slip into a pocket. I personally think that although they're tiny, it's perfect for it's purpose. Who really finishes an entire full sized tube of lipstick anyway?!? I have no regrets whatsoever! I love them so much I even went and purchased "Dance Floor Princess" and "Glowing Jen" in the full size. DFP is beautiful, especially on cool toned fairer complexions, it's the perfect light pink/pinky nude without washing me out, and GJ is the lipstick you own and can't live without, it's your "go to" for everything because it goes with just about anything!! I've got my eye on "Carinas Star" and "Angel Alessandra" next, but in refill versions instead!! I only wish she would make these kinds of trio sets for her Matte Revolution Line, the Kissing Lips Lipsticks and definitely the Lip Cheats Lip Liners!!!! Maybe I'll get my wish one day!! I 100% recommended this to everyone!! For those who were "shocked" about the size in person, It's unfortunate because these are wonderful (especially the full sized versions you'd have to see them and hold them in person, and feel how "weighted" they are for a lipstick! Even though I have several high end and even luxury brand lipsticks that are heavy and weighted it still always surprises me when I hold one!) Reading the product description you can see that it's intended to be a "mini" trio set and advertised that way, not as full size. Just give these a chance, you'll LOVE them! Because there's honestly NOTHING bad about them (full size or deluxe mini's!) I'd love to own them all one day!
---