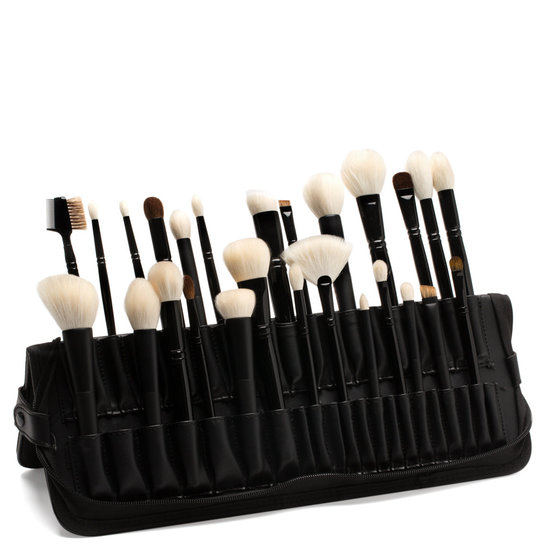 Rollover image to zoom
Reviews

The Best Brush Organizer Ever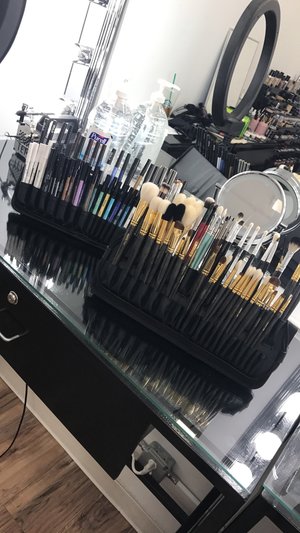 I have been using and loving the Brush Works Artist Easel Pro for months now and it has saved my life while on set more times than I can count.
This is the perfect tool for pro artists and consumers alike. Whether you're on a magazine shoot or at your vanity this is literally the best way to organize and transport your brushes. Also it is really easy to clean!
If you're in the market for a new solution to manage and organize your brushes look no further! This is it!!! Absolutely love it!

Changed My Life!!!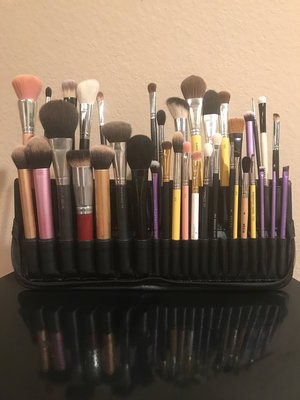 I am not usually one to review things (obviously since this is my first review here), but this was worthy. All I can say is WOW WOW WOW!!! I have been looking for something to hold my brushes and have used cups, brush rolls...everything and nothing really worked for me until I found this amazing product. Not only is this product so well made but it holds so many brushes (even my Real Techniques brushes which have very large handles). The best part is that it folds into an easel so I can see all of my brushes. When I was using cups I was always digging through them trying to find my brushes which drove me crazy. Brush rolls also were a no go for me because they don't protect your brushes, your brushes fall out and they take up so much room! The Artist Easel Pro is perfect!! It's not too bulky, closed easily with all my brushes inside and even has some padding so it feels like it's protecting my brushes when I travel. I can't say enough good things about this product. Thank you Brush Works for making a product that speaks to all my needs.

Fancy Eyeshadow Brush Holder
The concept that this will hold 75 brushes is blatantly exaggerated. None of the compartments hold my Chikuhodo Z-1 and I had to stretch the pocket to hold the Z-2. Good luck fitting those cheap bell-shaped Real Techniques brushes in here. I can fit approximately 40 eyeshadow brushes and 6 small face brushes. They come out a bit squished after traveling.
There's better out there. Save your money.

I don't know what to say....
I'm not happy or am I happy with this, I just don't why this was made.I wouldn't use it as a makeup artist, it doesn't fit any of my brushes and when closing it with brushes in it. It squishes all the brushes together, what you don't want. I say just pass on this and you can use a brush roll, which is 100% better than this. And I it works for another people I would like to know how they fit all of their brushes inside without the brushes squished together. Thanks

Soooo GOOD!
I normally shop at my local beauty retail stores for my kit, but have been so busy. I heard great things about Beautylish so I figured for convenience sake I'd take the plunge and try it out. I am so glad I did, because I came across this amazingly cool product. What a find!! This holds so many brushes and keeps me organized. I've been looking for something to replace my brush roll and this is definitely what my kit has been missing. I will never use anything else.

It didnt fit my powder brush at all @Alex S and @Rachel W how did you fit in the bulky brushes it even it did nit fit some of my small brush. Is this expandable?

Amazing!!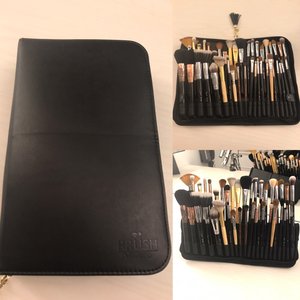 I just received my Brushworks brush holder and it has changed my life! As a working Makeup Artist I'm always traveling between sets, and this has made that so much easier. Now my brushes are beautifully displayed and always ready to use! No more worrying about how my brushes were getting ruined carrying them in a brush boat. Do yourself a favor and order Brushworks, you won't regret it!!

it ok
Most of the slots are way to small to fit brushes, they don't fit in between the slots on top very well either, so this defeats the purpose of me using all my brushes from this. my larger face brushes, unless the handle slims down to a point, wont fit at all. Disappointed.

Poor Execution
I read the reviews on this product and was concerned it would not fit my larger brushes. After reading reviews on this I decided to bit the bullet and buy it. I got it in the mail today and I was very excited to try it out. I did as other reviews said and tried to wiggle one of my larger brushes in and the pocket immediately ripped. While this is beautifully designed and nice in theory, it does not accommodate large brushes. If you are okay with not fitting your large brushes in it, you may like it. I, however, regret spending the $55 on this.
---