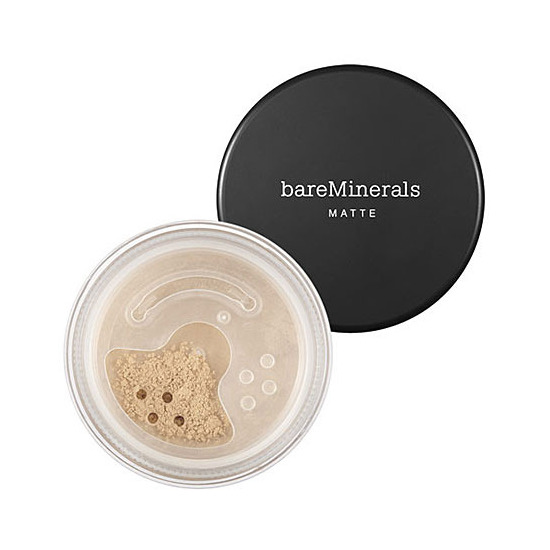 Rollover image to zoom
Reviews

I absolutely love this foundation! I had ran out of my original bareminerals foundation and they were all out of this kind at Spehora. To find the closest to it I picked up the matte powder. I actually like this better then the original. It blends nice and evenly, covers my blemishes and stays on for a long period of time. I definitely recommend this product to anyone.

Best Foundation I've ever used.
For years I have struggled with trying to find a good foundation that wouldn't smear almost completely off my face half way through the day due to my oily skin. But for the longest time I couldn't allow myself to spend the higher prices for make up and instead bought drug store make up which all failed horribly. I'm so glad I decided to switch to Bare Minerals. It's not cheap but it does exactly what I want it to do and barely have to touch it up at all. I do recomend using a moisturizer and a primer underneath this foundation though. You will have to use way less product than using it without them I've found. I also recomend a concealer underneath if you are looking for full coverage. It covers well by itself, but the concealer helps cover redness and any imperfections and gives a totally flawless look. Also doesn't break my skin out and does do a lot to control oil unlike other make ups. With using clean and clear oil blotting sheets and doing light touch ups like twice, I kept this make up on and looking flawless for more than 12 hours just today while attending an event held several hours away.

THE MOST AMAZING CREATION
I never really wore foundation before because I felt like any products I would use would make me look orange. I tried this about 3 years ago and fell in love from the start! It is so natural and looks like YOUR skin. It just covers what it needs to cover. I have the lightest shade and it matches perfectly on my skin. I like the ORIGINAL formula for winter, and the MATTE formula for summer because of the heat/my oily skin during this time. All in all, I think everyone should use this product. It has amazing coverage and makes you look healthy and radiant.
tried and love it!
i tried this product because my sister recommended it and it was 4years ago. i forgot the price, i guess around 20 something. my skin is combination during winter, and oily during summer lol since i live in 4season country now. i've been looking for this powder when i run out of it, even tried YSL and cost me almost usd100 but i still love bareminerals powder! really light, no need too much powder, make my skin look flawless! i even have 3 in my makeup case now, dont want to change to other product!

MAC's mineralized skinfinish natural is better quality
I used this for years and it is somewhat worth the hype, especially since it was created a couple years before there were so many mineral products on the market. My personal problem with it is that it oxidizes besides the lightest color not being light enough for my skin. There is a definite yellow undertone to all the colors so it won't look neutral. It was also caking on the sides of my nostrils and chin. It IS very good for your skin (mac mineralize doesnt claim that) but it just doesnt look as good as this new product I've found, so I must rate it down.

My go-to foundation ATM
This has been my foundation of choice for awhile now. I love the matte finish and keeps my face looking oil free all day. This shade is perfect for my skin tone, (Summer and Winter!) After seeing BareMinerals infomercials, I thought I could use this product as a concealer too, sadly it doesn't build up to the coverage I want. Also, when I apply it to a newly washed face it feels a little drying and heavy on my skin but that goes away pretty quickly. Overall, works great for me, Love it! :D

Nancy-Lee C.
Jan 10, 2011
What I wear
I love this. I very rarely wear liquid foundation, and this is the perfect solution. I was so excited when the Matte formula came out - the original made me look greasy.
I was also glad they finally updated the top. What a pain in the ass it is every time the powder would shake into the cap. urg.
I do not use their brushes, I think they are cheap. I use Lancome's #7. It goes on clean and easy.
I'm going to try NARS pressed mineral powder next.
---