Deliciously Rich Body Butter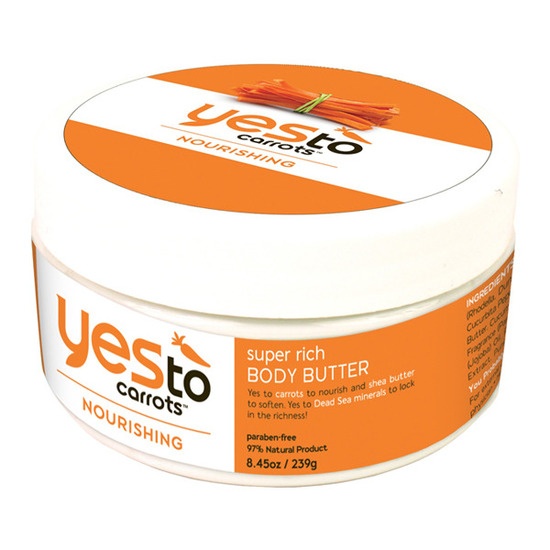 Rollover image to zoom
Reviews

Only body butter I've ever liked
I got this on sale @ walgreens for $1!!! I wanted to try it out just because it's organic and I'm changing my lifestyle. I must say I like this body butter. It feels kinda thick when you apply but the skin absorbs it quickly and moisturizes all day.

More of a cream than a butter.
Yes to Carrots Super Rich Body Butter is meant to "indulge your skin with a nourishing, revitalizing, and long lasting moisture treatment that will leave your skin feeling smooth, soft, and hydrated, and you feeling amazing - naturally." Lol good play on words. Yes To says the key ingredients in this butter is shea butter and organic carrots, though there are lots of beneficial ingredients in this moisturizer. This is the first body butter I've used for quite a while, but I really like them and hold them up to higher standard then most lotions. Yes To is a cruelty free brand that strives to make their products as natural and organic as possible. This body butter is paraben free. Yes To products are made in American and Israel. I bought the 1oz (28g) sample sized jar at Target for $1.99, which is a kinda sucky value. The full 8.45 oz tub retails for $12.99. Yes To products are available at just about any drug and grocery store, Ulta, Target, and Walmart in the US. I've also seen Yes To products being sold at a reasonable price at Priceline in Australia. Yes To can also be purchased from the company's website. This body butter comes in a small, white, recyclable plastic jar with a screw on lid. The bright orange label peels off to reveal a $1 off coupon for any Yes To product over $7. That's a bangin' coupon! The orange and white label on the front of the jar features the Yes to Carrots logo, product name, full ingredient list, and some warnings. I like how thorough Yes To is with their packaging, even on their mini products. Every brand should do this. Yes To gets really, really creative their their description of this body butter. It's so ridiculous that I feel the need to copypasta it right into this review. "Close your eyes. Imagine: A rich, creamy lotion being relaxingly messaged all over your delicate, hungry skin. A faint, light, refreshing scent fills the air around you. Now stop imagining, open your eyes, and a jar of Yes to Carrots Super Rich Body Butter". Calm down, Yes To. Don't get too excited. Was that supposed to be like, some sort of hypno-therapy session? It seems to me that Yes To takes their body butter way too seriously. On to the actual product. This body butter is more of thick cream than butter, you know what I mean? It doesn't have that super dense, melty quality to it. That's what separates a body butter from a body cream/lotion, isn't it? It applies very smoothly, but you don't have to spread it on like a body butter. You need less of this product then you think. When I first opened this little jar I thought I'd use it twice and it'd be gone, but I've gotten 3 or 4 uses out of this little 1 ounce jar, and I still have 1/3rd of the product left. Not bad. This product moisturizes well. I kept it in my purse on the plane to Aus, as 15 hours on a plane can lead to some very dry skin and it kept my skin feeling hydrated. I don't think this particular body butter gives the kind of rich, deep moisture a body butter should, I really do consider it more of a thick, maybe whipped cream. Just because it isn't a true body butter, doesn't mean I think it's a bad product though. It's a really nice hand cream that sinks in quickly but gives lasting moisture. The mini version the perfect size to carry around with you and is more portable than most hand creams. This butter is also a fantastic lip balm when you're in a pinch, though the "external use only" warning on the side leaves me to believe that using this butter on the lips isn't the best idea. You probably also shouldn't use it on your face either, but I did once out of curiosity and it gave me the softest skin ever with no negative reactions. Even though it's great on the hands, lips, and face, the places you aren't necessarily supposed to apply it, it gets poor marks when used on the body, where it is meant to be used. It doesn't give me any special, impressive results. My skin is soft, smooth, and fairly hydrated, but no more so than when I reach for any old Bath&BodyWorks lotion, and I get way better results from my St. Ives Intensive Healing Lotion. I will admit that my elbows, where I have my driest skin, seem less red and scaly than usual. Maybe this body butter is best used in areas where it's most needed, as opposed to all over. The scent of Yes to Carrot's Body Butter isn't what I expected. I guess I assumed it'd smell like carrots (which I thought was a safe bet). But it doesn't, and I'm not sure if that's a good or bad thing. When I was reading reviews on this before I started using it, an overwhelming number of people described the scent as "heavenly". Why? I, and the 5 people I surveyed, all agree that this body butter is baby powder scented. Baby powder isn't heavenly, just powdery. I guess if you want a lightly scented body butter that doesn't linger, this is a good choice, but if you want a more heavily scented one, go to B&BW. Overall, I'm kinda torn on Yes to Carrots Super Rich Body Butter. On one hand it's great for use on my hands and lips, and the sample size is purse and pocket friendly, but it doesn't excite me otherwise. This butter lacks the texture and moisture I expect from body butters, it smells like baby powder, and isn't the best value; though it is more affordable than some butters which tend to be on the pricier side in general. I probably will buy another mini jar of this butter to keep in my bag, but I won't purchase a full size. I recommend trying the mini jar first to see if you like it before investing in the full size tub. This body butter is alright, it just isn't buttery enough for my liking. I might've liked it better had it been called "Super Rich Body Cream", which in my opinion is a more accurate name

Not greasy!
I love this body butter. I am using it right now for my hands and it works great. I absolutely HATE the greasy feeling and this is definitely not. It absorbs so quickly! The texture is great and it keeps my hands hydrated a while. I only have a small travel sample, so I have yet to use it on my legs/arms/etc. also because it's thick and I only use thick lotions for winter. BUT, I must say that the scent is kind of strong. I don't usually like scented lotions (which is why I have such a hard time finding ones I like!), but the scent isn't bad. It doesn't smell "medicated" and smells natural and fades. That's why I gave it 4 stars, but I do love everything else about this lotion!

The best body butter I've tried
I bought the travel size first to have something in my purse and fell in love. This is no too heavy/thick but it moisturizes really well. It even works on my baby who has eczema which is great. It has a light powdery scent but not too girly and it feels so good on. My family has been through 2 tubs in the last 2 months. We love it

power to YES
I purchased this product on a whim; I was browsing through the travel products isle in Target. I try to find/buy "new" products in travel size first try it out as it normally ranges between $1 - $3 try it out a few days to see how I like it and to decided weather or not I should commit to purchasing the product…that way I don't feel like it's a complete waste of money.
At first I was kind of skeptical & hesitant (I'm not really a fan of "organic" products…I've had some pretty bad experiences) so I thought to myself $2 to try it out it can't be that bad, can it? The full size 8.42 fl oz is about $12. The label does say "C through the dry spell, deliciously rich body butter".
Hmmm…can't knock it till you try it. So I decided to try it!
I am very impressed & also ended up loving the product! I use it daily; it is very similar to the Aveeno Daily Moisturizing Lotion (MY FAVORITE)! It has a very light refreshing scent, (that fades away a few minutes after application) the texture is like very creamy lotion and to mention non greasy so it's very comfortable. It is very long lasting, and makes my skin feel soft, smooth, and hydrated. My skin was able to "C through the dry spell".
Packaging says this body butter is blended with organic carrot juice, shea butter, spring water and Dead Sea minerals. It is also paraben free.

Holy Grail!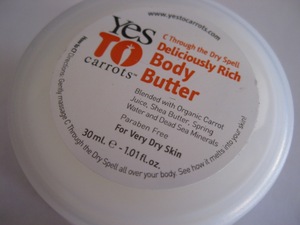 This is my new Holy Grail skin care product for anytime my skin is dry! I picked up the travel size during a trip to Target for $0.99 and applied it to my dry, cracked areas twice daily (which I get every winter) and within two days, the areas were back to normal! I couldn't believe how quickly this product reversed the seasonal effects on my skin.
A little definitely does go a long way, so the 1.01 fl. oz. within my travel-size will last quite a long time. I can only imaging how long the 8.45 fl. oz. the full-size provides will last! There is a very pleasant baby powder scent that dissipates quickly on the skin. The product is thick like a cream, applies effortlessly, absorbs quickly, doesn't leave behind a residue and lasts for hours. I'm loving that it's paraben-free and cruelty-free as well!
I highly, highly recommend this product to anyone needing instant, long-lasting relief from dry skin!

A little bit goes a long way!
I bought this kind of on a whim when I saw it at my local drug store. Winter always does a number on my skin, and I have perpetual "lizard skin" on my elbows. Definitely not glamorous! But I love the Yes To products I've tried and for $12 I couldn't resist.
Literally, dipping your fingertip into the product is enough for my entire forearm. It is a super-thick formula, though I was surprised at how creamy it was. Unlike most "rich" formulas I've tried, this is much softer and smoother. I wouldn't even call this "cake frosting" texture--almost more like super thick cake batter.
I can't say much for the scent--even though "fragrance" is listed as an ingredient, it smells unscented. Like raw shea/cocoa butter, but less nutty. Sort of like unscented cold creme. But it's not offensive, and it fades a few minutes after application.
I apply this every morning and evening on my elbows and I'm pleased to say, my "lizard skin" is almost gone. It's been about a week. I also apply this to my legs after shaving, and to my arms/shoulders after showering (I tend to dry out from the hot water). There's really no reason to have itchy, flaky dry skin again!
---