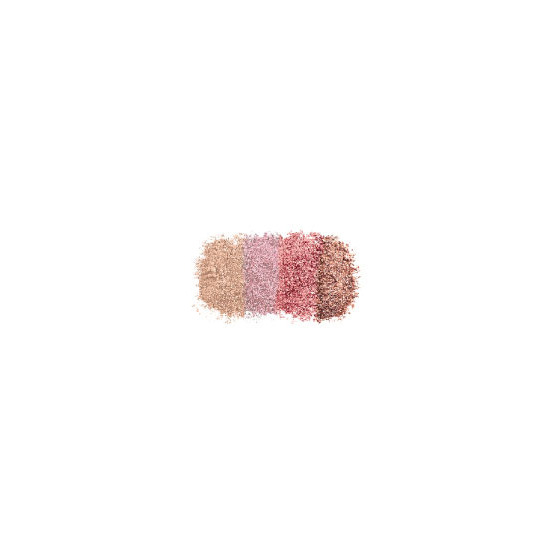 Rollover image to zoom
Reviews

Quality Blush, Bronzer, and Highlighter in One
I love multi-color products that create dimensionality, and this multi-tasking blush-bronzer-highlighter is amazing for only $3. The colors this product is offered in are all safe, sheer colors on application with finger tips or brush (the latter recommended), but the color is buildable and can be applied color-by-color to build their intensity, or swirled in combination for a tinted glow. Also, no matter how layered on this is, I have never been able to over-apply it!
Each of the colors this product is offered in seems more strongly suited for either blushing, bronzing, or highlighting, but Catwalk Pink contains four shades that I feel balance each of the three techniques. Catwalk Pink contains a light, gold shimmer and a lilac pink that work together as highlighters, while the warm pink and rosy brown shades work well as blush and bronzer, both respectively or when used together.
The packaging for this product is perhaps the only issue I have, as although this is packaged in a sleek, flat screw-lid jar with a see-through lid, the plastic feels cheap. But for only $3, I couldn't expect much for packaging. The product itself is so good for the value though that the packaging quality is quite easy to overlook.

Great Highlight!
If you love highlighting your cheekbones, this is a great color. Very inexpensive and gives you a long lasting glow on your cheeks. It definitely reminds me of Physician's Formula's Mineral Glow. Great color as well. It gives you a nice glow without looking too cheesy and it has a soft pink tint in it that really blends into your blush.

catwalk pink
I wear this highlighter daily to get a Pretty glow and natural warmth. Its usually the last face product I use before bronzers to contour. Overall I like a dewy, glowy, sublime shimmer to skin. I do this as a daily thing and this product along with others helps me get there! :)

Elizabeth C.
Oct 17, 2011
love the highlight
this quad is really pretty i use the two left colores as a highlight on my face and the two left shade on my body when i were an of the sholder shirt, and it gives a nice glow to the skin, and not a glitter, love it i belive they have two other quads like this, and u can also use this as individual shades to , hope this helps cjsmakeup

Nice Glow
This product is great and it's one of my everyday cheek favorite. If I'm running late for school or work, i always reach for this product and i love how it brighten up my face and gives my cheeks that natural glow i need.

great packaging.
I know I'm just echoing what other reviewers have said, but this is a great multi-use product. Great as a cheek highlight, and to add a 'glow' where you want it.
What really makes me reach for this is the fact that the colors are separated. I can easily go in for just one color at a time, which makes this great for eyes as well.
'Catwalk Pink' is the color blend shown in the picture above, and is also the one I have. What you cannot see from the picture is that the far left and the far right color stripes are the ones that contain the bulk of the shimmer, while the pink and rose colors in the center are more of a satin finish. This makes the center pinks really suitable for blush, without overwhelming the face with shimmer.
Of course, swirling the colors together gives a great effect to the cheeks as well.
The price on this is phenomenal, and the pigmentation and blendability of these shades has me really impressed.

I absolutely love this. I use it as a highlighter after I apply my blush. This can also be used for blush as well. Sometimes I use the individual shades as an eyeshadow & I always use the lightest shade in the corner of my eyes for "pop". Works for bronzing effect too

Catwalk Pink
This is my go-to highlighter! The Mega Glo Illuminating Powder's are available in different shades and are under $5.00 (I don't recall the exact price). You can use one of the shades or swipe your brush across the whole product for an overall shade. The packaging has a screw off top, if you're curious. I have been using this product every day since I picked it up. I have it in Catwalk Pink and swipe my brush across for the overall shade. I place it on my cheekbones, down the bridge of my nose and on my cupid's bow. It gives me just enough sheen, without being too much. I absolutely adore this product!
---