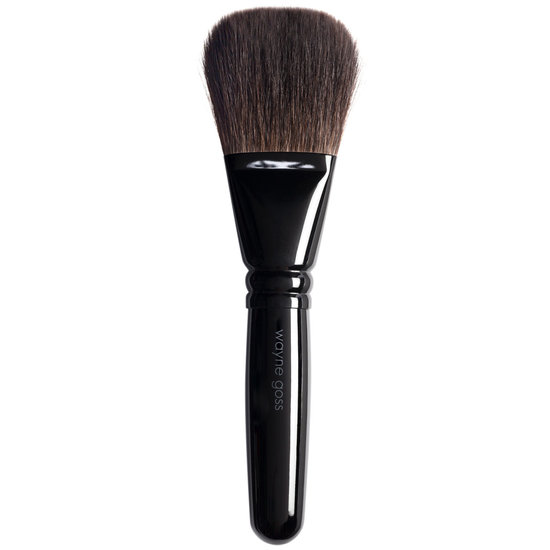 Rollover image to zoom
Reviews

Love This Brush!!
I am so in love with this brush!! I had stopped applying finishing powder because it would just remove foundation I had applied when using a brush!! This brush is so soft I am back to using powder and my foundation does not move at all!! I now own Wayne's Anniversary Set, last years Holiday brush and obviously this year's Holiday Brush!! I also own brushes I bought individually!! At sixty years old I decided I wanted the best. I had never owned professional makeup brushes before Wayne came out with his!! I love everything about this brush and I want to thank Wayne and Beauylish for everything they do!!

Luxury at it's finest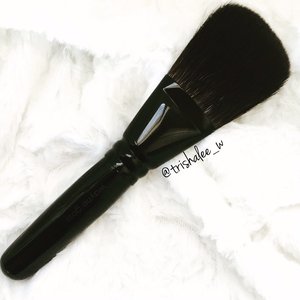 All you need to know is that this brush is the softest brush that will ever touch your skin and it's the most luxurious brush you might ever own.
As far as performance there isn't anything disappointing about this brush. It allows you to sweep powder across your face without disturbing or moving any of your makeup. It just wisps the powder on for a flawless finish.
hands down worth the splurge!

Don't buy if you have oily skin
I have fairly oily skin. And don't get me wrong, this brush is impossibly soft. But this brush is not dense, nor does it pick up much powder.
So as a finishing brush, you will have to make multiple passes with powder, and the brush will become oily very quickly. I've had it less than a week, and I've already had to shampoo it twice to remove oil. Normally for powder brushes I simply wipe off excess on a paper towel and shampoo weekly, but I'm washing this almost as often as my concealer brush.
Therefore, I know I won't get the longevity I was hoping for from a high end powder brush.
This brush is simply not meant for my skin type, which it a big bummer.
For reference, none of my other Wayne Goss brushes have taken this much maintenance thus far.

Best brush EVER!!!!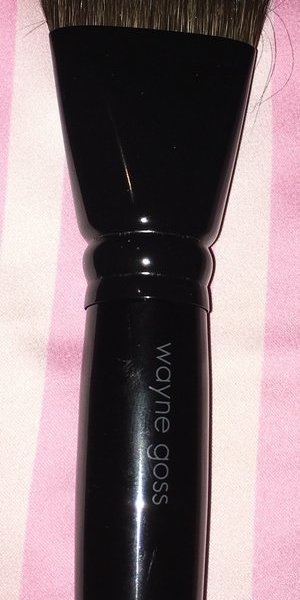 OKAY PEOPLE! I have an announcement! Wayne Goss has just created the best brush ever! This brush is AMAZING! It's perfect for finishing my face. It doesn't move my liquid foundation around or apply powder uneven. It is the perfect finishing brush at an amazing price! This brush is very high quality. I love this brush so much I bought two of them. I also have the original brush set and last years white holiday brush. Wayne does an amazing job creating these brushes I no longer need to buy any other brand. All of Wayne's brushes are going to exceed in quality and function.

The best brush EVER!!!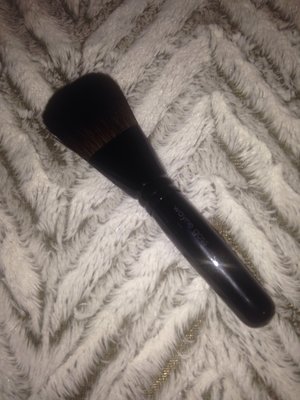 OMG!! This is legit the softest nicest brush I have ever felt!! And lord knows I own a lot of brushes!! It's ultra soft but still holds the shape at the same time!! You could absolutely contour with this!! It's not to wide in width. It splays like a dream. It applies powders like a dream & finishes the face like no other!! This brush is a must have!! I own a lot of Wayne goss brushes and they never disappoint. I would deff. recommend!! If ur in the fence take that leap!! You will not be let down.

incredible, I'm in love
I have sensitive rosacea-pink skin, flushes easily, and most SCRATCHY brushes make me flush and then I can't tell how much powder or blush I've applied. Not with this one, it's cool and soooo smooth and light, and really deposits a lot of color if you so wish. Fabulous for contouring or just blush, it's the softness and yet the ability to pick up pigment that makes incredible. Best splurge all year. GET IT.

Brilliant!
I own a number of high-end squirrel brushes and none live up to this brush. I thought it might be similar to Shiseido's powder brush, but Wayne's is much softer and much more resilient. I just set my foundation and there's no powdery finish. I wish it was less expensive, but I don't regret buying it at all.
---