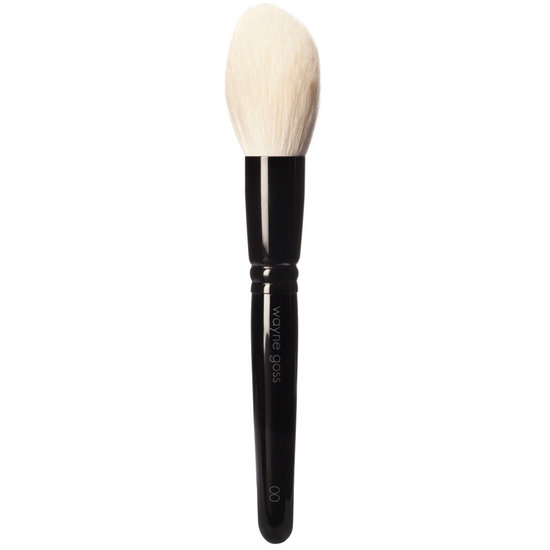 Rollover image to zoom
Reviews

Phenomenal
I can't say enough about this brush! I did a point-by-point comparison to the MAC 138, and this brush wins in every way possible. The fibers are easily the softest of any brush in my collection, comparing only to an Estee Lauder brush from the Aerin collection, but softer. The fibers are surprisingly firm, and spring back totally after running your fingers over the tips, unlike the MAC 138 which will remain slightly askew. The MAC brush feels like steel wool in comparison, and this brush feels like pure luxury on the face! Goss's Holiday brush even picks up pigments and powders better, needing fewer swipes across a pressed pan to pick up product than the 138 requires. 2 passes across a MAC Mineralize Skinfinish Natural picks up more product than 3 passes with the MAC 138. The tip maintains the perfect point, making it ideal for under-eye powder setting, highlighting and contouring, and blush (even on my face--I have a very small face), but it is still large enough to easily cover the entire face woth setting powder! I never imagined it could be so versatile, and I was even worried I had overspent and would regret my purchase. On the contrary, I would happily buy a second brush for my kit if it were not the holidays and I had the extra money laying about! If you can afford two, DO IT, you won't regret it. This brush is absolutely amazing.

I have the Goss collection and when I saw this brush, I knew it must be mine!! Gorgeous, just perfect. The first few minutes after I unwrapped it was spent brushing my face over and over. So soft and decadent. Thank you Wayne for making these fantastic brushes. I hope there will be more?? hint hint. I want to compliment Beautylish on their customer service for a minute-I have never had such great CS from anywhere in my life. I was kept abreast of the brushes delivery on a regular basis, if there was a delay I was let known. I more than appreciate that. That is why I will be a customer for life. Thank you.

Truly Amazed
I agonized over getting this brush because was it really worth $85? But I decided to just take the risk. I am so glad I did. I have dry skin and have struggled with brushes being too rough and accentuating the dry skin. But this brush, this brush has fixed it! I used it to apply my mineral makeup, and it was flawless. I then used it for blush and highlighting and still flawless! This was well worth the cost, and if I had to do it again, the only thing I would change would be to buy it sooner!

SIMPLY WONDERFUL!!
I am obsessed with brushes and throughout the years I have purchased a lot from Mac, Sigma, and other brands but this brush is like no other I have ever owned! It's the softest thing ever, picks up just the right amount of product and applies it beautifully. I know this is a pricey brush but now that I have been able to play with it I can honestly say it is well worth the money. Shipping was super fast too, I received it the next day after I placed my order.

Catherine B.
Dec 25, 2013
My love affair with Goss Brushes is obvious. Yes, I just ordered my 4th Holiday Brush; two were gifts (very lucky friends) and now I will have two for me, in addition to the complete brush set I preordered and use daily, Oh yes, I have also ordered additional Brush 2, 3, and 4. Thank you so much for carrying Wayne Goss Brushes!

Amazeball!!!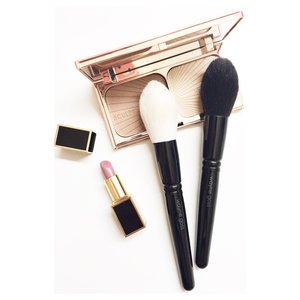 The best decision I've ever made was purchasing both of these gems. @gossmakeupartist LE Holiday brushes are absolutely stunning.😍 These brush which have tapered pointy shape are very multipurpose; great for powder, blusher and highlighter. Because these brushes are handmade in Japan, hence they are slightly different to each other. I noticed my white one is a little bit denser and more tapered than the black one. Also the hair of the white one is 3mm longer than the black one. These brushes are absolutely pleasure to use. They feel ultra soft and plush against your skin. Plus @beautylish shipping service is amazing. I ordered mine on early access day and got them after 3 days. Also love the handwritten card that came in, so thoughtful ☺️

Was not going to purchase this brush, but I could not stop myself from thinking about it. Now I cannot imagine not owning it. Terrific addition to the Wayne Goss Collection. The size is marvelous and the taper just right. Beautylish is top-notch in my book - their customer service is just wonderful. : -)

LOVE!
this is a MUST HAVE if you love Wayne's brushes! If you buy his collection you would know even though the brushes are really soft, there isnt a big brush that can do your whole face and it can be time consuming especially in the morning! I wished for a big brush and there it is! yes it is more expensive than the rest of the brushes but it's way bigger than the no.2 brush. you can dust on powder really easily to set your makeup and also use it for contour/highlight/blush. so versatile! if you have tried other well known japanese brush brands you would know Wayne ones are also soo soft but much more affordable! if you love soft, big, fluffy and CRUELTY FREE brush then this is yours! I suggest get it before it is gone because unfortunately it is a LE :( Anyways, all I can say is LOVE!! :)

AMAZING!
This Brush was worth every penny. I got it literally within a day and a half of ordering it, which made me super happy :). It is the PERFECT size for any type of powder, bronzer, blush or highlighter. I have most of the other brushes from his collection, so I knew this one would be my favorite being a lot larger. I am obsessed with how soft it is and how it grabs the perfect amount of product. Wayne, you have done a fabulous job with these brushes! :)
---