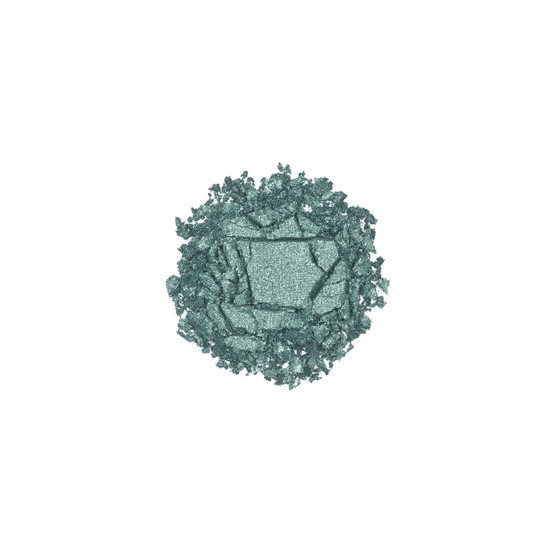 Rollover image to zoom
Reviews

Meh...
I purchased Shattered because I wanted to experiment with teal-type shadow. Cons- I dont care for it with my skin tone, its like a greenish blue with gold shimmer. If worn dry, its super light and creases. Its more spendy than its worth. Pros- Worn wet, it has good color payoff & doesnt crease as much. It looks better mixed with pink or purple shadow on me.

Uzi has long been one of my least favorite UD shadows, and when I heard it was being discontinued, I was honestly happy. With or without primer, it's a glittery, fallout-y mess. You WILL look like a disco ball wearing this (I had sparkles all over my eyes, cheeks, and clothes hours after putting this on).
It wears okay, but fades a good amount (like 2 or 3 times throughout the wear). However, it does wear away evenly, with no patchiness or creasing. It wasn't difficult to blend. The color is a frosty, shimmery white, but it is by no means "metallic," as UD described. However, they were spot on about the glitter being big-it's gritty and large, and honestly, gaudy.
I don't see this working well as a highlight because the glitter is far too large and not subtle. It'd probably be best used as an accent to a strong, theatrical look. Its too messy and lacking in pigment to be a reliable every-day wash of color or accent. It's a very disappointing and poorly executed shade.
(Read the full review on peakvolume.blogspot.com)

Stephanie S.
Mar 19, 2013
I have so many of these, I am not going to write individual reviews. Some of my favorites are Jones, Stray Dog, Sin, Blaze, and X, but there are others I really like. UD's old shadow formula was really nice and smooth, and even the glittery shades were very nice in spite of the fallout. I never liked the plastic token package as much as the aluminum manhole cover package of the original UD shadow singles, but what can you do? This version was incredibly easy to depot.

MY FAVORITE COLOR EVER!
I own this color in the individual packaging and in the Naked palette, but I find that my individual has more of a sand color while the palette has more of a pink shade...but I love this color! It gives my eyelids a nice sheen and is very natural. By far my most favorite Urban Decay eye shadow ever.

Great purple.
Purple haze is great. A muted purple that isn't too in your face. Great for daytime or night looks, or just lazy "through it on and walk out the door" looks. Either way it's stunning. If you're into purple, I'd say pick this color up. And you can't beat the cute packaging, either.

Great buy for fav shade!
I bought this shade b/c I just can't get enough of it! However, I would definitely recommend investing in an Urban Decay palette instead of the individual pods. But if you find yourself continuously using one particular shade then definitely buy it individually because you get more of it than the palette.

Unique, Buildable, and Multi-Dimensional Colour
I love Urban Decay eyeshadows in general, and was happy to have swapped for this one. The shadow is actually semi-sheer compared to most of the other eyeshadows I've tried from Urban Decay, and I tend to like my eyeshadows to be opaque so I used a primer and built this one up in opacity a bit before I was satisfied with it. The color is very unique though! The base is brown but the subtle shimmer is an aqua green color, and reflects beautifully.
Although I love Urban Decay eyeshadows, for $16 a piece these singles are very high in price so I was fortunate to have swapped for it, but otherwise I don't think I would actually make a retail purchase of it unless it was part of a better-valued palette. For those who collect unique eyeshadow colors though, this one is very hard to say no to. For those who absolutely must have this color with a lower pricetag, the closest match I have found is one of the definer shades from Wet 'n' Wild's Comfort Zone Palette for $5.
---