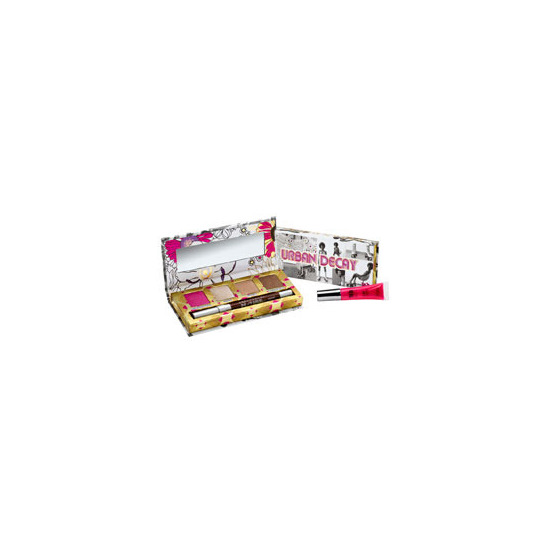 Rollover image to zoom
Reviews

Hate the look on the palette
This palette has gorgeous colors theres no doubt about that but the thing i didnt like was the cover on the outside cuz the girls is there posing in her undi and well im a sucker for cute packaging and this was no where near cute, the thought of seeing someone in there undis before doing my makeup doesn't appeal to me lol i have it but really dont use it lol

Pigmented, Smooth, & Cute!
First of all I love the packaging. It's so fun and it attracted me instantly. I love all the neutral shades in there and the amazing hot pink, however what made it a 4 star instead of a 5 star is that there are no matte shades in the palette. Urban Decay has a tendency to use mostly shimmery shades in their palettes and very little matte shades. However the shadows are still excellent and I would definitely recommend this!

<3
I love this pallet what can I say? The colours are amazing, the size of it is perfect to take along with you. I can wear it to work and out at night by adding a bit more liner and more 'Woodstock.' I absolutely love the colour woodstock! The bright pink makes my blue eyes look awesome, I wear it at work and people always ask what it is. The 24/7 liner in 'Whiskey' is amazing glides on so smoothly and it actually stays on me whereas most liners slide off. The sample size of lip junkie in 'Crush' is gorgeous, It looks nice with my skin tone, it's pretty sticky tho, so I only wear it when my hair is up =P or I know I'll be out of the wind.

Great colors for blue eyes!
I use this palette for verve and woodstock mostly!! But I do love the other two colors as well! And the 24/7 liner plus the lip junkie were great bonuses! The lip junkie in Crush is a bright pink that looks really good on my fair skin!! Overall great product and I have had lots of fun with it!

Great day to night palette
I love this palette! This palette is small enough to fit into your purse and take with you on the go, which I love. It has four shades: Darkhorse, a brown color with shimmer, suspect, a light shimmery brown, verve, a shimmery ivory color, and woodstock, a shimmery hot pink. Also included is the 24/7 glide-on eyeliner in whiskey and a sample size of a hot pink lip junkie in Crush. I like to wear Darkhorse on my lid with susupect in the crease and verve right underneath the brow as a higlighter. I also use the whiskey eyeliner to line my upper lids for a daytime look. For transition to night, I add woodstock to the outer corner of my eye and add more whiskey eyeliner. I have tried the Crush lip junkie with these looks and it just did not look good on me. I have tan skin and the color was much too bright for my skin tone. Overall, I would definitely recommend this palette! :D

Pearly, bright and fun colors
I bought this pretty blindly. I saw the browns and a bright pink and clicked "check out". I can't say I am disappointed with it since I use it pretty much every weekend (when I primarily wear make up). I have had it for about a month and a half or so now.
I just love UD's eyeshadow. The texture is always so soft and super pigmented. Of course it comes with Whiskey. So now I will never run out of whiskey eyeliner since that seems to be their staple color they have been putting in palettes (which I do not mind as it is my favorite brown liner of all time). It also comes with a sample lip junkie in Crush which is fabulous and I am for SURE buying the full size. I already was pretty sure I wanted it, but now I love it and wear it daily.

Be Careful
While I love the Urban Decay products in general, please be careful. I've had more than one person tell me that the pink has irritated their eyes. Possibly because there is a red pigment? I'm not sure, but it's something you should definitely try on your skin before you purchase.
I also feel like for $32 it's a bit too pricey. I can buy another palette for $38 with 10 shades and get a primer.
Verve is probably my favorite color in this whole palette. It makes a great highlighter, but also a great liner. I lined my lower lash line with this and it made my eyes look like an anime. I loved the effect, especially because I foiled the shadow. I say that $32 is not worth the price for one shadow.
For me, it's a skip.
---