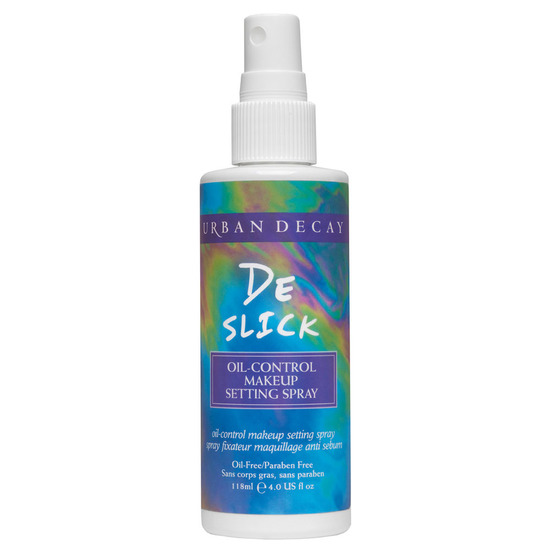 Rollover image to zoom
Reviews

A must-have for oily skin-types!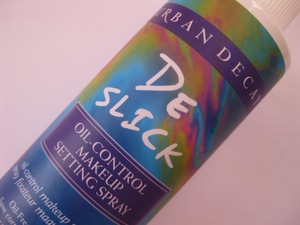 If you've heard of, or even tried, Skindinavia's "No More Shine Makeup Finish", then you get the concept of this spray. Even better, Urban Decay paired up with Skindinavia to create this product. To use De-Slick, you shake it and mist your face 2-4 times before applying your makeup and repeat the process after you've completed your makeup. For me, I need four sprays to keep my face matte all day. I recommend starting with two to see if you need more or not.
De-Slick has a scent, but it doesn't smell like anything I can pinpoint. Unfortunately, I'm absolutely horrible at describing scents (so please don't expect any fragrance reviews here, LOL). All I can tell you is it is light and it doesn't linger. The pump functions perfectly; one full pump will spritz your entire face without leaving you feeling wet. De-Slick dries almost instantly, so there's no need to wait around to complete your makeup.
Most days, I can go the entire day without needing to blot. There are occasional days where my face just wants to annoy me and have a shiny spot here or there. De-Slick doesn't create a strange finish to your face or wear strangely throughout the day. Your face looks as it would if you didn't use the product, but without the shine you'd normally experience!
There really isn't much else to say about Urban Decay's De-Slick Oil Control Makeup Setting Spray besides "Go get some!" (if you have oily skin, that is). I absolutely swear by this stuff and I don't see myself ever not using it! This stuff really is a saving grace for me.

brenda ivette v.
Dec 13, 2012
does nothing for me.
i actually bought this after purchasing the regular urban decay all nighter thinking this version would be a better buy due to the fact that i have oily skin, but i was wrong :( this does nothing to control the shine and oil like it says it will. if your looking to get your make up to stay i'd just recommend the regular version. will not repurchase.

Must have!
I have super oily skin & debated about trying out this product for a while. What held me back the most was the price. I finally purchased the travel size and I am so glad I did! I forgot to put this on one day & by the early afternoon my Maybelline Super Stay 24 Hour foundation had literally disappeared!! Let's get real ppl, it's not going to keep you from sweating, we are human & it's not a MIRACLE!! It sure did increase the staying power of my make-up dramatically. I only spray it on after I'm completely done with my make-up. I will be purchasing the full size bottle soon.

So I have oily/acne prone skin. When I buy a product, I like to do a lot of research on it to make sure others have good results. I originally wanted to buy the de slick gel thing but the only way I could get a hold of it was by purchasing it online and I don't have a card. I settled for this and I loved it! It lasted me a while even when I used about 4 spritzes before my make up, and 4 more after I was done. It lasted almost all day with very minimal shine and it was perfect for prom!

AMAZING! This spray is perfect for your skin if it gets oily/greasy in humid weather. I tried using the All-Nighter spray first and it didn't keep my makeup on as it is said to. I gave up on setting sprays until I decided to give it another try, but with a different spray this time. The De Slick is a life saver! I spray it on after I do all of my face washes in the mornings (before my makeup). Then I put my primer on, the rest of my makeup and then I spray it on again. I use it every day :)

Epic fail
I read tons of reviews from people with oily skin claiming that this product did wonders for them so I pretty much ran out and bought it! Luckily I only wasted fifteen bucks and not double for the regular size bottle. It did absolutely nothing for my makeup and definitely nothing for my oily skin, I guess it's not for everyone :( I'm very bummed that it didnt work for me! I'm left still hunting down a product that will tame my oily skin.

I've already finished my first bottle and now onto my second! This product is amazing for people who have oily skin. It controls the oil while you have make up on and plus when I over powder my face, I would simply spray this all over my face, giving me a dewy finish. This just makes your face look natural with makeup on and it's refreshing! Love it.

THIS REALLY WORKS!!!!!!!
Within two hours of putting on my makeup I get super shiny and the foundation starts to separate - and I am the type of person that doesn't care to touch up my makeup once I put it on. At first I wasn't comfortable with the thought of spraying something on my oily skin. I sprayed a light mist on my face with De-Slick and I was really surprised!!!! My makeup stayed put and I only had to spritz my face one other time throughout the day!!

For the longest I always thought there was no remedy for my oily skin. The shine was unbearable throughout the day. I did some research on different products like milk of magnesia but i was afraid to try it. I bought a bottle of deslick from sephora and i must say this was heaven sent. This is one of my swear by products from us ladies and gents with extreme oily skin. It is a must that you apply the spray before and after you apply your makeup. Its a must have!!!!!!!!!!!!!
---