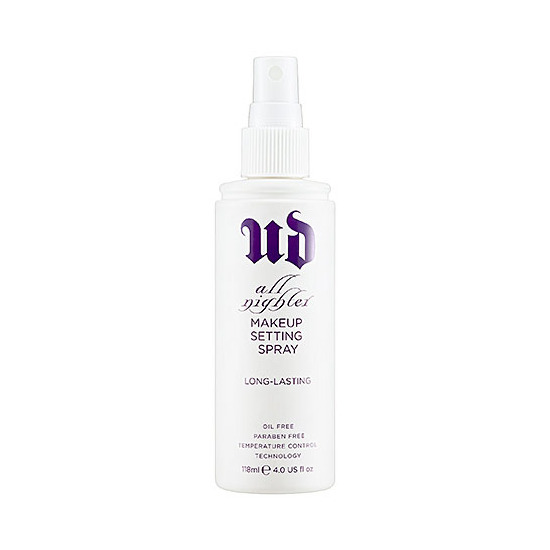 Rollover image to zoom
Reviews

Just ok
Using this after makeup does kinda allows the whole look to blend better, softening the harsh dry patches on my noses because my skins is too dry in the winter, however, it cannot last 16 hour, it can only hold the look together till around 4-5 in the afternoon. I love UD's other products, but won't be repurchasing this one, because with a rose water or other type of spray on with less money would work just fine.

Jacqueline H.
Jun 27, 2014
VERY VERY Overrated
" Keeps your makeup looking gorgeously just-applied for up to 16 hours – without melting, cracking, fading or settling into fine lines. "
Uh, me thinks not. I truly believe that this spray does nothing that it says it does, but then again, I think people have a lot of misconceptions about what a setting spray really is, and what it is capable of doing. The term "setting spray" is a slight misnomer. These types of sprays can help "set" makeup from the point of view of "emulsifying or harmonizing it, but it doesn't "fix" it in place. Don't get me wrong, a setting spray can help your makeup to blend and and take any hard powder edge off; however, a setting spray doesn't particularly prolong the actual wear of the makeup.
Setting sprays are great when there are a lot of powder products used on the face; powder, powder blush, followed by powder highlighter, powder contour and so on and so on. When these powder products are applied over a matte foundation, it can and usually does leave your skin looking dry and powdery, kind of like its just sitting on top of your skin. This can be the case no matter how well you blend your products. A final spritz with a setting spray helps it all mesh together a bit better and stops it looking like it's just sitting on top of your skin. It's not a particularly necessary step, but if you're going for a matte look, or using lots of powder products, a setting spray does help to give the overall finished look a final polish.
As a general rule, setting sprays are made with some form of purified water and botanical extract. (e.g. cucumber for pepping the skin up), and oils like vitamin E. Some setting sprays may contain caffeine in them as well. Since setting sprays are are oil+water emulsion, they can be used to set makeup, because the oils will "pop" the microspheres in the makeup. If you place some makeup on the back of your hand, then hit it with a setting spray, you'll see that the setting spray will settle over the makeup without beading up. All a setting spray does in terms of longevity is make the makeup more smudge resistant, no more no less. fI you are interested in extending the longevity of the application, what you want is a finishing or fixing spray because these types of sprays work differently in terms of actually adhering the makeup to the skin versus a setting spray that only works to make the application more smudge resistant.
In my opinion, the UD All Nighter Setting Spray is probably the most popular yet over-rated setting spray on the market. I find that it cannot and does not do what it says it does merely based upon the ingredients of the formulation and my actual use of the product. I prefer the Make Up For Ever Mist and Fix and Kat Von D.'s Lock & Load setting sprays far more than the UD All Nighter. Both of these sprays work to emulsify, perk up and/or touch up the makeup while making the application truly smudge resistant.
Sorry, thumbs down on the Urban Decay All Nighter for me.

Long lasting
The only bad thing is that it is a bit pricey! Other than that it's great! I use it everyday because I don't like my makeup to smudge at all, and this does the job! I can say it lasts ALL day for me and worth every cent of that $30. I bought it SEVERAL months ago and I still have a good amount left. Then again, I always have an open mind when it comes to urban decay. They're amazing!

Pleasantly surprised, hydrating, beatiful dewey skin
On my last larger makeup haul I made sure I grabbed the more affordable travel size. On that haul I finally decided to see what the fuss was about, plus I was majorly upping my foundation game and wanted to make sure I could set my facial works of art. I love the scent and the cooling sensation, and I love how dewey and fresh my skin looks before it dries down more. The travel size is the perfect size and I can see it lasting for a long time. I'd say this keeps my foundation from transferring the way it normally could. Before this spray I'd touch my cheeks with my fingers to test the transfer factor and could see foundation on my finger tip pads. After using this spray there is far less that gets on my fingers when I do a little test. In some areas my skin seems smooth and the foundation feels less gunky. Yes, hairspray supposedly works the same, and yes this is probably actually watered down hairspray for way more money, but it feels hydrating, smells great, makes me feel like a primping princess, and is lighter and less pore clogging than actual hairspray potentially is. I'd say if you have a little more money to spare before you check out at Ulta or Sephora, grab this. Its not perfect, but there is some difference. I prefer it even more for its hydrating properties, so girls with dry skins might love this.
---