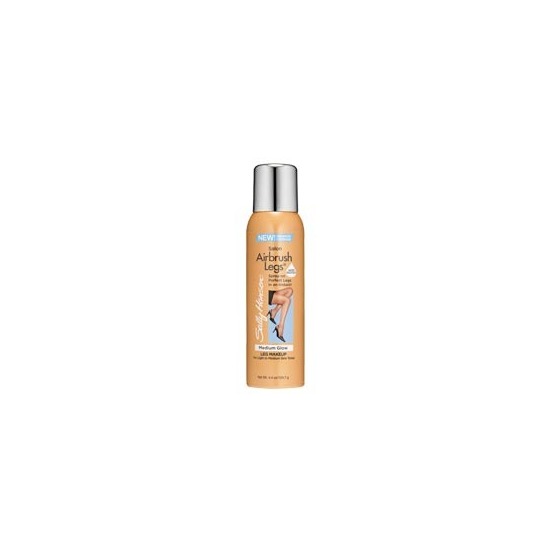 Rollover image to zoom
Reviews

Every girls summer must have!
I'm not into tanning beds or even long lasting self tanners so to get instant color I absolutely love this. I have been using this for over a month now and I don't know where I would be if I didn't have this in my life. Living in Seattle you would really have to depend on self tanners so this is awesome for any time of the year and it is extremely affordable. I have this in medium glow.
The application process is pretty simple. Exfoliate when in the shower and once your dry and clean apply a thin layer of lotion to keep your legs moisturizered. To apply I like to wear gloves and just spray it into the palms of my hands and just rub it in. Make sure you shake it up really well to mix the product. I love that it doesn't have a strong smell like must self tanners do. Once done applying just let yourself dry for about 5-10 minutes. Following these steps I haven't noticed any color rubbing off on my colors or even any streaking.
This stuff really is water resistant. Only washes off when used with soap & water. Great for going out or even during the day. Even though it says airbrush legs I even use this on my arms/chest and I still receive the same amazing results. Slept with it on over night one day and the next day I still had the amazing glow to my skin. Love love love!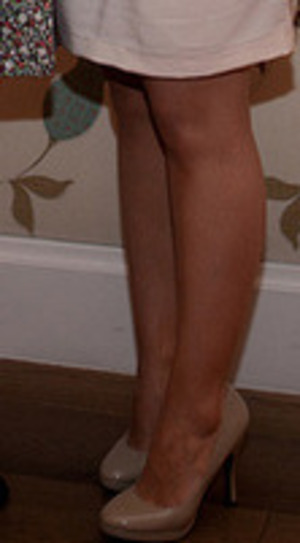 I really, really love this product. From the first time I used it, I fell in love. It made my legs look like I had been laying on the beach all week. I have really pale legs. They never match my arms or face because they just don't tan as easily. I bought the bottle in medium glow because I didn't want my legs too tan - just tan enough to match the rest of my body.
Before spraying it on, I moisturized my legs. Then, I sprayed the product onto my hands and began rubbing it onto my legs, working quickly. I waited about 5 minutes for it to fully dry. Since I didn't want orange stained hands, I washed my hands with soap and water right afterwards and it didn't leave any residue on my hands. It did not stain the dress I was wearing either. I was so impressed with the color - it was so natural.
When I showered the next morning, most of it came off. It did not leave streaks or stains. This product is definitely worth the $12. It's not something I personally would use everyday, but if you have an event to go to and want some color in your legs, this product is great!

Oh heck no.
OK, ok.. so I'm the idiot that wore a white denim jacket after spraying myself down with this stuff. I was in a hurry and I needed a quick fix- what I ended up with was a big fat pastel-pink/orange-y (completely hideous) mess. I could see how this product might be usefull if you need a quick touch of color for a photoshoot or something- otherwise a huge DON'T! It rubs off everwhere... onto everything... even hours after it's applied. Avoid, avoid... avoid.

LOVED IT
This stuff is so perfect to use as a self tanner! You look flawless head to toe. I use this all the time for any formal engagements where i really want a nice tan/perfect looking skin and it does the trick each and every time! The price is great and I have even found that it will not rub off or wash off/streak if you get your skin wet with it on.

We used it backstage on "Deal or No Deal"
I first saw this product when I was on the set of Deal or No Deal. Backstage there were cans which lined the vanity mirrors. It's a light weight shimmery beautifier! Lasting all day, Airbrush Shimmer Spray is a must have for nights out or beach days — perfect for legs, arms and any exposed skin to add extra bronzer "umph". It also washes off easily in the shower.

You Look Flawless
I am an ex dancer and I would spray this all over to get the flawless look. It covered scars, stretchmarks, it even made my tattoos look sharper lol i love it and use it every summer when i show skin, the price i don't like but i never pay full price anyway, Cut Those Coupons Ladies

No Longer Available D.
Oct 18, 2011
AWESOME STUFF - Medium Glow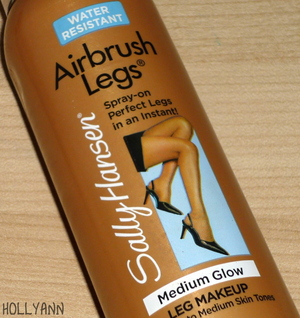 I bought this because I was in need of a quick tan. I had my High School Reunion that I had to attend. Originally I was gonna wear a long dress, but that one got left at home on accident, so I had to out to buy another dress the same day as the party which happened to short. This definitely was a lifesaver! My legs were super pale and this stuff gave me a nice tan with a gorgeous glow! It covered my grossly green vains and spider vains. It wasn't orange or fake looking. It wasn't streaky. It didn't transfer to my clothes or anything else I sat on. It was definitely water resistant. It literally stayed on until I washed it off the next day with soap and water. The only thing about this product is the price. But I was needing a quick tan so it was totally worth it!
---