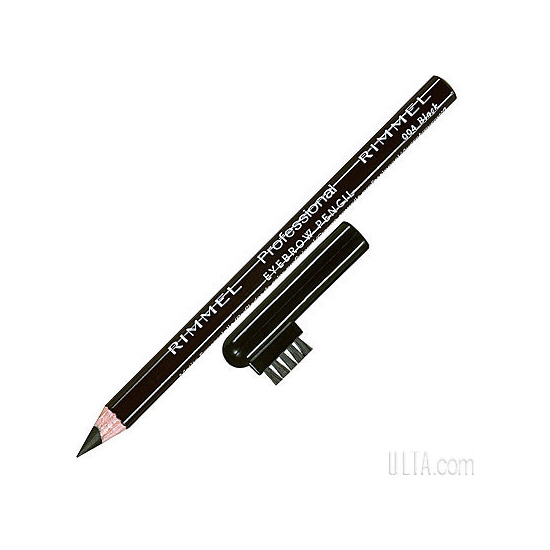 Rollover image to zoom
Reviews

Jacqueline L.
Jul 18, 2011
Great & affordable!
My favorite drugstore brow pencil. Works great and is extremely affordable compared to Anastasia's brow products. I've been using this product for about 5 years now and have noticed that the formula has changed about a year ago. The new formula is more waxy, which I do like, as the color isn't as harsh. My only gripe is that there is no longer the shade "black". I now have to use the new shade "brown black", which is okay, but I'd still prefer black. Another thing I noticed is that the previous brush was much softer, and better for softening the color. Although the new brush is hard and tends to scratch my skin, it's not something that will keep me from re-purchasing. Love it!

LOVE!
i LOVE this eyebrow pencil! Works great and lasts all day. If you apply too much all you have to do is grab a tissue and rub it off. The only downfall is I gave this pencil for my mom to try and with the texture of her skin the pencil looked too cakey even after blending. So I guess it works different on everyone.

I DONT USE NOTHING ELSE!!!! I FINALLY FOUND A BROW COLOR THAT LOOKS S NATURAL ON ME!!! I LOVE THE COLOR HAZEL, CUS I DONT LIKE TO USE DARK BROWN OR BLACK BECAUSE THEY ARE TO HARSH OF COLORS FOR MY SKIN TONE. WHAT MORE CAN I SAY ABOUT A PRODUCT THAT I TRUE LOVE AND BUY ALL THE TIME AND CANT LIVE WITHOUT!!!!

Perfect!
I lost most of my eyebrow in an unfortunate incident with liquid latex, and it has taken a looooong time to fill back in. I use this pencil to fix the missing spot and to make my brows more defined and crisp. As a matter of preference I fill them in with powder after using this pencil, but it isn't necessary if you like a lighter look.
The pencil is smooth and easy to use, and the attached brush is handy. I find that it works best if you keep the pencil sharpened. The color "Hazel" is great for those with medium brown eyebrows with no red tones.

Love this! I use this on top of Benefit Brow Zings (Medium) to create a perfect colour that is my perfect match - inbetween "medium" toned and jet black eyebrow pencils/powders. I used to use it on its own but I find it too intense, which is why I mix it. The price is good as well, and the brush blends the product well for me. I have and will continue to repurchase this.

So soft!
I usually don't like pencil browpencils, but I absolutely love this one. It's so soft, and the brush actually works in softening the colour. However, I didn't think the colour range was that great, but I got Hazel for when I wanted defined but not too dark of eyebrows - I have powder for that. I tried all the eyebrow pencils in the drugstore before I got this one - Rimmel's pricing is always fair too :)
---