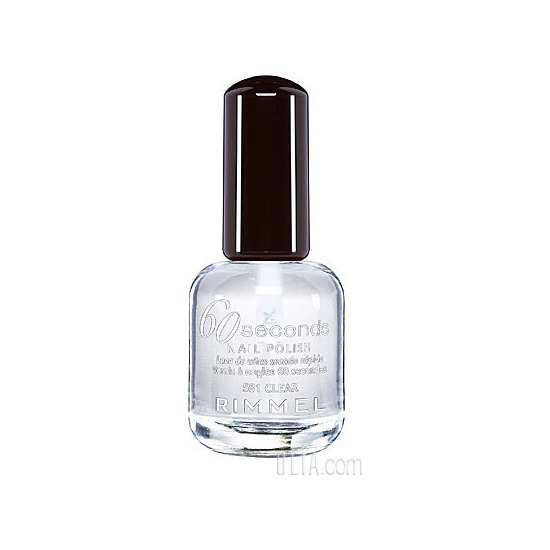 Rollover image to zoom
Reviews

Comes in so many awesome bright colours, great creme finish in two coats. I also love the thick slightly rounded brush, makes for quick clean application. I own a few bottles and have had no problems with drying up or going sticky. Also reasonably priced, definitely one of my favorite brands.

School Miracle
I love this product; it makes your nails look beautiful and special in just a minute. As we're only allowed clear nail polish at school I decided to try this as a quick fix. Unlike other products where it still takes minutes to dry after promising quick drying this polish does dry within a minute. I love this product and would recommend it to anyone! Also I have tried the coloured version of this polish and there are great results they have an amazing strong and pretty colour In less than a minute. Great for if your in a rush.

Great garnet red!
I've had this for quite some time but its held up great! I think the packaging is cute- but the color is even better. I love muted and weird colors. Don't get me wrong- as an artist I love them all, especially bright red, but this red is deep, dark and awesome. Its super vampy but not too much. I think every one needs a dark, blood red. Its more serious and moody then straight red- but is still sophisticated and classic. I wore this on my toes paired with Sally Hansen's Laquer Shine polish in 08 Glossy on the nails. The color has held up great, and has barely even chipped, a week or more since application. The consistency is thick but spreadable and the brush is pretty good- thin at the top and slightly fans out at the bottom. The color provides great shine (although its a little on the matte side), even without a top coat, and its performed so well without a base coat either. I'm not sure this dries in exactly 60 secs, but I don't mind anyway- this color is such a must in any polish wardrobe. It does have a strong polish smell, but that's no biggie. Now that I think of it, I wouldn't mind snagging a few more of these since Rapid Ruby is so lovely. All in all Rapid Ruby is a beautiful shade- catch it while you still can!

So easy to use.
The fat brush makes application completely easy and my manicure stayed put as long as some more expensive nail colours. I have a few of these and they last years without going sticky - make sure you tighten the lids every so often though!
I would advise using a great top coat like Nails Inc Kensington Caviar or Albert Bridge.
Great value, great product.

Ana Elizabeth A.
Sep 23, 2011
Not worth it
I got the black colour in this and to be honest it wasn't good at all. After just one day it started to chip. The colour is very good, you only need two coats and it goes on well just it chips too fast and leaves me wondering what was the point spending the time in painting my nails and waiting for it to dry if it just chips after a day.

RachHeather C.
May 07, 2011
I've Used This Nail Varnish A Couple Of Times But It Does Take Longer Than 60 Seconds Its More Like 5 Mins Which Still Isn't Bad. But They Can Go Really Gloopy And Thick After A Couple Of Weeks Which Is Never A Good Thing Because You Can't Use A Full Bottle In A Few Weeks. So I Usually Find Cheaper Products So If They Do Dry Up Or Go Gross With A Tar Like Consistancy It's Not That Bad Because I Will Have Only Spent A Few £'s On Them, Overall Not A Bad Nail Varnish But Not Great Either xXx

Dries (and dries up) in no time.
I was impressed with the drying time on these, because it really did not take more than 5 minutes for it to be fully dry. However, the polish in the bottle also dried very quickly. After about 2 weeks, most of the bottles I had purchased were thick and goopy. It also didn't last particularly long on my nails, after a day or so it was chipped a little.

Christina T.
Jul 15, 2010
Polish goes on smooth but it chips horribly.
I love the color range that Rimmel has for their 60 Seconds Nail Polish. I also love that the product was streak-free so application was a breeze. But my biggest issue was that the color chipped off by the end of the night (and I applied it early afternoon). I used a base coat, top coat, and wasn't doing any handy work with my hands so I can really see why it would chip off so quickly. Maybe I'll take this little bottle out and give it another shot.
---