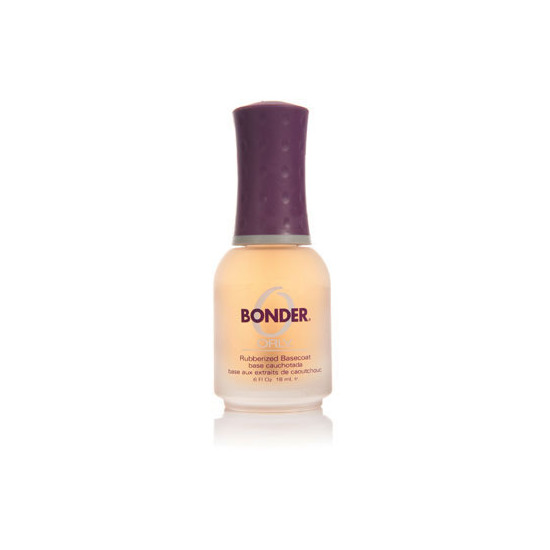 Rollover image to zoom
Reviews

Great Base coat
Ever since I started using this I have noticed such a big difference in my nail "health". Because I am a nail polish fend, I paint my nails every single day, so I can't really say how much it really holds the nail polish on to the nail, but I have noticed that I get less chips in my polish and that my nails have stopped cracking and peeling at the tips since buying this product, nor has my nail polish stained my nails. Great base coat and will never paint my nails without it

Does wonders!
Ever since I first used this I've noticed a huge difference in the staying power of my polish. I can go up to a week or sometimes even longer without getting a chip in my polish. I will not paint my nails without this bonder! It hasn't damaged or stained my nails either.

Interesting...
This base coat is very successful in some ways, but extremely unsuccessful in others.
Let's start with the good:
The cap is rubberized. Enough said.
The bonder itself is super easy to apply. It's thin, but not watery and it dries quickly. It feels weird and rubbery, so sometimes it's hard to tell if it's dry or not, but usually after three or four minutes it's good to go.
Orly Bonder really does what it says- it BONDS. My nails almost never chip when I'm rockin the bonder, and when they do, it's because of something I did. This can help polish last up to an entire week without any tip wear.
Now on to the bad things:
This bonder doesn't prevent staining. This is a huge downside. I shouldn't have to use a base coat for my base coat. Even when I apply multiple coats of this, my nails still end up stained.
This isn't really a bad thing, but it's more of a tip:
You have to be really careful to not let any of the bonder get on the bottle threads because it will rubberize and bead up. It starts looking like rubber cement and it makes the bottle harder and harder to open. As a precaution, I just take a q-tip dipped in acetone and do a once-over on the threads.
This base coat is very nice for the price, but I'm still on the hunt for the holy grail of base coats.

I've been shopping around for other base coat options and decided to give this a shot. Initial thoughts: rubbery is a good word to describe the texture you get once it's dry! I think polish does tend to stick to this sort of surface. I haven't had chipping or flaking issues with this on and any manicure where I wear this underneath can last me a week with only minimal tip wear. My only issue is that when I wore this under Orly Sweet Tart (a red jelly), I got major staining. Major as in ORANGE nails. And I was only wearing the mani for 4 days! I'd have thought an Orly basecoat would work well with an Orly polish but next time, I'm definitely doubling up (even tripling!) on base coat.

This stuff sucks...
I'm sorry Katie and Nila... but this made my polish peel off within a day in HUGE chunks, if not the whole nail itself... I would never ever never NEVER EVER NEVER buy this again and it's sitting in my collection all alone doing nothing because no one will ever touch it ever... I hate this stuff

Grippy!
It's really the darnest thing - it's rubbery! Once it dries you really can feel the "rubberized" kind of texture on your nails. The texture of the Bonder is very fine and you can't feel it once your color is applied. I'm such a "bull in a china shop", so my poor nails are always chipping the day after a mani. This Orly bonder definitely helps the polish stay put much longer than normal.
(As a side note - I love that Orly has the rubber/grip lids. I'm always trying to open polish after I've put cuticle or hand cream on and can never get any traction. I used to keep a kitchen rubber jar-opener in my mani kit! Thanks Orly!)

Great base coat!
I walked into my local Sally Beauty Supply just to browse, and happened to come across their extensive supply of nail goodies! I've been on the search for a good base coat for a couple months, not having found one I liked all that much, so I asked an employee if she could suggest one, and she literally put Orly Bonder in my hand and said it'll be the last base coat I'll ever try. Cost me about $9, which is not super horrible, but also not what I'd consider a bargain, but after having used it several times now, I have to say it's the best I've found! You can feel the rubberized formula once it's dried on your nails... it really grips the polish and keeps it put!
---