Macadamia Oil Intensive Moisture Mask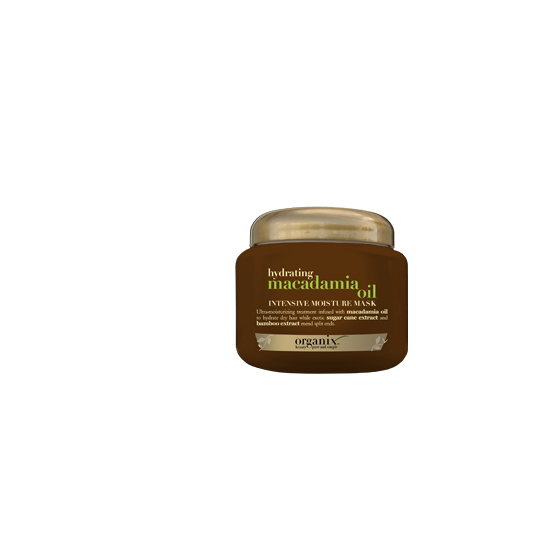 Rollover image to zoom
Reviews

Nope!
I got the macadamia organix shampoo, conditioner and this mask. I found these products to be horrible! The first few times I used it it was ok, but after my hair got used to it, my hair actually dried out so much. I felt these products gave not moisture to my hair, no matter how much of the conditioner or mask I used!

Alli Rose G.
Dec 19, 2012
Ehhh Not Great. Better as a leave in conditioner.
I've tried the Macadamia Oil Masque and Nexxus Humectruss Reconstructor. I love the both of those. I wanted to try something different. I picked this up thinking it would be a dupe of the Macadamia Masque, NOT! It's a very pudding light airy texture. It's not going to grab deep into the hair because of this. I'd leave it in my hair for the entire shower, and my regular Joico conditioner would do a better job in a minute. However, I did find this works great as a leave in conditioner. I have oily hair and it doesn't grease my hair. I can leave it in until my next shower and I can see improvements in the extreme dryness of my hair. With Nexxus or Macadamia Oil I don't need to do this!

Love it!!
I love this hair product ive been using it for a few months now and I've noticed that my hair is so soft after using it. I also use the shampoo and conditioner as well and it helps make it 10x's softer. I will be repurchasing it.

Smells lovely!
I love using this product as a deep conditioner once a week. I put it in my hair after I shampoo, then wear a shower cap in the shower and let it soak for at least 5 minutes. When I rinse it out, my hair is amazingly smooth. The smell lingers even after I'm out of the shower and it leaves my hair shiny and gorgeous!

Christianna B.
Aug 29, 2012
i really was super excited to try this product out hearing it was almost an exact dupe of the macadamia deep repair masque but i actually didnt like this product. It left my hair oily and extra thick. thinking i used too much the next day i used a small amount and it still left my hair super oily! all day my hair looked wet and i was just disgusted with it. i would deff stick to the macadamia masque unless you have thin dry hair. for thin dry hair this is great!

You will definitely see some improvement with this product. My hair just soaks it up and keeps asking for more. It's pink and smells super gooood! If you use any heat products, a deep conditioner is absolutely necessary every now and then. This one can be found at Walgreens. Consider it. (:

I put this on my hair when it is dry still for at least 5 minutes and then will rinse it out, shampoo & condition. My hair feels amazing after. Sometimes if I'm bored I will put it in my hair & wrap my hair in saran wrap & watch TV or relax for a few hours. I've left it in over night a few times and it's amazing. I love it.

Katherine S.
May 27, 2012
Love!!!
I've been using this as my nourishing/detangling in-shower conditioner for the recommended 3-5 minutes every few nights, plus a weekly deep conditioner after my clarifying shampoo. WOW!!! It was over 80% humidity when I dampened my hair this morning to revive my curls after sleeping, and no frizz! I don't even have any little baby fuzzies sticking up above my head. My curls are intact, defined, smooth, and even a little shiny. Nicely done, Organix!
---