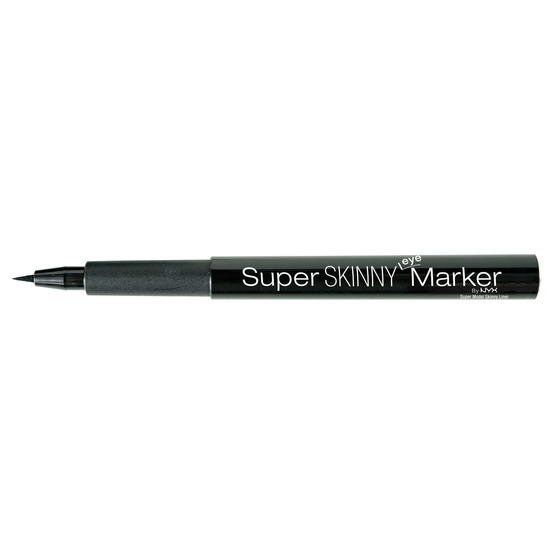 Rollover image to zoom
Reviews

Wow!
I am a eyeliner type of girl so I walked into the store determined to find an easy to use liner. I found this little guy and had to buy it. It works AMAZING. You can easily apply a thin line and thicken it as you wish! It draws on smoothly not sloppy. SUPER easy for beginners and a must have for me(:

Good price good product
Holds up in Houston heat...need I say more? I use this everyday for work and I'm pretty much sweating like a pig during the summer months, this stuff looks pretty good at the end of the day. No complaints...especially re the price.

I loooove this style of applying eyeliner, especially cause I stink at the tradiitional flexible tip applicators! This is a great product, the liner itself is very matte black and lasts until you take it off. The pen is easy to use and doesn't dry up. Comparable to Stila!

Stephanie L.
Nov 29, 2012
This was the first felt-tip liner I've tried, and I really love the applicator, but I'm not crazy about the formula at all. It starts smudging after less than an hour and by the end of the day it's basically all over the place. I do have pretty oily eyelids, but even with primer and shadow underneath this stuff manages to smudge pretty severely. I'm sad about it because I really do love the marker-type applicator and it looks so great when it first goes on :(

Awesome!
I love this marker! I am a fiend for a dramatic cat eye or winged liner, and I am tired of fiddling with liquid and gel. I saw this one at Target and picked it up, and boy am I glad I did! The marker is thin and easy to use, applies evenly and smoothly, and the color is opaque. The formula dries quickly and doesn't budge! I've worn it through pouring rain, crying bouts, hours of wear... Never fades, cracks, or smudges! Truly a marvelous eyeliner.

Favorite Black Liquid Liner
This liner is light, easy to use, and makes the perfect fine line. It's easy on the eyes and doesn't overwhelm my sensitive system.It creates a defined yet classic look without glitter or added pizzazz. I can use it everyday to get a simple look with a thin line or build it up for a thicker more daring look. Love this pen! I'd love to see it come in more colors!

Perfect Natural Eyeliner
This is perfect for me because I like a really natural look but full lashes. When I don't want something dramatic I just use it to fill in between lashes to create a fuller look. When I'm actually using it as eyeliner I find it amazingly easy to just apply a very thin line on my eyes. It is black enough but not insanely black and not shiny. It really isn't dramatic but if you wing it out it's not too sheer for that. If you want to darken a bit going over a spot again works really well it doesn't cake up. It stayed on through 3 hours of working out so I'd say its sweat-proof! But it comes off just by washing with soap, no residue and no makeup remover necessary. I think the skinny tip is great because you can always make a thicker line but it helps to have more control.

I have been eyeballing this for a while now. It finally became in stock at ulta. I love it. Wish it was waterproof but, I just set it with eyeshadow. I will purchase more to stock up on them and I also want to purchase the fat marker. I'm not good at liquid liner so this is perfect for me. I am able to do winged liner now. LOL
ive been wanting to purchase this marker for quite some time but it would always run out when it would go on sale. i finally lucked out :) i love this marker it makes liquid lining so easy for me. i have a very hard time with brush ones and the previous markers i bought sucked...im extremely happy with this one though the consistency is great and it stays all day!
---