In A New York Color Minute Quick Dry Nail Polish
Rollover image to zoom
Reviews

Swatches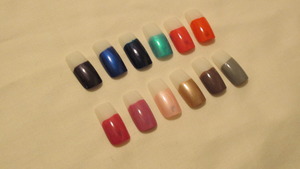 2 coats on each nail
Left to right: China town, Pier 17, West Village, East Village, Greenwich Village, Times Square, Moma, Lincoln Square Lavender, Soho, Bryant Park , Park Ave, Sidewalkers.

Cheapie but goodie!
For something I purchased for 0.99 cents, this is worth every single penny. The formula is great: flows well and some (mostly cremes) can be opaque in 1 coat. Fast drying claims are definitely true. Some were disappointingly sheer (East Village, I'm looking at you!) and needs more coats to build up opacity so dry time takes longer with those. Wear time is ridiculous. I can wear this for a week with minimal tip wear. No chipping or flaking. Overall, I'd recommend these for any nail polish newbie to start a collection on or even seasoned veterans looking for cheaper alternatives.

Amazing!
I love these polishes, they are so cheap but are worth so much more! They aren't very thick but I like that, they dry fairly fast and don't dry with bubbles. They last for a long time and give a very smooth application. They stain a little but nothing too bad. They don't give off a lot of pigmentation so they do require a few coats. The only thing is that I wish they had more of a color selection, I would love to see more of a range to them than just the basics that a lot of nail polish companies have, either way I still love them!

246 Park Ave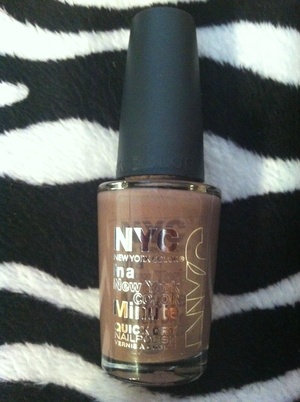 I only own one of these quick dry ones...but I love the one I have in Park Ave...its a greyish tuape-purple tone nailpolish (in the picture it looks more tuape I dont know why), creamy and glossy with no sparkles. It took two coats to get the color. I use it with a seal coat over it which makes it last about a week on my finger nails and about two weeks on my toenails. The good thing is its cheap, it cost about $1.72 at walmart =] so you cant go wrong for trying them out!!

Grand Central Station
The secret needs to be out that NYC's Grand Central makes one great topcoat! I found out that the Sneakerette (to Google her is to love her) used this polish as her topcoat and was intrigued enough to go buy. At that point I thought Seche Vite was the only top coat worthy but holy crap was I blown away. For $2 this polish applies and wears better than SV ever did for me. It takes a few more minutes to dry but has a much nicer bottle and brush and value. Try it try it try it!

Love it long time!!!
I brought this polish be A.) it was under $2 - I'm trying to cut costs as much as possible; B) It dries in a minute -which is great because I always have a ding in my nails before they dry; C) want to experiment with new colors. This polish exceeded my expectations providing me with a professional looking manicure (my co workers didn't believe I did them myself). I do a great deal of typing -for work, coursework and social networking- and the polish is still holding up on day 4 with little to no wear. Best dollar I've spent in a while.

loving every minute of it
i actually love these new polishes from nyc, like wetnwild they have stepped up their game somewhat as well. i have several of the colors, not sure what their names are but awesome price & easily to find! my favorite is lincoln square lavender which seems like the most popular color but it stayed on my nails for a week without chipping, after a top coat & such. i buy mine at walmart & riteaid but i'm sure they're everywhere else & they're around a dollar & some change, great quality & it's definitely worth trying!

Jacqueline R.
Apr 20, 2012
Cheap AND aweosme.
I bought this nail polish at Target for .97. I have always been a fan of N.Y.C, I feel like their products are reasonably good quality for the price MOST of the time.
These nail polishes are pretty awesome. They DO dry fast and the colors are lovely and pigmented enough to where I didn't need to apply more than two coats. What I was impressed with though, is the staying power of these things (used with a base coat and top coat) it took a full 4 DAYS before my nail polish started chipping off.
Not bad for under a dollar a bottle! I also like the size; they ARE smaller bottles but personally, I NEVER end up using up the larger bottled nail polishes before they get gooey or dry out.
I will repurchase these when they're gone. I have "sidewalkers" and "times square" and I LOVE both colors.

Violet likes DM S.
Mar 06, 2012
A must have for your polish collection
These little gems are amazing. I have tons of polishes but when I want to do something fast and fun, I reach for these. I love doing a zebra print with the hot pink and it dries super fast. Also, they seem to last a while before chipping but I do use a top coat. My daughter hates waiting around for her nails to dry so when she does let me do her nails, I choose these.

I really like this nail polish line. I've used OPI, Essie, China Glaze, Revlon, L'Oreal and for the price this nail polish is fantastic. For around 2 dollars, you get some decent color selections and they dry fairly quickly. This polish has lasted as long as 4 days chip-free for me when paired with a base coat and top coat. Some shades I find the consistency to be a little thin, but I actually like it that way. I own Canal St. (a dark burgundy brown with silver shimmer), West Village (a deep dark shimmery navy blue), Chelsea (a dark berry red), and recently purchased Times Square which is such an awesome and unique coral-red perfect for the summer! If you are on a budget, I would highly recommend you try out this brand.
---