Volume Express One by One Waterproof Mascara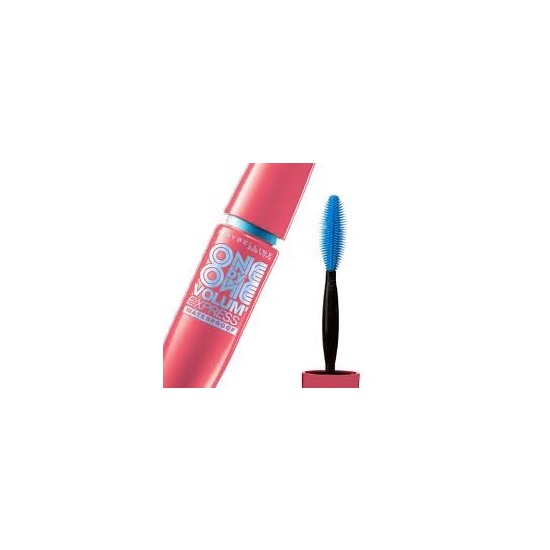 Rollover image to zoom
Reviews

My holy grail!
I have tried a LOT of mascaras, and I keep coming back to this one! No matter what, I always get long, thick, BLACK lashes that don't clump, bunch together, flake, or whathaveyou. I love the plastic/rubber brush, it really grabs the lashes and spreads the mascara on much more cleanly than regular bristles. The formula stays put no matter what you throw at it: tears, rain, water, soap, makeup remover... That may not be a great thing, depending on how you look at it. Overall, a fantastic mascara!

Great!
Out of all the mascaras Maybelline produces (and mind you, that is a lot), this mascara gives me the least amount of clumps. I haven't tried all of the mascaras, but I do own my share of Maybelline mascaras. It really separates your lashes, one by one. It gives you plenty of volume and really defines your lashes. However, the length this product gives you could be improved. Either way, fantastic product! One of my favorite mascaras of all time.

I love the applicator !
I have naturally long lashes, and this gives my lashes even more lenght, and thickness. I have it in brown, and I think it looks much better than black on my eyes. The first time I used it though, naturally there was too much product on the applicator, but you just have to wipe off the applicator on a tissue, and after using it a couple times, it doesn't do that anymore. I think I will continue buying it, because I just love the applicator ! It gives a nice swing on my eyelashes, without clumping. So with a little bit of eyeliner and this mascara you are good to go ! :-)

No clumps, no flake!
Normally I comb through my lashes, apply mascara then comb through again to separate the lashes and get all the clumps out. This mascara made that routine MUCH shorter. I always dab off excess product onto a tissue and that gets rid of potential clumps but this applicator is really fantastic. I never get any clumps, I only do one little sweep through my lashes after applying to separate any buddies and it's never flaked. I really do like this mascara.

decent mascara
it does the job. I understand why people love this. Maybelline is the only brand on the market that I LOVE their mascaras because they do such an absolute great job with making different kinds. This mascara is not too wet and isn't too dry. Works well with my lashes. Seperates my lashes so wonderfully and does a fast job as well. I only need to work this into my lashes a couple times and I'm good to go. It gives volume, but nothing too crazy. It leave my lashes looking natural and better than without mascara on. I just like this for separating my lashes and that's about all. I don't like that this mascara doesn't give much volume and how it doesn't make your lashes look black thick or bold. :( But it's still a good mascara.
---