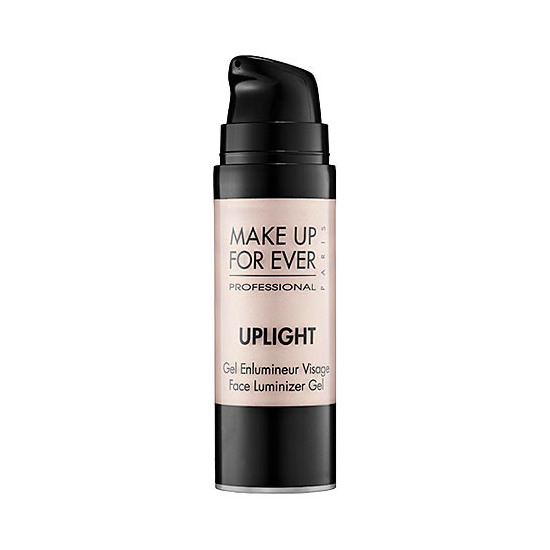 Rollover image to zoom
Reviews

used on the models during MBFW Swim Fashion Week Miami 2011
MAKEUP FOREVER was a sponsor for the Mercedes-Benz Swim Fashion Week in Miami this last summer in July!! I was backstage, & got to see the models getting their makeup done!
For the Luli Fama show, MAKE UP FOR EVER ALLIANCE artist, Lottie was inspired by the bright, vibrant colors of the night life in Cuba when creating the make up look.
The skin was all about the glow.
You too can easily look get the same supermodel makeup look! Here's what she did to create this look.
1st, Lottie highlighted the cheeks with MAKE UP FOR EVER Sculpting Blush #20 in satin blood orange, and then gave them a beautiful shimmer by applying MAKE UP FOR EVER Uplight high on the cheek bones.
2nd, The eyes were colorful and smoky. Lottie applied MAKE UP FOR EVER Aqua Cream #5 in peach to the lids, and then added MAKE UP FOR EVER Aqua Cream #21 in turquoise to the crease and under the eyes. She blended that out and topped it with MAKE UP FOR EVER Star Powder #960 in turquoise.
To make the eyes pop even more, Lottie used MAKE UP FOR EVER Metal Powder #1 in sunflower gold in the corner of the eyes.
3rd, all the colors were brought together with smoked out MAKE UP FOR EVER Kohl Pencil #1K in black and MAKE UP FOR EVER Aqua Black in the water line.
4th, The lips were kept nude using MAKE UP FOR EVER Aqua Lip #1C and then applying MAKE UP FOR EVER Rouge Artist Intense #1 on top.
http://runwayorthehighway.wordpress.com/2011/08/07/backstage-at-luli-fama-with-make-up-for-ever…/

My favourite!
This product is amazing! mixing this with your foundation gives you such a nice glow and flawless look, it lasts for a long time I find. Make sure when you use this, pump a little bit not a lot. You don't even need a lot anyways. Overall, I recommend this product to anyone

Love it but..
This is a great product to mix in with your foundation and make it look dewy and fresh but.. if you apply after applying your foundation I find it whipes away some of the foundation with it so not sure if that because it's too watery? Overall a good product though, just be careful after you've applied the foundation. Mix it.
---