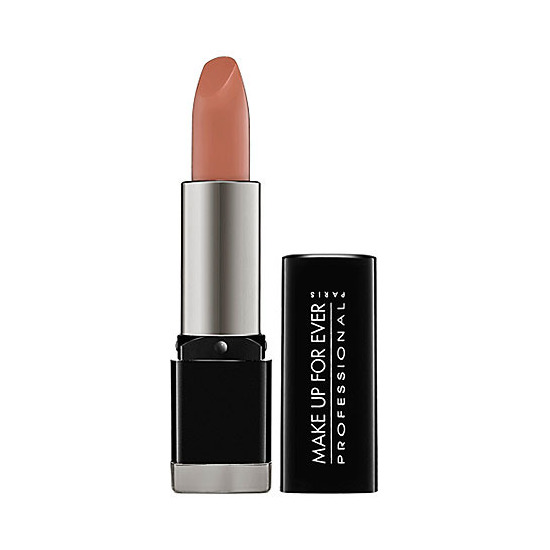 Rollover image to zoom
Reviews

My one and only Red Lipstick
I just got number 45 and i'm delighted by this "cherry" red. It goes perfectly with my skin tone (NW45) and it is very versatile, I wear it by night and by day too. Like other products from Rouge artist intense, the texture is smooth, the color last for a LONG time.

This is my first time buying Make Up For Ever
I've been looking so long for the right fushia lipstick.. I finally found it ! I wear lipstick occasionally on nights out or for a bold look during the day so this might not be the best review, however, I can say that even for a beginner this is a great product. When I first applied it, i didn't put lipbalm under it but my lips were NOT dry after. Also I needed only a little application for the perfect effect on the lips.
I really like the pigment and how it feels on my lips, but it does not stay on. Fades after about an hour, so you will need to use a liner first and then apply this in a few layers. I don't think I would repurchase as this wasn't really worth the money to me but I love the color.

An IT Girl Product!
This lipstick is simply wonderful! It's highly pigmented as its said,there are many color options,and it's just stay one the lip!
I'm using this with sebamed lipbalm as a base to make my lip more smoother and easier to work with.. This combo is simply amazing!
My friends are praised me when I wore this color, they said to me that this color match with me really well. I'm not using this daily, just once a week, for weekend holiday and I'm willing to wear my little black dress every week just to wear this lipstick. I mean this color is just AMAZING! U just can't wear a random dress to match this lipstick, it's just that LUXURY!
So, if u are searching for a lipstick and a red one lipstick, I suggest u to buy this.

LOVE LOVE!
Amazing color! the color is very rich and bold which I love. It doesn't make my lips bleed or dry my lips which is a plus. All there lipsticks have nice shades! everyone should try it

Best red lipstick!
I actually bought this shade accidentally and ended up LOVING it. It is by far the best matte red I have found, it is similar to Mac Red or even Russian Red but stays on all day. When used with a liner I never have problems with it bleeding and it stays on all day. Many matte lip colors I have found dry my lips out but this one does not, I can just use a small amount of balm or gloss if it feels at all dry and I am good to go for the day.

I went to Sephora's because I wanted to buy a new lipstick. I must have tried on dozens of colors. My cousin liked this specific color. She tried it on and it looked amazing on her. The color was sooo intense..I instantly feel in love!! It was #40 Rouge Artist Intense (bright orange) My cousin, my sister, and I all bought it! The next day we all wore it to a party and we got sooo many compliments. I love it! It was my first time trying a lipstick by MAKE UP FOR EVER.
---