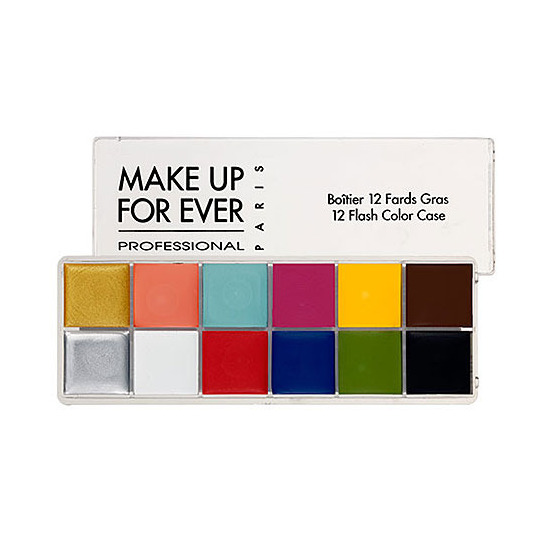 Rollover image to zoom
Reviews

This palette is Everything
If you are a freelance makeup artist/sfx you need this palette in your kit! I find myself reaching more often when doing halloween or theatrical type of looks. This palette is so versatile & can be used for so many different things whether you are doing face or body makeup. The pigmentation of each individual color is not only phenomenal but so is the staying power. These palette come with a bulk of each color you can mix and match. If you are debating whether to invest your money in this product, definitely do it not only with this last you forever but it is worth every penny. I'm in love with it!

This is an awesome palette for creating a one of a kind look ! I love mixing the colors , I'm obsessed with making my own lipsticks . I fine that this product goes on the lips very smooth and creamy ! I absolutely love this palette ?

Wow!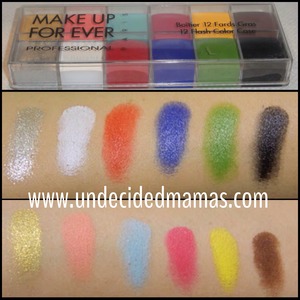 WOW! Such bright, fun, & creamy colors. This will get your creative juices going! I was real hesitant about purchasing this product this past Halloween. I'm not a professional makeup artist at all, but it's an awesome tool for costume makeup cause you can mix and match it. I'm really glad I got it, cause I was really proud about the makeup I did this year for Halloween! Words can't do it justice!

It is rare that I don't pull out my Make Up For Ever Flash Color Case on a job. It is simply one of the most versatile and pigmented cream color products on the market. The formula is fantastic and the range is lovely. Color correcting and customizing are a breeze with this palette. An essential for the professional's kit and a great buy for any diehard makeup lover.

Multiple Usage Must Have
MU4EvER!! The Flash Color palette is everything that you have heard - and more. Once you discover the flexibility of application techniques and combine that with your own creativity.. you may find you can make MOST beauty makeups happen with JUST this palette. Its worth the investment. I never go to work without it.

This is Everything...literally
The Make Up For Ever Flash color case is a must have for me in every application. I use the colors to adjust or adapt foundation or concealer or to bring any variety of color anywhere on the face. I can use this to create any concealer, color correct, foundation, eye, lip, cheek or mascara or merely add it to existing color to have an unlimited palette. A must have for every artist.

The colors in this palette are super bright, pigmented, and blendable. You can mix them with other things and put them anywhere on your face. Because they're so blended, you also hardly need to use any of the colors to get the desired color, which makes the price worth it by far. Definitely very versatile and worth buying.
However, when put on your eyes, the colors crease quite quickly and easily, even when a powder is layered over them. Also, the colors do stain. If you put the pink or red on your eyes (which, admittedly, is not recommended but who cares??), it will stain. The color will go away in a day or two and is very light, but it definitely does stain.
So buy it if you want a versatile, pigmented, colorful palette but beware at your own risk.

Super fun!
I recently got the Flash Palette after tons of friends told me how much they love theirs. The colors are so great and they go on really well. I'm still just getting my feet wet with it and am somewhat new to cream-y makeup, but have really enjoyed what it's done so far.
One friend uses it to do bright color stuff on her eyes and lips and another MUA friend uses it to mix the colors together to make skin tones that are more accurate to a person's tone. So that's quite a range of applications.
---