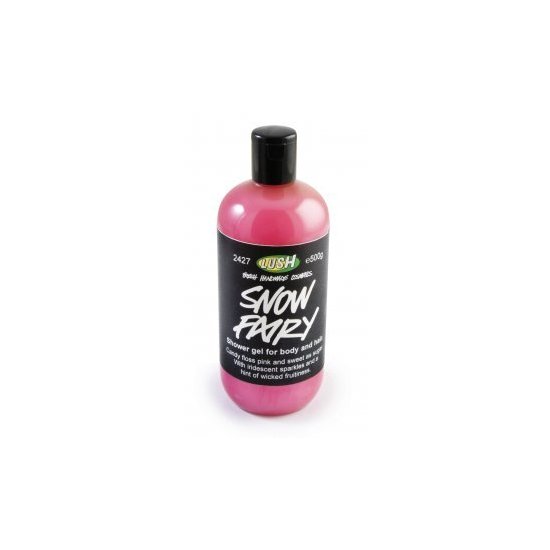 Rollover image to zoom
Reviews

So incredibly awesome
I love this stuff so much, I literally have large bottles horded under the sink so that I won't run out before the next time it is available. The smell it absolutely intoxicating and the sparkles are an extra plus. I feel like a fairy princess every time I step into the shower :D

Thumbs up!
Always seen this but never bought it until recently, and I don't know why I didn't buy it before! Ill always by the small travel sized ones when I'm buying a product to test it out and ill be going back for a big bottle because there's not one bad thing I can say about this product it smells so sweet and it has some glittery sparkles in there too! Devine!

Sweet sugary scent, iridescent sparkles, and... it's pink!
If I could only choose one shower gel to use for the rest of my life, this would be it. I've been using Snow Fairy for 3 years now and always stock up when it comes out just before Christmas. This is the ultimate pampering treat for girly girls, its sweet, sugary, candy floss scent lingers for hours after you've used it (most of the day infact) and it always leaves my skin touchably soft. Not only all of that, but it can also be used as a shampoo! I really hope Lush never discontinue this product, or they will have a 'bring back Snow Fairy' protest on their hands! :)

Favourite!
It smells absolutely amazing every Christmas I always get my Auntie to get me a bottle because the nearest Lush store from where I live is two hours away and she lives there. I wish that Lush had it all year round because it is my absolute favourite and I hate having to ration it so I can have it almost all year.

THIS PRODUCT IS ADDICTING!!
It reminds me of the last Beautylish event that I went to, besides the awesome staff! (love them) I stayed in Santa Monica at this scary Motel...yes Motel (NEVER again) andI forgot this body gel in the bath room. I cried when I was almost home after being in traffic for almost 2 hours and realized I left it behind. I called everyone I knew that could still be in the area with no luck. Is it christmas yet? cause I am ready to stock up!

This smells sooooo good! Definitely one of my favorite Lush products. It smells so fruity, almost like candy. And after applying it in the shower you can still smell it for 2-3 hours (most of the shower gels lose their smell after minutes). Using this all the time!! Definitely worth buying.

Im in love with this shower gel. It smells SO GOOD you will want to eat it. It lathers really nicely on my loofah and the scent stays on my skin throughout the day. I find myself sniffing my arm because it smells so good! It also makes my skin soft. It doesnt leave the skin tight or dry feeling like some shower gels do. Lush also makes a soap with this scent called The Godmother. Yum!

Fabulously magic!
I love this shower gel/shampoo, it smells like bubble gum and sugary christmas treats, its bright pink and has blue and purple iredecent glitter in it and works wonders on your skin and your hair and the scent stays with you for ages! LUSH also created a re-usable bubble bar on a fairy wand of the same scent, I just wish i had picked up more :) would totally recommend for all those sugar cravers ;)
---