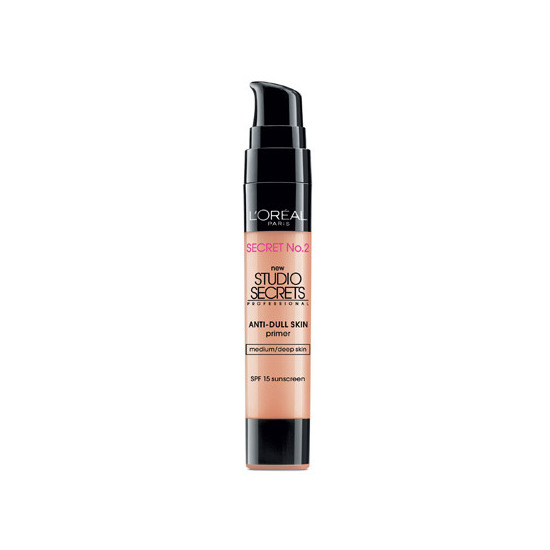 Rollover image to zoom
Reviews

PLEASE USE IT CORRECTLY
To be honest, I have disagree with a lot of reviews about this product that has been posted all over the internet. I purchased this product 6 months back after it caught my eye in the store. I watched many Youtube videos as to what it was before I bought it. Even by watching the videos, I knew this was not a regular primer and I think this is where everyone frustration came in about this products.
1. This is not an all-over-face primer. This is color correcting primer, so use it only in areas where you need to color correct. But this should be a no brainer because the same rules apply for all color correcting concealers.
2. Depending on how bad your dark circles or redness is, this primer is not to be used alone but in conjunction with something that is more medium to full coverage. The consistency is very liquidy and ment to be blended out.
3. Everyone complained about the shimmer when honestly I believe that's what separate the drugstore from high end, the fact that most drugstore products contain shimmer. Duh. But honestly, the shimmer is subtle and if they were to make this product without it, then the anti-dull purposes would be void. If you find that it is too shimmery, then that means you used too much product. The light reflecting properties of the shimmer is what brings the glow to your face.
I bet if everyone would use it correctly and pair it with their favorite concealer, they will find that it is actually a very good product.

OK but I wouldn't buy it again
Originally I wanted to get the studio secrets no. 1 but they were out so I got this instead since I have a bit of redness. Since using it I noticed the company was more fixated on the green pigmentation (I looked like the wicked witch of the west the first time I used it). My foundation didn't apply on it and didn't stay on it too great. I don't really recommend it

Justine Maika E.
Jun 21, 2011
This works really well! If i'm in a rush going somewhere or if i go to the gym, I just apply the anti redness primer & it evens out my skin tone well enough for me to be okay with leaving the house. It doesn't provide coverage but it definitely evens everything out & brightens up my face.

This product solved my issues with my undereye circles. First I only apply it under my eyes because I watched youtube videos that made it clear to me that this was NOT a full face primer and should be applied to the areas that need brightening. Second, I don't use this on it's own. The product is orange-y and not congruent with my skin color. I used a full/medium coverage concealer on top of it and it seriously makes me think, "what dark undereye circle problem?" One thing that you have to be careful of is to not apply too much of it (or the concealer) because it will crease on you. And as for the shimmer/sparkle. It's a non issue when I apply my concealer. You can notice it a little bit in pictures but it's not a distraction it enhances the pictures.

I automatically went to buy this when I was watching a video by Pursebuzz about how it helped in conceal dark circles. I bought it and received the product later on by mail. You can definitely control how much you get. If you push all the way down on the pump you'll get a lot if you go slowly, you'll get the amount you want. When I tried it for dark circles. It didn't work. The product has tons of shimmer and it leaves an apricot color behind which I feel its hard to blend aswell. I feel the product dries too quickly which makes it hard to blend and if you don't blend good you'll be seeing apricot color stains around the area. I was not impressed and I wouldn't recommend it.

AWFUL
- The Pump gives you to much products, so you have to be verry carefull - After using it you'll have a pretty mess on the tube. - And you'll have another one on the redness that you tried to hide. - Too hard to blend, I don't like to get out with a tiny little bit of green on the blemishes that I wanted to hide for me it's like saying to everyone "Hey look at my last spot!!"
Summary: Never Ever Again!! If you want a colour corrector go for a creamy one and not a liquid, it will be easier to target the spot and not makin it bigger!

Not what I thought it would be
This product had very nifty and persuasive advertising. Using catch phrases like "Studio Secret" and "Professional" all probably ensnared us one way or the other- subconsciously or otherwise. Color correcting is promoted by some MUA's and is not hyped by plenty of others. I think a color corrector's success also depends on the thickness of the product as well. A basic guide line for color-correcting is as follows:
-Yellows can help neutralize purples/blues -Green can cancel out any unwanted redness -Purple can balance out yellow or sallow skin -Peach is good for dark spots. (There are variations to color-correcting and most of it has to do with the color wheel/color theory, also what works for you and/or your client! The list above is just one color-correcting theory/technique.) This anti-redness primer didn't do much for me. I didn't notice a marked, or even faint difference after I blended it on my face, with foundation, or alone. Color correctors are used to counter act or cancel out an unwanted facial color AND then once the color is neutralized, add skin tone matching concealer/foundation/face products. This primer was liquid-y and sheer, so no visible coverage. The packaging is slim, sturdy and portable, and I think the pump is OK, seeing as how there are PLENTY of skincare and MU products' whose pumps clog up and get all gooky and dry, thankfully this fail product was not one of them. You can control how much you pump, but its easy to accidentally deposit too much product with a small pump, so be careful. But even if you do use a ton of product, its sheerness cancels out any beneficial effects. I was excited about this product because I have dry, cool undertone skin with some yellow/tan patches, high, ruddy color in my cheeks with large pores and my jawline/chin is slightly acneic.I have a red, very dry T zone and dry skin at the base of my brows, as well. I also have dark circles/no bags. This product would have been great to neutralize all of that. I can't remember the price but it might have been over 10 bucks. In comparison to some fancy shmancy primer this is def. cheaper, but for drugstore its still a little pricey, especially when added to the tally of your additional purchases.
---