True Romance Eyeshadow Palette - Adora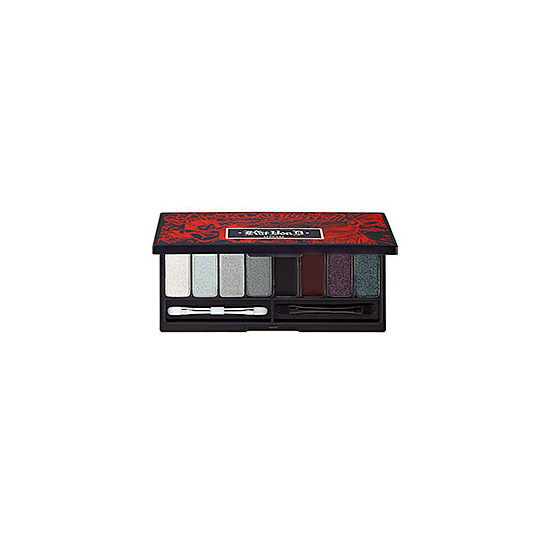 Rollover image to zoom
Reviews

Beautiful colours, mixed quality
I fell in love with this palette mainly because of the red cream shadow. The colours really are stunning, including bright silvers, blue-toned pewters, and deep gem-like blacks with stunning colour reflect.
Like all Kat von D palettes, the darker shadows appear to be very delicate--if you drop this palette, or even just jostle it around too much, expect the darkest two shadows to break. I cannot tell you how much broken Lucifer shadow is floating around my makeup bins, and more recently, how much chipped Tijuana is ground into my bedroom carpets. So really, be careful.
The cream shadows are nice, especially as bases for the powder shades. In this palette, there are three: a bright metallic silver, a carbon black, and a sort of wine-red pearl. The metallic silver does clump a little, so it really is better as a highlight than a base, but the other two go on smooth and pigmented.
As far as the powder shadows go, they're all quite lovely. "Albino," the palest silver shadow (almost a metallic white) is a bit chunky, but otherwise everything is very velvety and blends nicely. I suggest applying the darkest two wet and patting them on instead of swiping, simply because the coloured reflects WILL fall out if you try too hard to blend them.
All in all, a really pretty palette. Great for an interesting smoky eye, or a bright, festive silver look. (the attached picture was done using only shadows from the Adora palette, including the darkest two--photos really don't do the blue and red reflects justice!)

RIP Adora
So I just found out yesterday, it's official: https://www.facebook.com/pages/Kat-Von-D-Make-Up/374044217891
For those Adora fans out there... The best way to describe the Adora lipstick was that it looked like your lips were the color of a Christmas bow. Sadly, the Adora line has been discontinued. But you can get that same look with the new Foiled collection that comes in a wide selection of colors varying from a poppy red to an amethyst with micro glitter!
I will be sorry to see this palette go, and will be conserving the sparkle for as long as I can

My alternative glam palette
Once I got bit by the beauty bug, I had to get this palette when I went to Sephora, for the first time. The packaging is beautiful and Kat Von D is sooo sexy. I'm impressed with most of the palette, but there are a few misses along with the hits. The Albino shade is beautiful, a white, almost creamy shimmer, but its almost held together with micro glitter, so when kicked up with a brush and applied, it makes for some fallout. That being said, it still makes a great highlighter, on the inner corner of the eye/tearduct area and the brow bone. The satiny baby blue shade located on the left is also very smooth and creamy, with less glittery fallout and more color opacity. It provides more of a wash of blue, so its not a go to for a very vibrant blue, but is a great pastel shade- I like to pair it with black liquid liner for a little pin up look. The silver, black and maroon cream shadow/liners I still need to play with- they originally dissapointed me because they creased despite wearing my UDPP, although I might need to add a little powder over the primer to make it more dry and less creamy, if thats why it creased so much. Glock, Ace of Spades and Oddfellow are also great- they make for beautiful smokey eyes and I like to use a little tape to create a sharp edge when applying these shadows- to give it a little drama and a clean line, and avoid some fallout as well. All in all its a great palette, although I think it could have been better. Love her line though, especially the design on the packaging as well as the creative names. :)

Perfect Dramatic Smokey Eye Palette
If you don't like dark dramatic eyeshadow of any sorts, stay away from this palette! These colors are so dark and dramatic, full of glitter and gorgeous shimmer! The only thing I don't like in this palette is the cream silver eyeshadow. It's kind of chunky and doesn't really serve a purpose. But the black cream shadow is the MOST PIGMENTED black cream product I own. Perfect for a liner. And there is a gorgeous dark purple/black shimmer shadow in their that is phenomenal. Love love love for going out or getting a super sexy eye.

best KVD pallet
In my opinion, this is the only good KVD pallet. I know her stuff gets a lot of hit or miss reviews, and thats why i didnt rush to buy this, but it clearance'ed out and I grabbed it for like 15$. with 15, not the original 35 or 38 or whatever. The silvery shades are way too glittery. But i looveeee the dark purple, blue and steel gray color. That bases, the red and the black, also arent bad- but its true- they do dry up very quickly.
---