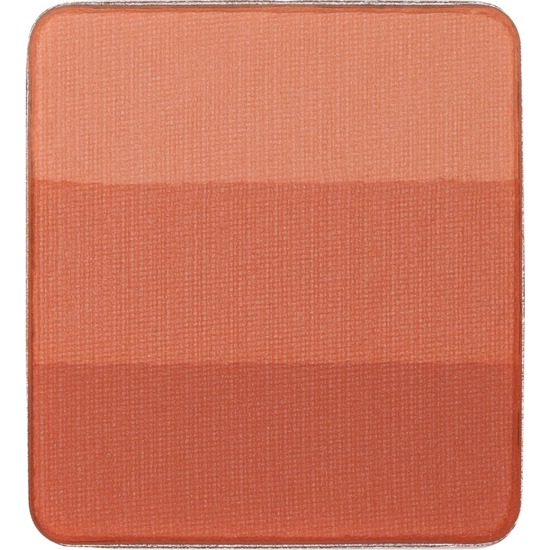 Rollover image to zoom
Reviews

All Matte : )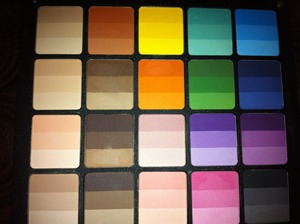 I recently purchased ALL of the eyeshadows in the rainbow eyeshadow collection from Inglot and I am 100% satisfied with them all. I love these shadows because they are all matte. Inglot has a HUGE range of eyeshadows but this product that they have come up with is amazing. You get one shadow with 3 different shades. It was a excellent idea and I now have every matte color in one palette : )

Matte shades are lovely but powdery. Review of 102, 107, 115, 124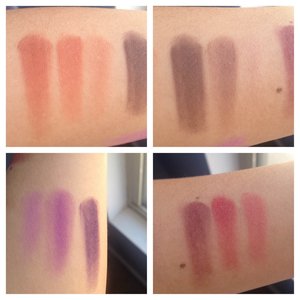 For reference, I am medium-tan (approx. NC30) with warm yellow undertones. I have normal-dry eyelids. Swatches were without primer.
My biggest gripe with these is that the pure matte ones (102, 107, 115) kick up a lot of powder in the pan. 124 does not, presumably because it contains more binder to keep the glitter in the shadow. You basically have to dip your brush into the pan and NOT MOVE IT at all or else you get eyeshadow everywhere. The shadows are so soft, softer than the matte shades by a certain other mid-range brand known for buttery mattes.
However, I only deducted half a star because everything else about these is phenomenal! The benefit of being so soft is that they are not patchy on the eyelids and blend like a dream. They are true to pan for the most part, with the darker shades needing to be built up a bit. Here are my thoughts on each individual pan:
102: The lightest shade works as an orangey transition shade for me for very very warm looks. The middle shade is true orange, the darkest shade is more of a burnt brownish orange. All 3 are very pigmented, swatch well, blend well. This one is my favorite of the 4 that I got.
107: Medium neutral browns. The lightest shade almost matches my skin tone (I am too yellow so it looks pinkish on me). Middle shade is a great crease shade. Darkest brown needs to be built up but is still smooth, not chalky.
115: Lovely purples! The darkest one does not swatch well (as you can see) and looks patchy on my arm. It applies much better with a brush. Great shade for deepening the crease.
124: This one has silver sparkles throughout the entire pan. I was hoping the darkest shade would be a vampy blood red but it's more of a dark reddish brown. All 3 shades had great color payoff but most of the glitter was lost after blending. The glitter sticks much better over a primer or sticky cream base.

I haven't bought a MAC shadow since I got my hands on Inglot.
I have only had the opportunity to try out the single shadows in the freedom system and the gel eye liner. But let me just say that I LOVE LOVE LOVE this product. I haven't bought a new MAC eyeshadow since I have been using Inglot (I know others would call me crazy). They are super pigmented and provide such awesome blending capabilities. I am so glad that my girlfriend turned me on to these - I am in love. :D

Bang for your buck
I purchased the entire rainbow collection all and there is not one color that I dislike, yes is it true there are a couple of pans that you can live without but why would you? The colors are vibrant and smooth, they blend like a dream. I would not recommend something that I have not tried myself and I can assure you that inglot shadows are worth every penny ************************************************************************************************** Yo nunca recomendaría algo que no he utilizado de primera mano y este producto vale la pena. Todos los colores en esta serie son mates pero si nunca has utilizado esta marca y quieres experimentar estas son las sombras que recomiendo antes de comprar sombras individuales que quizá nunca vas a utiliza. Has rendir tu dinero he invierte de poco a poco.

This brand is one of my go to brands for eyeshadow, beautiful pigment !
All inglot eyeshadows are my go to when creating bright, vibrant and fantasy make up for my performances ! They also save me a lot of time in that they are the best quality in pigment that I am able to buy in Australia, even the neutral tones are a dream to apply, This product is one I will keep on using

MAC without the price rage
I love the fact that you get three shades in one. It makes it really easy to blend out colour and match shades to your eye look du jour. I find the quality to be comparable to Mac and with that said if consider it a notch below Urban Decay

Awesome idea!
I LOVE Inglot eyeshadows as singles, but I love the idea of these rainbow pans! Instead of getting just one color, you get three shades of the same hue! The brown/neutral shades are a perfect shadow combo for when you're pinched on time or something. You get a lid color, a crease color, and a highlight color! How awesome?! I only have one of these, but I NEED more! I can't get over how awesome these are!

VERY PRETTY COLORS AND I LOVE TO EXPERIMENT WITH THEM ALL! YOU HAVE TO BUY THIS IF YOU DON'T ALREADY OWN IT. LOVE THE VARIETY OF COLOR. EVERYDAY I AM PUTTING COLORS TOGETHER THAT I DIDNT THINK WOULD COLLIDE.
---