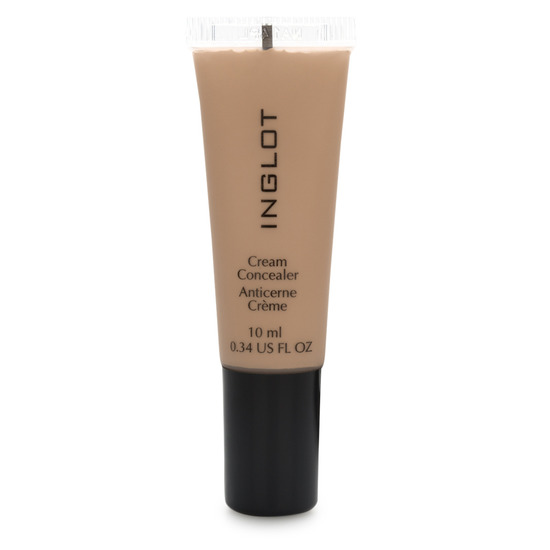 Rollover image to zoom
Reviews

Pigmented but cakey
I find this concealer has a lot of pigmentation but it's cakey, heavy feeling and the darker skin shades tend to be orange. Not worth the price. This might be good for correcting blue under eye circles but otherwise useless

got to love this concealer!
this is the first time i am trying inglots concealer and what i love about this item after 2 weeks of using it is that, it stays put and does a good under eye coverage.. its not cakey as well and blends beautifully! i used rcma powder to so my concealer stays in put for 8 hours a day..

Esmeralda M.
Sep 22, 2015
This is some good stuff!
I was completely out of concealer and decided to give this one a try and IT Cosmetic's Bye Bye Under Eye. This one dries really quick and it is not as thick as the other one I got. Coverage is great and I like the fact that it dries quick. I am super satisfied with this product and this brand has become a favorite of mine!

Good for spot coverage
This is a godsend for hiding blemishes. Just a tiny drop and a quick blend and it's like redness never even existed. Set with powder and it stays put all day. And it lasts forever because you hardly need any. Not good for anything but spot coverage though.

Doesn't blend well, dries too quickly, and settles into pores
It is ok in pigment, so it conceals any discoloration. But it will reveal even the slightest irregularity in skin texture, whether pores or lines or flakiness.
Also, I use a transfer-resistant foundation, so I'm used to working very fast. However, this concealer dries even too quickly for me. Once you put it on, good luck trying to blend it out.
PROS - Price - Dries down to very matte, slightly powdery texture - Longer lasting than even a transfer-resistant foundation. 8+ hours. - If you have smooth, oily eyelids, this would make a very decent eyeshadow primer
CONS - Dries too quickly, before you can blend out the edges. - ACCENTUATES ANY AND ALL PORES AND LINES!!! - ACCENTUATES EVEN THE TINIEST BIT OF FLAKINESS!!! - Too dry to use under the eyes.
Brittainie B.
Oct 15, 2014
3.5 stars, but definitely not 4. I love how cheap this concealer is, and for it's price it is such a great buy. I've been wanting to invest in a proper concealer after using up my maybelline, but this was a must try for me before i shelled out the extra $$.
This is definitely over hyped, the reason being blendability. Coverage is great and buildable. I am very fair skinned and was worried this would be too green or yellow for me *i am using this for highlighting and redness* but it really wasn't. It seemed to take on the colour of my skin well, whilst being opaque enough without being tacky.
Consitency wise, this convealer was perfect. Such a blendable product, which is why it amazed me that it did not blend well. You absolutely HAVe to blend down, you cannot blend in any other motion, and it dries very quickly so ur blending needs to be immediate.
I have medium sized pores on my nose, those of which i am working on to get smaller- but i don't want a product that makes my pores huge. This product made my pores look INSANELY HUGE if not blended in a very specific way.
It is not a very versatile concealer, which is unfortunate due to unique colour options. I will still use this for the time being, but i don't think i would need a reason to re buy it after investing in a more expensive/higher quality concealer.
Drugstore brands of concealer have been more blendable and offered more coverege, but not as quite as much brightening or as texturally pleasing as this product is. The colour options are a plus for cheaper concealers as well.

Good coverage
These concealers have great coverage and blend nicely, however you have to work rather fast with them. They are creamy, but rather on the drier side, so they are not recommended for the delicate under eye area. They are perfect for covering blemishes and other imperfections. There is quite good selection of colors including green and white.
---