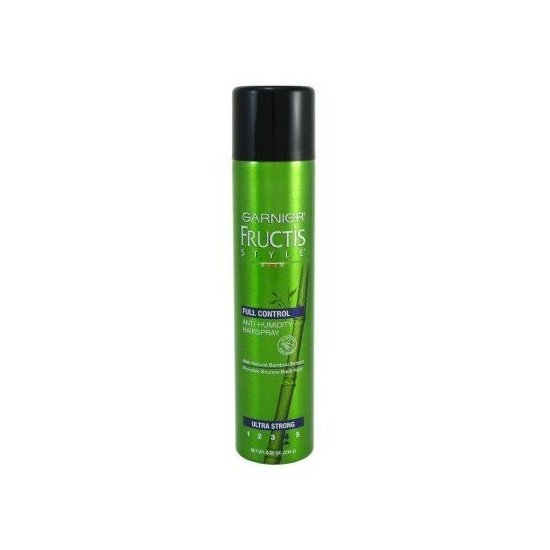 Rollover image to zoom
Reviews

Looove!
ah, so this hairspray. I love it. I use the volumizing one and I do it at the scalpe near my part just a couple spritts an a little wiggle with my fingers an ah!! so soft an a noticable difference. love :) I don't even like garnier products but this, this is a winner. I bought it because it said anti humidity an my hair ugh in the heat :/.. it's a mess. but so far, this holds good.

Fav Hairspray!
This hairspray really does work for what the product says it does...It smells very good! and lasts all day with no touch ups either if i have my hair up or down. You don't need too much of this product on your hair little works best! and for me helps me alot when there's humidity...Great hairspray for being drugstore quality:)

One of my favorites
I love the smell, love the formula, I LOVE IT. It is very flexible, and it does help with the humidity just a little bit, but if you spray TOO much of it your hair will turn oily & your hair will be hard & crunchy. A little goes a long way!

Alright Hairspray
I have the same hairspray, although mine has a clear plastic cap and spray pump, unlike the picture. After I use my Pantene Pro-V Fine Hairstyle Mousse I like to top it off with the Garnier Fructis Style Full Control Anti-Humidity Hairspray. I feel like the mousse does a so-so job of keeping my hair in the shape I want it, and the hairspray is also so-so. I'm not sure it holds my style very long and it sorta fades away I feel like in a couple of hours. On the flip side, I like that its not super crunchy and is more natural feeling. Its not in an aerosol can which is a plus, the sent is great (I love nearly all of Garnier's scents) and the scent doesn't clash with that of the mousse I use with it. The last time I used more hair product was in middle school when I grew my hair out til it was more curly, then squeezed gobs of blue gel into it, scrunched the crap out of it, then sprayed, sprayed, sprayed with hair spray. (I also alternated that with stick-thin straightened hair!) I liked the crispy, scrunched curls look, THEN! I haven't styled my hair with many products since, so I'm a bit of a hair noob, and I feel like I'm not using this spray to its max potential. But any more discoveries made will probably edited back into this review. That being said, this hair spray makes for a nice MU setting spray in a pinch!
EDIT* I like this spray better now that I know to use more! :P
---