'Advanced Night Repair' Synchronized Recovery Complex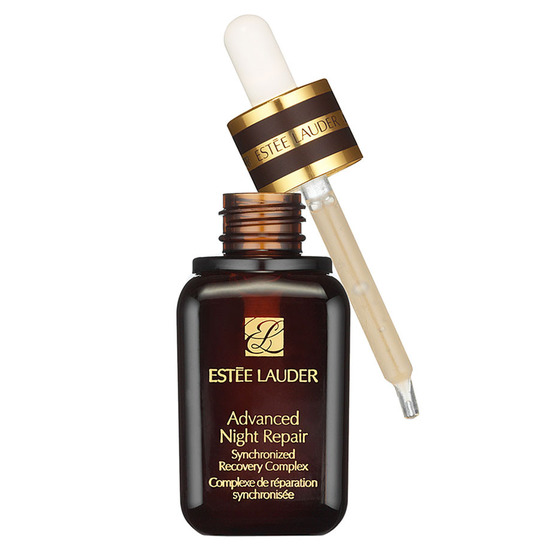 Rollover image to zoom
Reviews

Changed my skin forever!
I had really bad acne before, and my skin was always super oily and sensitive and red. I've tried almost everything with hope that I'd find one that would fix my skin problems and make my acne go away but nothing worked. Then I decided to try this Estee Lauder Advanced Night Repair and it changed my life! After a month using it twice daily (morning and night before moisturizer), my showed great improvement and a lot of my acne were healed. Now, I've been using it for about 4 months and my skin is better than ever! I can't thank Estee Lauder enough for making this product! It's one of the best skin care products of all time in the world!

Miracle In A Bottle
I've stopped using foundation because of this amazing product. I now go out with just tinted moisturizer and a light wash of MAC's MSF to set.
So yes, it goes to show how effective this serum is. My skin has always been terrible - started a battle with severe acne in my late teens, cured it with a series of popping Roaccutane, antibiotics and BCP. While my zits have cleared significantly, I had a lot of unsightly scars (pigmented and pitted) left.
I started using this about 2 months ago, and although the results were not immediate, they are visible now. My skin has become much softer, smoother and the pigmented scars have gradually faded. I'd even say my skin tone has evened out nicely too. It did not cause me to breakout at all, nor did it clog my pores. Very easily absorbed and smells a bit medicinal but I got used to it after a while. I spread it on nightly after toner and before moisturizer - just a thin film over face and neck (which equals to about half a dropper).
I got the 30ml bottle to try out, and I reckon it would last a good 3 months if applied once daily.

Flawless...
if your in the search for flawless skin, you have arrived to the right spot. My biggest problem is large pores. I have combination skin. so the pores around my nose and cheeks is a but more visible than i would like. 2 weeks into using this my pores are much smaller (not completely gone) but this is the first product ive ever used that made a real huge noticeable difference. It also smoothed out my skin. it really does feel like butter lol! my skin looks more glowey and i can actually skip foundation on days that i don't feel like using it. i also had a couple of old acne scars around my chin. very noticeably almost gone. it is on the pricey side but the bottle lasts forever because you use so little all you need is a thin layer. i use this product every night and it truly LOVE it!

Benefits of Hyaluronic Acid in a great formula!
I've been using it for about a year now, not daily but at times when I'm not undergoing some vicious acne treatment with BP or retinols. BTW, the retinols and BP have never worked half as good as this stuff has. It's worth a try if you have problematic skin. Whenever I give up the chemicals and come back to this i wonder why i ever deserted it in the first place :)

Holy Grail
This serum and the Clarins Double Serum I have used for years.. They are holy grail and will always be in my skincare routine! Tried and true! It softens, makes your skin look radiant and clear! Love it!

Amazing!
This is yet the best serum for a very dry skin, my mother bought this for her, and after a few bad nights, my skin looked awful, so my mother said to me to try her serum, i did! And it was the best thing on my face it feels so good and it look incredibly moisture after all, if it wasn't for the price which is a little bit too much i will buy it everytime, but it is a must!

I just got this and am very excited. I'm 16 but they say start early and since I got my first wrinkle I thought I should look for something to help my skin since I've been having to wear foundation a lot lately. I used to have perfect skin and I love how this feels on my skin.
---