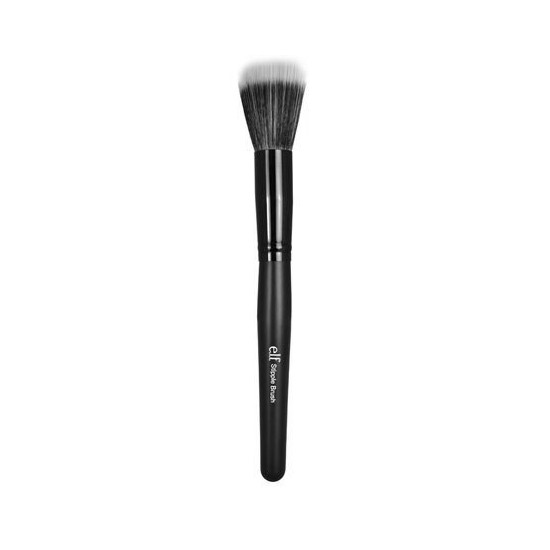 Rollover image to zoom
Reviews

Horrible brush
BOO! i was so excited to get this (esp since it was so cheap) but man was i disappointed. The bristles are way too weak and i wasnt able to get a good finish. when i used it, i ended up swiping it across my face as i would if it was a reg. foundation brush.

I'm a happy camper!
Read reviews and seems like not everyone's satisfied with this brush. I bought one (and the small stipple brush) and I'm using it everyday. I keep reaching for it instead of my Real Techniques buff brush (Core techniques).
I use it for BB cream mixed with a bit of liquid foundation. I use the small brush for my peach lip-cheek stain. :)

my fav brush
I luv this brush I have two one for foundation and the other for blush it really packs on the color to my cheeks and blends perfectly the small stipple bush is a must have as well for u deer eyes and bronzer

LOVE LOVE LOVIN IT!
I have dry skin and u finally foundation that worked for me but the thing is I didn't have any stipple brushes which I heard are really good for liquid foundations.So I looked on sephora,m.a.c,benefit ,everything!!But alas the brushes were $35+ and I can't afford that then I found this $3 brush and immediately bought it.I came home and applied the foundation in circular motions with this stipple brush and I LOVED IT!my skin was absolutely flawless.i couldn't ask for more.Thanks E.l.f!
Favorite way to apply my foundation!
I use this brush to apply my Revlon Colorstay foundation everyday. I used to use my fingers, but I find that this brush gives my skin a more airbrushed look and not streaky at all! :) I LOVE it! You must use the stippling motion with it though, or else it can make your makeup cake up. Make sure you only use small amounts of foundation at a time...and work on one small section of your face at a time. Hope this helps! <3

Amazing!
I LOVE ELF brushes and I LOVE stippling brushes. So this is perfect. Also got to love it for the price! Its super soft and easy to clean like all their studio line brushes - made of taklon! Nice for so many uses - foundation, powder, highlighter, blusher! Definitely one of my favourites!

LOVE IT!
This brush is brilliant for anything! I've used it for liquid, powder, bronzer, blush. It's just great and for the price it was amazing!!! I would pay soo much more than that for it. Check this out for more details: http://testtrialreview.blogspot.com/2011/08/i-ordered-some-bits-and-things-from-elf.html

$3.00 for a nice stipple brush. Love that. This is a small stipple brush and I usually use it to apply for moisturizer so I can get an even coverage with my moisturizer. It has worked wonders for me. I also use it to apply my foundation to get a better airbrushed and flawless finish. Thanks ELF. Girls looking for purchase on budget invest in this brush you would like it.

This is the only brush I use to apply my foundation. I pat my foundation on with elf stipple brush and it leaves an airbrushed finish. This brush is Super affordable I only spent $3.00 on it, the quality of the brush is amazing, sturdy, great quality hairs, no shedding, this brush works better than my $20.00 stipple brush from another brand. Elf stipple brush is also Easy to clean, and does not fall apart after you wash it. If you're looking for a stipple brush that gets the job done with out shedding and leaving little annoying brush hairs stuck to your foundation I recommend THIS ONE!!
---