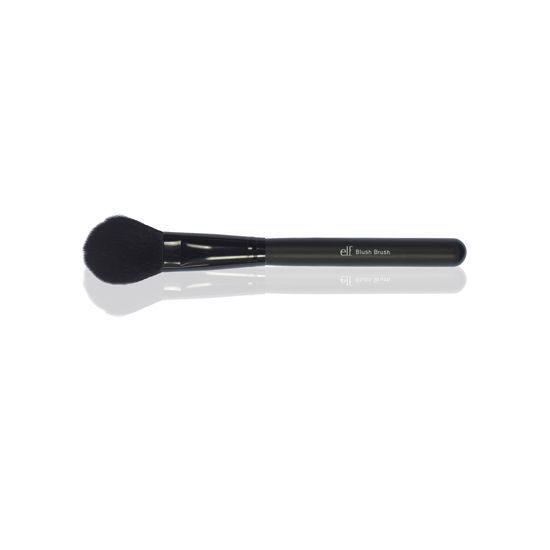 Rollover image to zoom
Reviews

Blush? Maybe. Undereye setting? ALWAYS.
This brush is a small, tapered powder brush. It's marketed as a blush brush, but I've only used this for blush on the 10 year olds for dance makeup. It's perfect for them because their cheeks are so petite! However, for a full grown woman, it's a little small, and I don't have a large face. Due to the bristles coming to a gentle point at the tip, it's perfect for patting powder onto the undereye, down the bridge of the nose, and for applying blot powder to small areas of the face. The ferrules on e.l.f. brushes have a tendency to loosen up over time, but for $3 it's not a big deal, and easy to re-glue. The bristles are soft, densely packed, and I've never had one shed in the three years I've been religiously using this brush.
This is my absolute favorite blush brush...it's soft bristles picks up color with ease. You can also use this brush as hightlight and contour brush the pointed tip allows you to control color placement precisely. This is a must buy and for $3.00 you can't lose. FTC: This is my honest review which I was not paid to do.

like this brush for contouring, and blush
this brush is versatile. I like to use it both for contouring and for blush. It's perfect how the shape of the brush is for contouring and then it is really nice that the head is flat shaped to apply your blush precisely. That is why I like this brush so much.

I've had this brush for about 3 months now and I use it pretty often for contouring or applying blush. It's okay. It's not the best, it sheds like crazy and it's pretty small. I find it kind of hard to blend sometimes. In those cases I just take my powder brush and use that to blend my blush/bronzer.

Great Brush!
I absolutely love this brush!! It is perfect for applying blush! It picks up pigment very well and blends nicely too. The bristles are soft and I experience very little shedding if any. Not even during a wash! This would also be a nice brush to set your under eye concealer with as well. Very well exceeded my expectations for $3!!

This is the perfect brush for me to apply my blush. The brush is not to stiff however it is not at all flimsy. It picks up a lot of product with one touch. This is not only a good brush for applying blush but it is also great for applying loose powder for under your eye and contouring your cheeks. The E.L.F. blush brush is my go to brush for my blush. I have several of these brushes and have had them for a couple of years now, they are still holding up well and I have experienced no shedding. Cost $3.00.

Amazing Brush!
This brush is worth every penny! Very soft and easy to use! Great for contouring the cheeks and applying bronzer! I love the elf brushes so much! They always work so well when I apply my make up! A must!

More for contour
This brush is a litttle to small for blush, however is the perfect size for bronzer and contouring. Gets in the hallow of the cheeks perfectly and blends it out well since it is tapered. I use it to contour, and to sweep away fall out. Over all for 3 dollars you cant go wrong :]

Very soft bristles and sleek design, but it is very difficult to use as a blush brush. It has an odd shape that makes it impossible to blend and place the color comfortably, so I use it as a contour brush. It is quite tapered and small so you can even get away with using it with your highlighter! For $3, its a great brush.
blog: http://dreamingofbeautyx.blogspot.com/
---