 Rollover image to zoom
Reviews

Not Bad Not Good Not Neutral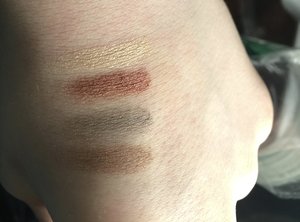 Before getting into the review I would like to say the colors in the pallets are absolutely gorgeous and they work well in a combination. The downfall here is, even with a primer they look like washes of color, which isn't my style. Now, I happen to love Elf. In fact I incorporate a few of their products in my everyday routine i.e. Shimmering Facial Whip and Ultimate Blending Brush, however this pallet just doesn't do it for me! Elf is notorious for having hits and misses so perhaps that is what occurred for me because I noticed a lot of positive reviews on the gold shadow pallets, but I must say Luxe includes a gold and it just looks sheer. They apply better with primer, of course, but it isn't a really great product, or really bad product, or in between product, just eh. By the same token, the swatches look alright but compared to Urban Decay and such- no where NEAR the pigment present in those shadows. Sorry Elf.

Travel Size Goodness
I don't think these eyeshadows get enough love. I own all of the quads and i can say that some are not as pigmented as others but overall they all work really well. They are my everyday and 80% most reached shadows. Yes, some colors are chalky and not as pigmented but we all know that e.l.f. has a horrible consistency for their products. I love the combinations of the quads and love how tiny it is because it's so convenient for traveling. The other drawback i have with these quads is just the triangle shape shadows. When i hit pan on the shadows, the middle is completely gone but in the corners there will be some shadow left that my eyeshadow brush can't reach. Overall, i would recommend this product to try out and it's great for traveling.

Handy little palettes for a girl on the go!
I love these little quads for travel or quick touchups away from home. There are several great color combos and in general the shadows are pigmented and apply well. Occasionally there will be a slightly chalky or sheer color, but that isn't enough to deter me from recommending these. After all, for $1 what have you got to lose?

Not the best color payoff, but still satisfactory
I got this quad at Target for $1.12, and being that it was way to cheap, I thought it was just going to be downright chalky. The darker colors have great payoff, but the lighter colors are a bit powdery. I wished they'd mix up matte and shimmer shades in a quad instead of all shimmer, since I prefer a matte highlight color to a shimmer one. Nonetheless I like the quad I got, and it's too cute! It fits in my bag, the case doesn't open easily, so there won't be any shadows smeared in my bag lol.
---