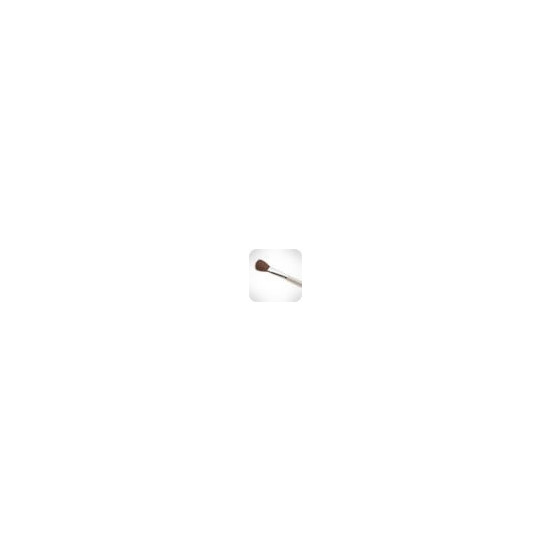 Rollover image to zoom
Reviews

I love this brush! I have two of them. One is older and has lost its shape a bit but I still use it for contouring. The other I keep in the plastic brush guard it comes packaged in to set my concealer. It picks up product well, doesn't shed, is still soft after many washes and it is very much worth the 3 dollars.

Go to for fabulously chiseled cheeks!
This brush has really helped me get desirable results as far as bronzing/blushing/contouring and highlighting go. I got lucky with the feel of the bristles- mine are soft, almost too soft, and flimsy, because I like a brush that is gentle on the skin but is still firm, without too much give. The hairs do fall out, which is a little annoying, but not a big deal. I love its shape and how its helped define my cheekbones and let me play with different blushes and bronzers. This brush is great economically and perfect for beginners with makeup. I still want to slowly add more cheek/facial brushes to my collection, yet I feel, as cheap as this brush is, its a great foundation in my brush collection. Plus, I dig the reddish (probably fake) color of the bristles. For a buck, this is a great product, although I wish the brush had more substance physically- it does feel a little cheap and breakable.

pretty good
Works well for me...soft (which I've noticed others say It's not), picks up product well..gets the job done. Doesn't shed...guess I got lucky. For 1 dollar I won't have a problem repurchasing. Love Elf!

Sojourner W.
Nov 06, 2011
Perfect for Bronzer!
This was one of the first brushes I bought ever and I absolutely love it for my bronzer! It works perfectly on my t-zone and is also really good for contoruing my cheeks, face, whatever! I don't exactly know what you are suppose to blend with this brush, therefore I don't use it for blending. Lol. But the bristles are extremely soft and the price is extremely cheap, only $1! I absolutely love this brush!
Pros:
- Price - Texture - Quality - Uses (3 in 1, even though I only use 2)
Cons: - Some of my bristles did fall out/shed
xoxo Sojo
http://www.thesojochronicles.blogspot.com

The bristles :/
This is a semi good brush for beginners like myself. And I still use it from time to time. But I don't like the bristles, they feel very hard and almost like cheap paint brushes. It doesn't pick up much product unless you work it. But if you work it, it gives a good even look.
---