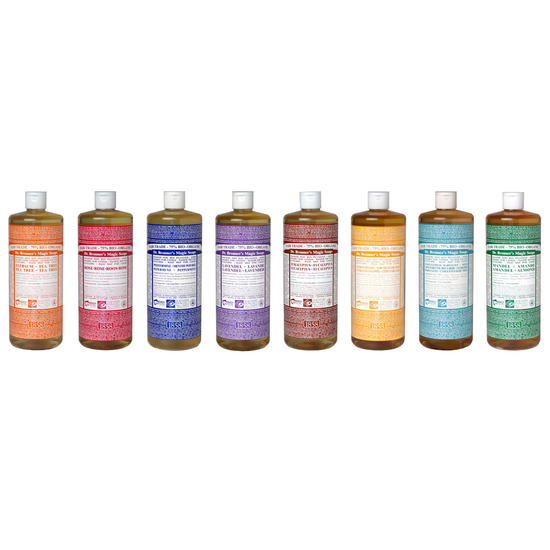 Rollover image to zoom
Reviews

fantastic product. I love reading the label, it's very exciting. the ingredients list is clean. it's a little too harsh on my hair and dry skin for regular use but you do feel very clean after using. I like it during the summer. when they say it's all in one they mean it--best multipurpose soap ever. I'm going to try it for laundry and toothbrushing next.

I use it for everything!
I purchased my first 16 ounce bottle of the peppermint soap in February and it lasted almost 3 months, using it as a body wash, a brush cleanser, a cleaner, and sometimes a shampoo. It's strong enough to clean my brushes in one go, and yet it's not stripping. I've only tried the peppermint one, but I might try the unscented or the lavender kind.

Moisturizing & amazing clean feeling
My face was feeling a little tight so i knew i needed something moisturizing without so many chemicals. So i reached out for the Dr. Bronners lavender bar soap. After using this my face felt amazingly clean, with no need of moisturizing afterwards. I will try the liquid next

Wonderful!
I have used these Castile soaps for years and there's a reason I keep going back for more! Not only are there 18-1 uses for it, but the fact that its natural and comes in huge bottles is a plus. I am using the unscented baby mild one right now. I originally bought it to wash my new nose piercing with and figured the milder, the better. It cleans gently and doesn't strip my skin. I also use it on my face and body (not everyday) and i feel very clean from it. I love the peppermint and eucalyptus scents. They are strong, even when diluted, but they are divine for hot summer days!

One of my favorites
With so many products constantly coming across my desk and being sent to my agent I am very lucky to be able to try endless amount of skin care and color cosmetics. Full disclosure. This is one of the only products I pay money for. It is my must have, I use it personally for soap, shave and facials and do not feel clean without it. Professionally I use it to clean my brushes and kit and keep my clients refreshed as well as for mens grooming shaves. I love the Peppermint for my brushes and for everyday and I love the Almond for the winter months when I like a warmer scent.

Awesome natural product! I use the peppermint one as body wash to reinvigorate my mornings. I love that there are actual essential oils in the soap so it doesn't strip your own oil but adds to them. I also love the fact that you can use it in multiple settings. I've used it for washing my body, my makeup brushes, and for washing delicates. And it works great for all three! I'm so excited to use different scents

Super love!!!!
Dr. Bronner's is amazing! I've used it all my life and adore it. The label is the best, full of great wisdom and fun things to read. The soap smells clean and good, is all natural and can be used for anything. I recently watched a documentary about Dr. Bronner on Netflix and love it even more now.

A beauty staple!
I've been into this stuff for awhile now. I love the peppermint and tea tree oil ones-and want to try more. I love using them as a body wash- they are so refreshing and don't dry my skin out or leave a soap scummy residue like bar soaps do. I use shampoo on my makeup brushes, but I definitely want to start using this as well! Because its so wholesome, it doesn't surprise me that it is a great brush cleaner. I forgot about how concentrated it is, and am glad I was made aware- as a body wash you can whip through it if you're not careful. All in all, I love this stuff, and can't wait to further explore its multitude of uses!
---