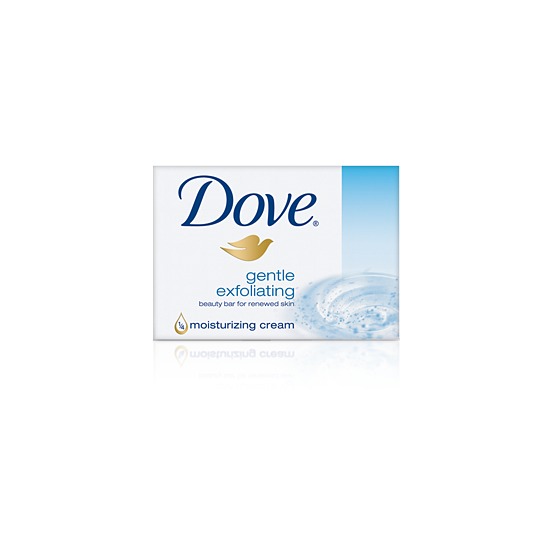 Rollover image to zoom
Reviews

My skin is really sensitive to fragrance (I break out in hives sometimes and even went to see an allergist about it) and this soap is great for me. It's moisturizing like regular Dove soap and I love the creamy lather. You can even use this to wash your face! I've used it a few times in the shower as a face wash and my skin didn't get dry or tight-feeling at all.

Love This!
I love this soup bar! Why get high end face washes, when this stuff works just as good! I use this for washing my face and this really effects my skin, my pores are looking beautiful and my skin is just so soft! I've been using this for about a year now, and my skin has just been looking more gorgeous than ever!

Best soap EVER MADE!!!
I've been using dove since i was a kid.. and I've never had any issues.. It's very gentle and has always kept my skin super soft and the light scent leaves you smelling super fresh..
As a makeup artist it's a must to keep your face clean and clear from any blemishes, so i use dove soap on my face DAILY!! I mean I've had acne as a teen, so every now and then i'll have a breakout and every time i wash with dove my pimples clear up pretty quick.. HIGHLY SUGGESTED FOR THOSE OF YOU WITH SENSITIVE SKIN!!!!

Works miracles!
This product is amazing. I swear it's magic. This product deeply cleanses the skin and gets rid of dirt, sweat, and bacteria build-up. After I used this for the first time, I instantly saw great results. My skin was visibly smoother and more youthful looking, and felt smooth also. Moisturizes deeply, and also has the subtle scent of cucumber to it, which is a really nice touch. It's not too pricey either... I picked up a bar for only one dollar at my local store. I strongly recommend this.

INCREDIBLE... No need to use concealer or foundation ever again!
I LOVE THIS PRODUCT SO MUCH! It's so simple and affordable, and it works AMAZING. I will never need to use a concealer or foundation EVER again! Even after the very first wash, my skin is smooth, clear (cleared up my breakouts so fast) radiant, glowing, silky, moisturized and best of all, FREE OF REDNESS! I used to have terrible redness but not anymore. Would give this ten stars if I could. Will NEVER use any other soap again. This is the one! I HIGHLY recommend this. Works well with all skin types and the results are fast and so incredible! Dove, I love you!

Perfect for sensitive skin
Once I hit my 20s, my skin below my neck became strangely sensitive. The body washes I used before were extremely irritating to my skin, resulting in itchiness and redness. I began using the dove sensitive skin bar on the suggestion of my father, whose skin was even drier and more sensitive than mine. He had been using it for 10+ years, and after using it myself I can see why. It's very moisturizing (it's solely responsible for turning my dry, cracked elbows into normal skin) and doesn't irritate my skin at all. It only smells fresh and clean, without any added irritating fragrance. I'll definitely keep using it.

I've used this forever!
I grew up with really bad Eczema and this is the soap that my dermatologist told my parents to use. I grew up always knowing that the white dove bar was just the soap I was supposed to use. Didn't really understand why until I used a different soap and it left my skin feeling weirdly tight and very dry. I like the smell and I like how moisturizing it is. I have tried the other scents, and I love those too! I'll probably use Dove soap until the day I die.

Best Sop Ever!
I've used this soap since I was a kid. It's gentle and my kid's doctor recommend it for his dry skin. That's saying something on how good and effective it is. I think it's the best soap out there.
---