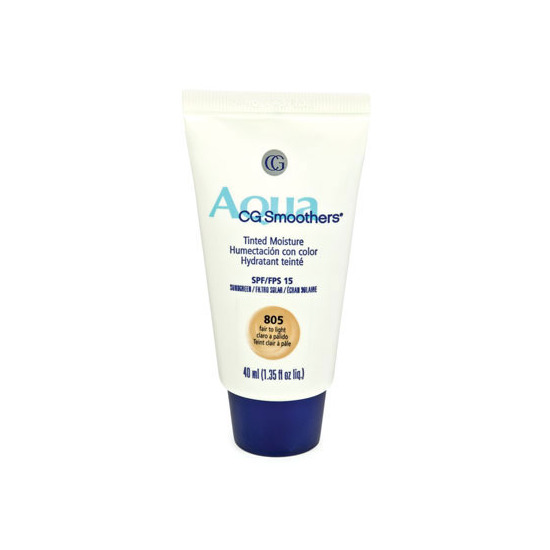 Rollover image to zoom
Reviews

Good tinted moisturizer
It gives light coverage, but good enough to cover redness and even out your skin tone. It's feels moisturizing, I feel no need for a primer when I use this. It has a dewy finish. I don't usually set it with a powder when I wear it. I love how it feels so light on the skin, I forget I have it on. Blends effortlessly on my skin. It can easily be applied with your fingers too. By the end of the day, my face will get a bit oily wearing this but I don't really mind since I mostly use for the daytime.

Beware, CG is now marketing this as a "BB Cream" which it is not!
I was looking for something lighter for summer and since my face is okay (other than a blemish/cyst a few times a month) I felt it was time for something lighter as to not add to the breakouts. I saw this at Target as a BB Cream, but since it was sitting next to an old label CG Smoother, I as not fooled. I decided to buy this anyways because it was cheap and I've liked the other CG foundations I've used in the past. I tried it yesterday because I just wanted to do something natural-looking for a day a work. Before I put this on, I applied my everyday moisturizer for acne-prone skin. I put this on with concealer and then blended powder on top of it to keep it still. It blended pretty well, didn't feel *too* greasy and stay on decently for the 8hrs I had it on. I did notice the shine that others have talked about due to the SPF. It seemed to matte out a bit with the powder I put on top of it, but it was still there. Overall, I'll continue using this for those days where I'm leaving the house but don't want to wear a lot of makeup.

My go- to TM but still average
After buying a gazillion drugstore TM's I settled with using this one exclusively. My initial impression was that the texture was instantly better than all the others I had tried. Most TM's seem to drag across my face and I don't get that even application/sinking into my skin feeling. This tinted moisturizer is creamy and opaque- obviously when its deposited in your hand in a concentrated dollop. The first time I used it I thought I saw a marked difference, although the typical SPF shine was there. Now, I don't feel like it makes a huge difference, but it works well when combined with Cover Girl/Olay's concealer and some Maybelline translucent finishing/setting powder/veil to cut down the shine. I'll continue to use it up, and maybe re-purchase because its texture and feel is so much better than the other drug store brands and its also not overtly orange, which is a plus. So the texture is great, color is great, but coverage is so-so/typical.

Best TM I've tried
I would normally use foundation because I have a lot of acne scars, but it's never good to wear it too often. I got this tinted moisturizer in Australia (they don't sell Covergirl in Singapore..boooo) and I have to say this is amazing.
I was previously using Natio's TM, and while it did its job, it made my face produce more oil than it normally does. This one, however, glides on smoothly, moisturizes, blends well and the best part is - my face is matte all day even without powder to set.
Coverage-wise, it's obviously not gonna be as fab as foundation, but it sure does even out my skin tone nicely. I cover my other blemishes with a concealer and I look fresh faced.
Plus, it doesn't cause breakouts or irritation, almost scent-free and has SPF 15! Staying power is pretty good as well, I didn't need to touch up for about 6-7 hours. Definitely will repurchase!

amazing for low coverage and summer!
personally, i dont need much coverage when it comes to face, other than concealer. i really wanted to try out an affordable tinted moisturizer, so i got this! it retails for around $5, which is amazing for what this product is. it gives enough coverage to even out my skintone and complexion, and enough moisture to last the day. it only comes in three shades, but they are somehow really good, as in i would see them working for many skintones. it stays on your face too, evrn in the summer months. i love it:)

Okay, For now
I was looking for a drug store affordable tinted moisturizer for the time being. i picked this one at Target to give it a try, and i feel that it is very light weight it gives me a nice moisturized glow, since i have really dry skin, and even though i got medium to dark, it looks lighter, but it blends really nicely into my skin, my face is lighter and it blended well on the back of my hand. i will be using this moisturizer until i can afford a good higher end one.

not CG's best
I understand that a tinted moisturizer doesn't have much coverage. But this might as well just be a moisturizer and not a very good one. The only reason you could tell I had it one was the glossy look it gave my face. Even after it dried my face looked oily. I wouldn't complain as much if the price was lower or it was another brand. The price range is an average of $10 and for that amount I expect a little better product. I also expect a better product from cover girl because I tend to like their products.

Good for a drugstore tinted moisturizer.
This was the first and only tinted moisturizer I have ever tried. It is great for a drugstore one and it is fairly cheap. It's good for if you want to go to the beach or pool and you don't want to wear a lot of makeup. It wont cover up much redness or acne.

This tinted moisturizer is great if your just lounging around the house all day, or are going to the pool/beach for a quick splash. It's even perfect if you just want to look just a little bit better for a trip to the corner store. It is so lightweight, and gives such a sheer coverage. It glides on smoothly, and is easy to blend. If your looking for a heavy coverage, this is not the product for you. It gives a very light/sheer coverage, so sheer that you can hardly notice you are wearing it. I personally mix it with a little of the Revlon's PhotoReady foundation, and it's perfect. This is amazing for summer, so natural :)
---