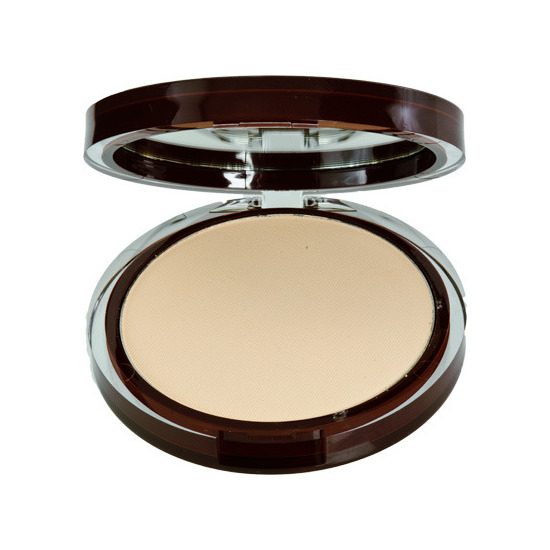 Rollover image to zoom
Reviews

Great Face Powder
I really think this powder is great, my boyfriend bought it for me when I was out and I must say all the make-up he picks out for me I end up loving ha. I actually really like the packaging, it doesn't pop open easy and powder won't spill out the sides like others I have had. The puff it comes with is fine, but I like to use a softer, less stiff one. The powder provides good coverage and evens out my skin tone. Also this powder makes my skin feel so soft to the touch and doesn't get cakey on me. I like the scent too, its refreshing. I would repurchase this and recommend it to anyone since they have one for sensitive skin too.

Pretty good for the price
I've been using this powder for a few years now, and I never stray from it, but there's nothing about it that makes it a holy grail product for me. It provides good coverage on it's own or over foundation, and is fairly buildable without getting cakey. I just hit pan on this again, and I think it's time experiment with different powders.

Loved It!
I used this for a few months and loved it! It stays all day and provides medium coverage whilst blending flawlessly. You do have to reapply, though. I also loved the powder puff and still use it for my Rimmel London Stay Matte. When finished, be sure to scrape out the excess powder and use it for a handy little compact.

with the applicator it comes with i found the color came out way darker than it does with a brush! maybe it was just mine.. but its a great powder and i love the clean scent it has! even if worn alone it has good enough coverage to even out skin tone! although i did find it didnt leave a totally matte finish to my skin and i would have to blot more than if i wore a different powder

Review on Classic Tan, 260.
Classic Tan, 260 isn't listed on the database so it might be discontinued. I got this and a CG Cheeker's Blush in the discount cosmetics bin at the grocery store. It was packaged so you could see the inside of the pan, and the color looked, and still does, a nice cool-toned brown/beige. However, once applied with my Sonia Kashuk Small Multi-Purpose Powder Brush on the bridge of my nose (great brush for precision blending/highlighting/contouring/eyeshadow stuff) the color appears more orangey/redder/tawny. So it does the trick of contouring pretty well, it just doesn't wear true to the appearance in the pan. It also has a fake floral scent, that to some might be off-putting. I don't mind it, but I'd like it better without the added fragrance. The packaging is kinda clunky and boring, nothing too thrilling, although the teal compact is kind of a pretty color. So, I was psyched about this being my new contouring powder, and it does the trick, but its certainly not gonna be my one and only!

Good but Needs More Shades
I love the way this powder feels on my skin! It offers some good coverage, smells nice, makes my skin look really smooth and it's just a great pressed powder. However, there aren't enough shades for the Normal skin line. I have yellow undertones in my skin and the powders are mostly pink. :/ If more shades were to come out, I'd be really happy! The shade Light medium works for me in the summer though when I'm tan.
---