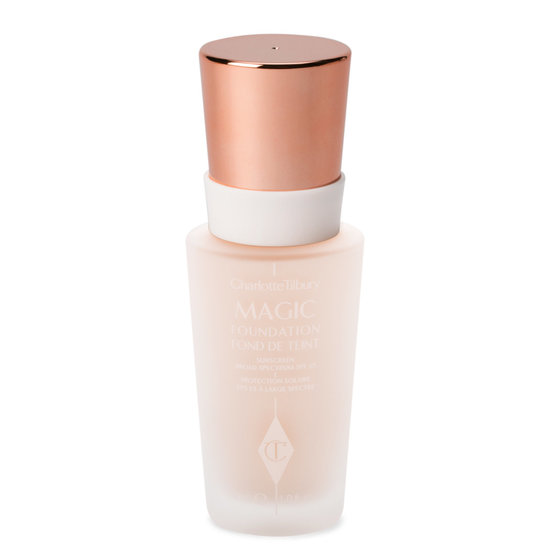 Rollover image to zoom
Works well with...
Charlotte Tilbury
Tailormade for use with Magic Foundation, this brush's flat head distributes pigments evenly to create a totally flawless, airbrushed finish. The dense, supremely soft hairs slide gently over skin, making it perfect for those with acne, large pores, scarring, or rosacea.
$55

Charlotte Tilbury: Magic Complexion
Reviews

Dewi Look Foundation
The packaging claims to be semi mat but I would say it is more on the dewy side! Charlotte recommends using her Magic Creme underneath foundation. Well, I tried that and ended up looking greasy after 3 hours, and it seemed like my foundation just disappeared by the end of the day. I tried it the next day without the creme and used my Estee Lauder primer and that worked perfectly. I think sometimes you just got to play around with it and see what works for yours. Been using the Estee Lauder 24h foundation for years so it was time to try something new. I think on oily days I will still use my Estee but for drier days I will use this.

Sadly a no...
...for me. I'm in my 40's, with combination sensitive skin. This would probably be a much better choice for someone with younger and/or normal to oily skin. I am very fair during the winter and 1 Fair was almost too fair for me. (Maybe too yellow, not quite sure.) After it set, it made my skin look very dry. It accentuated the large pores on my cheeks. I felt really uncomfortable wearing it out. Like everyone could see my massive pores. It was so disappointing since I've wanted to try this for the longest time. No matter what I did, primer, moisturizer, finishing powder, or lack thereof. Nothing worked for me. After about six different tries, it has been tossed on the giveaway pile.

ONE OF MY FAVES
I only ever had one of this, wanted to repurchase but I still have lots of foundation I'm trying to go through. I just remember the coverage of this was full and fantastic! Covered my blemishes and it worked for my oily skin. Lasted a whole day too. i just remember loving this so much. The brush that it came with however was terrible! It always shredded.

Not quite suitable for oily skin.
I have an oily T-zone, and it started to get oily after applying this foundation for 2-3 hours. So I need to fix it every 2 hours with cutton pads and powder. Based on my personal experience, this foundation is suitable for people who is looking for a light make-up (the coverage to me is actually medium), and may not suitable for oily skin. Although it has some flaws, I do feel that my skin can still breathe after applying it. It takes small amount to make your skin look better and remain natural, that's what I was looking for. All in all I'm satisfied.

I love this foundation
I am using this foundation with magic cream and C.T. pressed powder. Together they are very pretty. The foundation is more of a medium coverage and looks like your skin but better. It has great listing power. Im 45 so I am starting to get more wrinkles. This foundation does not accentuate the wrinkles. Although it doesn't cover melasma i blurs it enough with out cake face where i feel pretty again. I feel like I'm becoming Charlotte T. Obsessed. Give me more..... i can't wait to order more products.
As for the color it was a good match for my winter color. I might need 7 for the summer but i love how 6 is not to gold but a natural nuetral warm undertone. Im usually 170 warm bisque in lancome tientidol for reference.
---