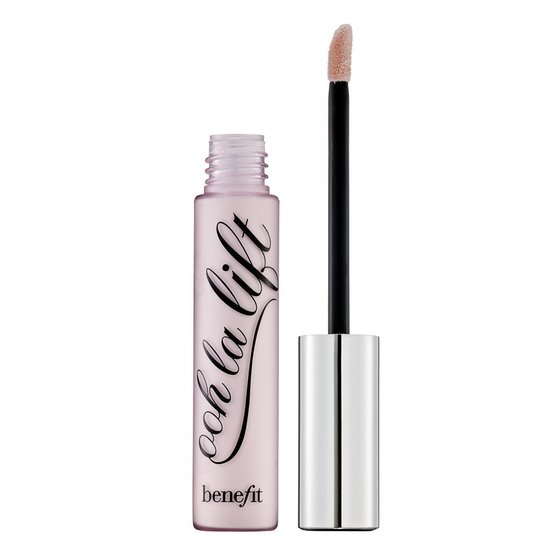 Rollover image to zoom
Reviews

This product is great. It gives a shine, I like to put it under my eyes. It makes my bags less visible. I think this product is great under a concealer or foundation. I also like to use it on the lid to give a bit of a shine to my makeup. I would recommend this to anyone who has a bit of under eye darkness.

The price of this is a bit too much.
So I got this product because sometimes I wake up with super puffy eyes (the kind when it looks like you've been crying all night) and I needed something to work. For a while I used the Garnier Anti-Dark Circles Roller and that one, hands down works pretty darn well for only $10. This one on the other hand, isn't worth the price. The product itself doesn't really de-puff, or "eye life" your eyes. It works a little, but not as much as the Gariner one.

I picked up a tube using my reward points on Birchbox after reading so many 'I swear by this' reviews online about this eye cream. To be honest, I don't consider dark circles or tired eyes a problem in my life, and I only tried this product out of pure curiosity. I am loyal to Benefit, but I feel that they really missed it with this eye cream. It did absolutely nothing for my eyes. I tried it for a week and was not impressed at all. I passed it to a friend to see if she had better luck; she thought it helped a little bit but not for $22. The product feels nice and is the lightest cream I've ever used, but it does nothing to 'wake up' my eyes. I would pass on this!

like not love
I wasn't sure if this product was supposed to conceal under eye circles or to make you look more awake. if its to make you look more awake then it works. i love the shine and glow it gives me. but it doesn't hide circles under your eyes, i believe you have to buy a separate concealer. it does make my eyes look brighter as well. i do like it but not as much as i like other benefit products :)

I didn't love it.
I don't have huge issues with dark circles but I do tend to get a little dry under my eyes. Sometimes the skin there would get irritated after I applied this. On good days when it didn't bother my skin I liked the way it looked. Just not worth the occasional discomfort though so I stopped using it. MAC has a brightener for the face that works much better than this one anyways that's never bothered my eyes.

save your $
this is basically just a light pink coloured cream with "extracts" that make it sound as if it will achieve anything.. it adds a bit.. and i mean a BIT.. or brightness.. nothing that a swipe of eye cream and the teeniest dash of concealer or even a cheap brightener wouldnt achieve.. if it were cheaper id say it was a decent product.. but if youre waiting for this "lift" effect, you'll be waiting a real long time all while having a weird pink shade under your eye

love it!
A few months back I had my makeup done by a Benefit makeup artist and she used this stuff on my eyes, and I fell in love with it, because when i looked in the mirror there was no more dark circles! I've always been looking for a product that will help hide dark circles, and i found one finally. I use it pretty much everyday, and the days i don't use it my dark circles are a lot more noticeable.

A big miss to brighten undereye circles.
When I initially bought this at my Macy's counter a while back, the salesperson told me it has raspberry extracts that help with undereye circles and puffiness.... what a sham. I didn't see any difference in it. Besides the liquid actually being a milking light pink highlight... it does not show up when applied to skin. If you are purchasing this for the highlight effect... there are plenty of other products that will do the trick... not this.

Helps my dark circles without looking raccoon like
Just recently, I saw a picture of myself in high school, wearing concealer under my eyes and looking, like I was part of the Raccoon family. Luckily, since then I have discovered Ooh la lift by Benefit. In order to conceal dark circles around my eyes and look awakened, I take the wand and dab it underneath my eye in a few spots and gently rub it in, with my ring finger. I like that the product can easily fit in my purse and be used to naturally, conceal sleepless nights. Most concealers, attempt to decrease the look of dark circles with a thick amount of paint, but Benefit feels and looks light on one's skin. I first discovered the product at Nordstrom and have used it ever since. I would highly recommend it to those trying to conceal dark circles or trying to look bright eyed and bushy tailed. Say goodbye to raccoon eyes and hello to bright, awakened eyes.

This lives in my purse.
I don't carry a ton of makeup around in my purse, but this one is ALWAYS there. It's perfect for 3pm in the office, getting off a long plane flight, etc - it's the perfect perk-up for my tired eyes. It does have a cooling effect & feels moisturizing as well. It is not, however, a replacement for under-eye concealer, if that's what you're looking for. But if your under-eyes are feeling tired & kinda lackluster, then this is for you!
---